Ali Spagnola, is an American YouTuber, comedian, musician, and social media personality.
Personal life
Ali currently resides in Los Angeles, California. During her spare time, Ali is a keen kick-boxer and uploads her fitness regime to Snapchat and YouTube.
YouTube career
Ali's current YouTube channel is her name 'Ali Spagnola'. Her channel mostly consists of her music videos, music, comedy and Snapchat stories. She currently has over 56,000 subscribers.Over the years, Ali has gained the phrases of "Hey best pali, I'm Ali" (Usually the openings to her YouTube videos) and "Hey Snapchat pali, I'm Ali" (Usually the openings to her Snapchats). Ali is also well known for her Snapchat stories. She regularly uploads her day to day Snapchat stories to her YouTube channel.
Ali also has set up a Patreon account, in aid of creating her One-Gal Band songs, comedy and music videos. She currently has a goal of $2,500 on there.
Other work
In 2008, Ali started a project called Free Paintings. She takes requests online via email about what she should paint. She fills one request a day creating a 12x12", bright, pop art, acrylic painting. She then mails the painting to the requester for free. Requests are filled on a first come first served basis. She regularly hosts competitions on her YouTube channel to win some of these free paintings.
Ali is also a well known and keen musician, and is capable of playing numerous instruments. She has released four self-published albums so far. Some of these songs have been featured on MTV's The Real World and Oxygen's Bad Girls Club. In December 2012, Huffington Post included her performance of "HuffPost Weird News" on their "End Of The World Playlist".
In college, Spagnola began playing "drinking game concerts" by taking the idea of a "power hour" - drinking 60 shots of beer in an hour - and mixing it with a live show. She wrote 60 one-minute drinking songs and performed them live while people drank along with every song. Spagnola later recorded the songs to create The Power Hour Album. She also designed, developed and manufactured her new Shot Glass USB, a shot glass with a removable USB drive that holds The Power Hour Album.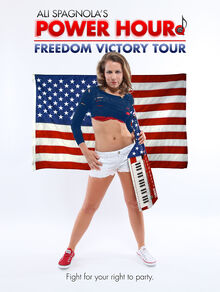 Trivia
Ali enjoys being naked and was even going to be on the Discovery Channel series Naked and Afraid. Unfortunately, Ali has a kidney condition that prevented her from participating in the show.
Discography
Ali Spagnola (2007)
Free of Style (2007)
The Ego (2010)
The Power Hour Album (2011)
Community content is available under
CC-BY-SA
unless otherwise noted.