Ali Al Fakri (born: July 4, 1996 (1996-07-04) [age 24]), better known online as AnEsonGib and sometimes Big Gibber is a Saudi born English YouTuber and friend of the Sidemen. "AnEsonGib" is "Big Nose Na" backwards, with the "Na" being added because "Eson Gib" was taken.
About
Ali is a notorious FIFA player and is well known for his Ultimate Team pack luck. He refers to himself as the "pack king", due to him getting high rated players in the packs.
His first breakthrough was after playing KSI and W2S in FIFA 14 wagers. Since then, he has been doing a lot of collabs with Harry, mostly around the FIFA franchise. He also participated in the 2016 charity football match in Southampton, for the YouTube Allstars.
Ali lives in the Stratford Halo tower. He shares a flat with MaxPlaysFifa. This was confirmed in one of Max's videos, titled "Incredible Room Swap Revenge Prank".
YouTube Career
He is known for his FIFA videos and for his boxing fights.
He fought his friend MaxPlaysFifa on the undercard of KSI vs Joe Weller event in the Copper Box Arena. Then he fought Jay Swingler on the undercard of KSI vs Logan Paul event in Manchester Arena. 
Professional Boxing Career
Jay Swingler vs AnEsongib
on March 12, 2018 Ali called out English YouTuber Jay Swingler as a Logan Paul vs KSI undercard jay accepted it, leading into both YouTubers fighting on August 31, 2018 in Manchester Arena. After 4 rounds Gib won and defeated Jay
Jake Paul vs AnEsonGib
On December 20, 2019, It was announced by DAZN USA and Matchroom Boxing that Ali will make his professional boxing debut on January 30, 2020, in Miami, Florida against American YouTuber Jake Paul.
Paul won the fight by TKO 2 minutes 18 into the first round, which Paul proceeded to call out KSI for a boxing match.
Gallery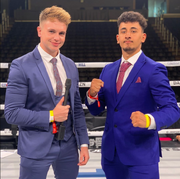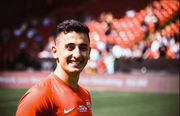 Community content is available under
CC-BY-SA
unless otherwise noted.