Doctor Strange in The Multiverse o Madness - The Loop
Play Sound
"
Howdy ladies and gentlemen, welcome back to another Behzinga video, today...
"

―Behzinga's Intro
Ethan Leigh Payne (born: June 20, 1995 (1995-06-20) [age 26]), better known online as Behzinga (or simply Behz), is an English YouTuber and member of the Sidemen.
Background
Ethan was born in a hospital in London that was very close to Upton Park (the stadium in which his favourite football team - West Ham United - played until 2016). Ethan's parents divorced when he was very young so his mother, Ruth Payne, brought him up by herself.
It is unknown of the current whereabouts of Ethan's biological father who is often joked about in videos. Ruth has appeared in many of Ethan's videos and he bought her a brand new car when his YouTube career took off.
Ethan has also mentioned a few times that he had a step dad at some point, and a "fake family".[1] As Ethan spent a lot of his early life in Essex, he is often stereotyped as "the dumb Essex boy" (as seen by his 'lack of intelligence' during general knowledge games such as Trivial Pursuit).
In his official documentary, How to Be Behzinga, Ethan talks about how his biological father disappeared once his mother became pregnant with him. He also tells that he had a step-father, whom his mother met when he was six months old, but that he left when Ethan was 13 due to drug addiction and debt. Ethan explains that he believed his step-father was his real father until he discovered his parent's divorce papers.
Ethan also revealed that during his childhood, his mum had cancer which ended up being one of the reasons he trained and ran the London Marathon for the Teenage Cancer Trust.
Beginnings
Ethan went to a school called Marshalls Park in Romford in East London. He was once suspended for a week after getting into a fight and embarrassed himself after his trousers fell down when he stood on the teacher's desk. He admits he was always the kid in school who messed about and was constantly getting into trouble. In How To Be Behzinga, Ethan's old learning mentor described him as "a bit disruptive, destructive" and that "school didn't work for him."
He gained a C in GCSE Applied Science, which he claims is "the only C he got" (implying that all of his other grades were below this). He confirmed in this video that was the only GCSE he didn't fail.
Ethan has never had a 'proper' job as YouTube is all he's experienced. After finishing school at 16 in 2011, Ethan moved to Essex and enrolled in South Essex College to study games development. He passed the course and has this qualification to fall back on "should YouTube ever fail".
Ethan uploaded his first YouTube video on 5 May 2012. The name "Behzinga" came from The Big Bang Theory - one of Ethan's favourite TV shows growing up. Sheldon Cooper often shouted "BAZINGA" when he was being sarcastic and Ethan took the name and altered the spelling slightly.
The whole concept of creating the Sidemen group was originally Ethan's idea. He is one of the five original Sidemen (along with Zerkaa, Miniminter, KSI, and TBJZL), having been there since their creation in 2013. Ethan joined the others on Josh's 21st birthday, after they watched his stream and invited him to a voice hangout with them. The group officially formed the following month and Ethan came up with the name for their call group, which then became the name of their YouTube group and brand.
About
Ethan is now best known for his fitness and lifestyle videos on his main channel, as well as gaming videos on his second channel and his part in the Sidemen. Ethan used to be fat, but he recently went gym.
He is also widely known for his uncontrollable laughter. Ethan is usually the butt of the many recurring jokes within the Sidemen, which in the past heavily involved homosexuality or his weight. More recently, jokes centred around Ethan's missing father figure and his questionable past. He rarely takes offence to jokes, however.
From 2016, Ethan lived in the Stratford Halo in his own flat. In September 2017, Ethan moved out of his flat. He then moved into a new apartment close to the O2 Arena. He stated multiple times that he lived with his friend Charlie who frequently assists in editing his videos and filming for the sidemen. In 2020, Ethan moved once again to another apartment in London, in which he filmed an apartment tour for.
Personal
Ethan was considered the most immature of the group, finding talking about sex and genitalia to be hilarious. In 2018, Ethan lost a significant amount of weight and stated in the SIDEMEN STRENGTH TEST that he weighed around 85kg. For many years beforehand, he was subjected to a multitude of jokes/abuse about his weight.
Ethan stated in a podcast that he went through a period of depression and heavy drinking as a result of being seriously unhappy with his life and posting videos nearly every day. He went on to say that he no longer feels that way and is more content with himself.[2]
This was also discussed in How To Be Behzinga, and in a video on his channel where he talked about a time in his life in which he was depressed and had gotten to a point of having suicidal thoughts.
Ethan was in a relationship with Emily Geere from 2016 to 2018. Ethan is now in a relationship with Faith Kelly.
Tattoos
Note that these are older pictures of some of Ethan's tattoos, he has more tattoos on his arm/hand.
Controversy
Beef with RiceGum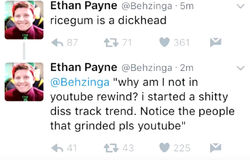 On 7 December 2016, Behzinga made a tweet saying "RiceGum is a dickhead" because RiceGum made a tweet complaining about not being featured in that 2016's YouTube Rewind. The "drama" got featured on Scarce's channel.
On 14 December 2016, RiceGum made a diss track for Behzinga. Then, on 22 December 2016 Callux replied with a diss track aimed at RiceGum. Many people suggested this was better than any diss track RiceGum has ever done.

On 2 April 2021, Behzinga tweeted saying "you'll do nothing if I'm in LA RiceGum, stop talking nonsense and keep it moving." because RiceGum reacted to the "SIDEMEN RATE USA YOUTUBERS" video, when he was complaining about being in the SMH (Share My Head) tier, and threatening to fight the him on his livestream.
Sidemen War
On August 3, 2017, KSI made a series of tweets announcing his disengagement with the Sidemen. He followed this up with a five-minute YouTube video on August 6, 2017, confirming his decision. He claimed that the reason he was leaving was primarily due to Behzinga as a person, stating he "can't stand him". JJ ended the video with a segment of him "rapping" comments which dissed the Sidemen, in particular Ethan.
On the same day (August 6), Ethan uploaded a video titled "REPLACING KSI IN THE SIDEMEN HOUSE". In the video, Ethan joked that he was taking JJ's place in the Sidemen House, and proceeded to mess up JJ's old room. The following day, Ethan uploaded a full length "diss track" targeting JJ regarding the current drama, simply called "Drama".
On August 9, JJ uploaded a video of himself reacting to the aforementioned diss track created by Ethan. He confirmed he was working on his own payback track. This was called "Earthquake" and was uploaded on August 12 to JJ's main channel. It featured RiceGum. Ethan posted his own reaction video to the song less than 24 hours later.
Aside from a few quips, not a lot happened between Ethan and KSI for the next week - though Ethan confirmed he was working on a response to "Earthquake". On August 18, he uploaded "Finished" and claimed it'd be the last diss track he'd create. KSI uploaded a reaction video the following day (August 18) and says he's still deliberating whether or not to respond. Ethan has since stated that he will not be making another diss track.
Ethan later stated in a vlog that his relationship with JJ can still be rebuilt and the disses were just banter. It is believed that, with KSI not making another diss track on Ethan, this part of the war has concluded. KSI uploaded a video on 28 August called "CONFRONTING BEHZINGA" showing that the two of them are very clearly still friends and it was mainly just banter.
Subscriber Battles
Behzinga vs TBJZL vs Zerkaa
Since around late 2019, Behzinga has been in a subscriber battle with TBJZL and Zerkaa to see which channel can hit 4 million subscribers first. At first, it was mention by Ethan that he challenged Josh to see who can reach 4 million subscribers, which Ethan overtook Josh in January 2020. After overtaken Josh, Ethan set is sights on Tobi for his race to 4 million subscribers.
In May 2020, Josh made a return to his main channel in a video called QUICKFIRE ASSUMPTIONS CHALLENGE... I HAVE To Answer EVERYTHING!, where he's going to upload every Thursday which he named Zerkaa Thursdays to catch up and overtake with Ethan and Tobi.
In August 2020, Tobi would he 4 million subscribers, but Ethan eventually overtake Tobi after a few days late and is now currently still a head of the three.
Behzinga vs MM7Games
On March 2021 in a Reddit video called How I Own Miniminter's YouTube Channel, he said that his next target to overtake Miniminter's second channel also know as MM7Games.
Trivia
He is an athlete and ambassador for Gymshark and Bulk Powders.
As Ethan grew up in Essex, he is often stereotyped as "the dumb Essex boy" (as seen by his lack of intelligence during general knowledge games such as Trivial Pursuit). This is to be taken as a joke, as Ethan normally laughs along with it.
Ethan gained a C in GCSE Science. He claims this was "the only C he got".
Ethan once had to hide under a table while in school because his pants fell down.
Ethan is a supporter of West Ham United.
On the JaackMaate's Happy Hour Podcast, released in March 2020, Ethan revealed that in his younger years he used to smoke weed "regularly", including during the early years of the Sidemen channel.
Ethan has struggled with mental health, telling the story while drunk he got in his car, when he realised his mistake when he thought about how upset his loved ones would be.
Ethan has mentioned that he has ADD (Attention Deficit Disorder).
References