This article is a stub!

This article doesn't contain enough information. If you know anything about Blameitonjorge, please add to this article!
Jorge Flores, better known online as blameitonjorge (exangel on Twitter), is an American YouTube list maker and short film creator. He is best known for making videos about controversial topics, such as UFO sightings or conspiracies, but has also done videos themed around Nostalgia, Horror movies and also does live streams on his channel. He used to have a series called Cartoon Trivia, where he reveals trivia about famous cartoons.
Collabs
He frequently has collaborations with That Creepy Reading. He has also done a number of lost media videos, in which he discusses media that is partially or entirely missing and is also a member of the Lost Media Wiki Discord Group. He has also done creepypasta videos in which he has collaborated with YouTubers such as Dr. Creepen, Let's Read! and PhantomStrider, a close friend of Jorge.
Video format
His newest videos are of a "mini documentary" format, discussing various conspiracies, disappearances, unidentifiable individuals in history, and the journey of finding lost episodes and media. The channel specializes in Horror/Conspiracy, but some of his uploads are more lighthearted, such as his "Top Ten Best Songs from Kids Shows", uploaded on December 10th, 2017, and gaining over 2 Million views.
Personal life
Most of his personal life is unknown, and he rarely posts on his Instagram account. He is more active on twitter as of November of 2019.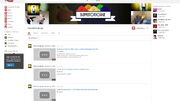 Trivia
Most of his fanbase and newcomers usually mispronounce his username as 'Goerge' instead of 'Horhe' (Thats how it's usually pronunced)
Community content is available under
CC-BY-SA
unless otherwise noted.