Will Grantham (born: April 21, 1996 [age 24]), better known online as Channel Pup, is an English YouTuber well known for his subjects in TV, movies, pop-culture, videogames and comics.
History
Channel Pup was created in May of 2018. Originally named Channel Goat early on, but in December 2018 he decided to change his name to Channel Pup to honour his Dog, Toby who passed away at that time.
Channel Pup started off as a Reddit Channel taking clear inspiration from SorrowTV and SootHouse before making video essays on DC Comics Characters.
Channel Pup was first discovered with his debut video essay 'Gotham's Joker Problem' in which he criticised the show's decision to replace fan favourite character Jerome Valeska, with an identical twin brother.
Channel Pup grew fast from then on covering a range of other subjects including Doctor Who, Spider-Man, Sonic the Hedgehog and more.
Arguably Channel Pup's most popular subject of discussion became the Spider-Man movies and the Channel was revamped to feature his mascot sporting an outfit remniscent to Spider-Man as well as beginning production on the short fan film 'Marvelous Tales of Spider-Man'.
Personal Life
Will was born in 1996. In 2005, he won the Blue Peter "Design a Monster for Doctor Who" competition with his entry "The Abzorbaloff" who would go on to be featured in the infamous Season 2 episode "Love and Monsters" facing off against David Tennant's Tenth Doctor. Will attributes his interest in film and TV production to this event.
Will had a very close bond with his dog Toby hence modelling his online presence after him. The Pup that Will uses as his mascot is called Toby and is a Staffordshire Bull Terrier.
Collaboration
Will regularly has friends and family feature on his Channel occasionally letting viewers submit their own videos for Channel Pup to showcase. Prevalent guests have been his girlfriend Liz, Who Chaser, his "son" Tom Harries, Council of Geeks, and the smash hit gaming YouTube creator Game Apologist, all of whom he considers friends. Channel Pup has assisted and collaborated with a number of other YouTubers including Quinton Reviews, and Votesaxon07. His recent collaboration with Game Apologist was a five-part series discussing the two Sonic videogames; Sonic 06 and Sonic Forces.
Community
Back in May 2019, Channel Pup's audience convinced him to create a discord server after a video talking about his life "The Channel Pup Story". Channel Pup commonly interacts with his audience in the comments section, and, via Discord and Twitter.
Controversy
Channel Pup became somewhat controversial in late 2019 when he attempted to break new ground commentating YouTube's community and fan-culture in Content Cop style commentary videos. This began with him discussing Karsten Runquist's video on the Live Action adaptation of The Lion King calling it "wrong-headed and unprofessional" for what Channel Pup believed was promoting piracy. Karsten Runquist gracefully responded in the comments section acknowledging that he had listened to Channel Pup and was always striving to improve as a YouTuber.
Matters took a turn for the messy when Channel Pup took on Bowlestrek in the second commentary video. Channel Pup used examples of controversial YouTuber Bowlestrek's criticism of diversity in the media where Bowlestrek had crossed the line from criticism into bigotry and insults deeming him "excessive and hypocritical". Channel Pup was criticised for leveling personal insults at Bowlestrek which Channel Pup did issue apologies for, however, apologies that he regrets making in light of further altercations between Bowlestrek and Channel Pup stating "I know better now than to try to be decent to indecent people".
Into the Joker-Verse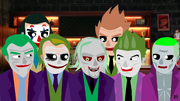 Prior to the airing of Gotham's Series Finale, Channel Pup made a prank video claiming it was a clip of the Joker from Gotham's finale when in actuality it was a parody that he had animated. This received a mostly positive reaction with many seeing the humour in it, however, there was some backlash which Channel Pup responded to with an animation of Jerome and Jeremiah Valeska sitting at a bar chatting. The video was a modest success but the audience enjoyed it and asked for more, which became the mini-series 'Into the Joker-Verse'. The animation techniques used to make 'Into the Joker-Verse' were later employed for further animations including Spider-Man.
Marvelous Tales of Spider-Man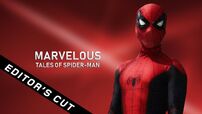 Channel Pup teamed up with ToughCookieMedia in 2019 to produce 'Marvelous Tales of Spider-Man', a short film taking place in the Universe of ToughCookieMedia's 'The Marvelous Spider-Man' Films. The film was met with mixed response and Channel Pup admitted that he himself was not entirely satisfied with the film, so a few months later, he rereleased it with a few editing tweaks and had Council of Geeks dub over the voice of the Chameleon.
The Future of Channel Pup
Channel Pup had pledged to improve his content in 2020 with the help of his friend Heath Gleason, changing his videos from the previous picture slideshow format to more involving videos. To achieve this, the daily upload plan was axed in favour of taking more time on videos. Different artists who had submitted fan-art to Channel Pup were recruited to create official artwork for the channel giving it a makeover. Channel Pup recruited EmissaryFromHeck, Biotyn Arts and adZinco to produce graphics and visuals for the videos and channel.
Community content is available under
CC-BY-SA
unless otherwise noted.