Doctor Strange in The Multiverse o Madness - The Loop
Play Sound
"
What were they thinking?!
"

―James Rolfe (Angry Video Game Nerd)
James Duncan Rolfe (born: July 10, 1980 (1980-07-10) [age 41]), better known online as Cinemassacre (or the Angry Video Game Nerd (AVGN and Nerd for short ), formerly JamesNintendoNerd), is an American YouTuber who hosts multiple shows on the channel alongside other members, one of them is The Angry Video Game Nerd. The Angry Video Game Nerd reviews classic games from past video game consoles such as NES, Super NES and others. His videos mainly consist of comical gaming reviews that involve Rolfe getting extremely angry at bad video games. The show is written and produced by Rolfe and Justin Silverman.
The channel also used to host James & Mike Mondays, a Let's Play style show with Rolfe and friend Mike Matei. He also reviewed the infamous "worst video game of all time", Atari E.T. game from 1982 in his official movie. He's also created multiple series such as Board James, YNWBS (You Know What's Bullshit), Rental and Retail Reviews, etc.
Rolfe and the Nerd series have been extremely influential in popularizing and pioneering internet reviewing, with YouTubers such as JonTron and Doug Walker (The Nostalgia Critic) acknowledging Rolfe as a inspiration as well as his non AVGN videos. Many have also called Rolfe one of the most important internet celebrities.
On December 18, 2020, James made an update video[1] where he explained that not only would James & Mike Mondays not be returning in 2021, but that Mike was leaving Cinemassacre for the foreseeable future, as he wanted to focus on his Twitch streams full time, which can be found archived on his own personal YouTube channel.
Cinemassacre Crew/Associates
James Rolfe/Angry Video Game Nerd/Board James/Bullshit Man
Brenden Castner/Bad Luck Bootsy(former)
Make Matei/Mother Fucker Mike(former)
Doug Walker/Nostalgia Critic
Chad Belmont/Captain S
Patt the NES Punk
Kyle Justin/Guitar Guy(former)
Kevin Finn/Glitch Gremlin
Steven J. Klaszy/Hillbilly
Chad James
Starbomb
Agonywolf Media
Lloyd Kaufman
Kieran Fallon
Antonio "Tony" Piluso/Hack the Movies
Justin Silverman
Scott the Woz
JonTron
Blue Core Studios
Macaulay Culkin
Vinny/Vinesauce
Shesez
Christopher "Chris" Bores/The Irate Gamer
Nathan Barnatt/Keith Apicary
Arlo
Gilbert Gottfried/Fred Fuchs
Mike Butters/TV Game Guy
Shane Luis/Rerez
3GI Industries
Danielle Pitts/Doopie Doodles
Channy & Kimberly
KLN
GrittySugar
BigJackFilms
Brad Jones/Cinema Snob/Stoned Gremlin Productions
History
Early Life
Rolfe was born in New Jersey on July 10th, 1980 to parents Scott and Marlene Rolfe. They bought him an audio recorder as a Christmas present sometime in the early to mid-1980s. Later, he got a camera and took photographs with friends performing fights for new projects. He was inspired by The Legend of Zelda and Teenage Mutant Ninja Turtles to create adventure stories. Rolfe also illustrated comic books, which he updated monthly. One such comic he created had a plot inspired by the video game The Legend of Zelda: A Link to the Past.
Rolfe started filming shorts in 1989 and continued this hobby into the early 1990s. He used Mario Paint for a few of his early films. He eventually took classes for hand-drawn animation at a university. His early films did not have scripts or rehearsal. However, once he started writing scripts, his friends gradually lost interest because of the pressure of trying to remember their lines, which left many of Rolfe's films unfinished. He then tried his hand at action figures or puppets. The plot of The Giant Movie Director (1994) involved toys coming to life.
Rolfe attended the University of the Arts and has a bachelor's degree in fine arts. Since his early teen years, Rolfe operated and ran an annual "haunted house" Halloween attraction out of his parents garage (the same garage was later used in building a graveyard for his horror comedy film The Deader, the Better and again used in his film/series pilot Jersey Odysseys: Legend of the Blue Hole), using a collection of several props and antiques that he later reused multiple times in his other films.
Career
Early Films
In May 1996, he filmed A Night of Total Terror in his backyard, a horror film that he has called "the turning point of my life". In the late 1990s, Rolfe created several films such as the B-horror movie The Head Incident that he finished in 1999 but did not release until its tenth anniversary in 2009. He also made Cinemaphobia in 2001, which follows an actor who suffers from an overload of work and sees hallucinations of cameras following him. Two versions of the film were made, a ten-minute version and an extended, fifteen-minute version. Rolfe has stated his preference for the shorter ten-minute version.
The same year, he created Kung Fu Werewolf from Outer Space which is a mainly silent movie except for narration. He also created an hour-long comedy film entitled Stoney, which is a spoof of the 1976 film Rocky. His eighth film of 2001 was It Came from Beyond the Toilet. In 2003, he created another film, Curse of the Cat Lover's Grave, which was split into three parts to define three different horror genres. Rolfe made a pilot of a planned web series entitled Jersey Odysseys: Legend of the Blue Hole, which is based on the urban legends of the state of New Jersey. The pilot centers around on the legend of the Jersey Devil.Later, in 2004, he got a job editing industrial training videos, which he quit in early 2007.
In May 2007, he began a new web series called You Know What's BS!? (formally called You Know What's Bullshit? from 2007-2020 due to YouTube's new rules on profanity), in which he rants about everyday pet peeves; such as pennies, shoelaces, pay toilets, and printers. Originally just being rants by Rolfe, he instead decided to create a new character to host the series–"The Bullshit Man" (which is just Rolfe wearing a mask resembling cow dung).
In 2007, Rolfe began filming The Deader, the Better, a classic-style B-movie horror film that pays homage to the 1968 horror film Night of the Living Dead. The film was shown at the Atlanta Horror Fest in October 2007. On May 5, 2006, Rolfe released a music video that included stock footage from a trip he had made to England and Scotland. The music used in his work was from the Black Sabbath single "Heaven and Hell". Rolfe also participated in the 48 Hour Film Project between 2004 and 2007. In the 2007 event, he was the Audience Award Winner for his film Spaghetti Western. His other entries were a trilogy of films called Death Suit (2004), Death Seen (2005) and Death Secret (2006).
Angry Video Game Nerd
Rolfe's career did not gain much momentum until May 2004, when he filmed a 5-minute short review of the Nintendo Entertainment System (NES) game Castlevania II: Simon's Quest under the name "Bad NES Games". His character was originally named "The Angry Nintendo Nerd" but was changed to "The Angry Video Game Nerd" to avoid trademark issues and because he started reviewing games on other consoles (e.g. Sega Genesis, Atari 2600). The series covers Rolfe reviewing games that were either poorly designed (like LJN games) or were complete failures (like Hong Kong 97). His catchphrase is "What were they thinking?"
Rolfe conceived the basis of his character while he was studying at the University of the Arts of Philadelphia when he attended from 1999 to 2004. Rolfe then made another video, which was supposed to be the last of the series, Dr. Jekyll and Mr. Hyde, because it was the game he hated most. His beer drinking in most of the video was done on purpose as to say "these games are so bad I'm forced to drink". Both of these became generic traits of "The Nerd", which would appear in future videos. The choice of Rolling Rock was coincidental as it happened to be the only beer that Rolfe had in his refrigerator, and this eventually became an identifying trait of his character, although in more recent videos, he has also included Yuengling beer, hard-liquor and non-alcoholic hot sauce. Originally his videos were meant to be private. However, Rolfe's friend and collaborator, Mike Matei, convinced him to post the videos on a YouTube channel called "JamesNintendoNerd" (now called Cinemassacre) on April 6, 2006, which Matei created and managed for him.
On September 12th, 2006, Rolfe's character first gained mainstream attention when his review of Teenage Mutant Ninja Turtles became viral on YouTube. His videos are also posted on GameTrailers and ScrewAttack and have gained 30 million views monthly. He has over 3 million subscribers, as of September 2019. At the end of 2007, Rolfe halted the production of the series and cancelled an appearance at MAGFest after suffering from a break in his voice. On March 17, 2010, he made the announcement that he was suffering from burnout as a result of consistently writing, directing and starring in the videos, and that the show would be entering a brief hiatus. It was scheduled to return in May 2010; however, an episode was released on April 30. Episodes are released on either the first or second Wednesday of each month, as opposed to two episodes per month due to Rolfe's other projects. Episodes were at one point posted on YouTube over a year after their original release on GameTrailers. Rolfe formerly had affiliations with ScrewAttack before leaving in 2013.
Rolfe's character gained further fame through a fictional feud with the Nostalgia Critic (played by Doug Walker). This began with the Critic launching a satirical attack in an early episode. The feud took place over many episodes between 2008 and 2009. The two characters, and real-life comedians, are now good friends. Walker has informed his viewers of Rolfe's projects, and Rolfe has contributed to some of the Critic's subsequent videos.
Rolfe made a cameo appearance as the Nerd in a music video parody of Britney Spears' single "Piece of Me" entitled "Piece of Meat" on cinevore.com.
Angry Video Game Nerd: The Movie
For a period, Rolfe focused his efforts on producing Angry Video Game Nerd: The Movie, which revolves around E.T. the Extra-Terrestrial, the video game for the Atari 2600. The film is a collaboration between Rolfe and Kevin Finn and was entirely funded by fan donations. The release of the film was to coincide with the 31st anniversary of the 1983 video game crash.
Other Films
Rolfe had a cameo in a Doritos and Pepsi commercial published online in November 2010. The ad was part of a voting contest of which the winning clip was to be shown during Super Bowl XLV. However, the ad was eventually withdrawn due to public backlash, because it spoofed the Catholic practice of Eucharist. In 2007, Rolfe had a cameo in the fan film Return of the Ghostbusters. He was featured in the 2009 documentary His Name Was Jason, in which he talks about the Friday the 13th movie series and its antagonist Jason Voorhees. Similarly, Rolfe appeared in a bonus feature to the 2010 documentary Never Sleep Again: The Elm Street Legacy, in which he discusses the Nightmare on Elm Street NES game, a title he had previously covered as the Nerd in the 13th AVGN episode. The bonus feature can be found on the second disc of the Never Sleep Again DVD set.
In 2010, it was announced that Rolfe was set to feature in a low-budget remake of Plan 9 from Outer Space entitled Plan 9, which was released through Video on Demand beginning February 16, 2016, and then released on physical media in stores on January 5, 2017. Around early to mid January 2013, Rolfe played a brief role as a news reporter in an independent short film about Sonic the Hedgehog. He is set to appear in the upcoming film In Search of Darkness, a documentary about 1980s horror films.
Commitment to the YouTube videos has slowed Rolfe's progress in making new features, but he did make a trilogy of new shorts after the AVGN movie, including Dr. Jekyll and Mr. Hyde: The Movie (2015), based on the video game, Flying Fuckernauts vs. The Astro-Bastards (2016), a tribute to B-movie sci-fi, and Mimal the Elf (2017), a mockumentary. On May 25, 2017, in a general update video about the future of the YouTube channel, Rolfe announced he was in very early development on what he termed an "atmospheric horror movie... [the film would] take place in one room... very minimal". On December 29, Rolfe announced that 2018 would lean more toward his own original projects, and that he had begun writing the untitled horror film. It would be in the vein of past projects, such as Legend of the Blue Hole and Cinemaphobia. On August 8, 2018, Rolfe said he was 50-75% done with the script, and that it would contain some type of 'nostalgia theming', but it would likely undergo further rewrites and had no plans to film it in the near future. On June 19, 2019, Rolfe said the script was completed, but commitment to video production would delay the project for the foreseeable future.
Other Video Series
Cinemassacre has published a number of other reviews featuring James and associates as themselves. The topics include video games (under the James & Mike Mondays series), video game peripherals such as the VictorMaxx Stuntmaster headset, and films. One of Rolfe's other series is Board James, where he and Mike Matei review old board games in a humorous way, often with recurring characters. This show eventually developed into a psychological horror series, while still containing board game reviews in each episode.
Rolfe was involved in a fifteen-part series titled OverAnalyzers, where he played the part of the manager of a fictional company that over analyzed various pop culture references. The series was edited and produced by another website called Cinevore. He also worked as a film reviewer on Spike.com.
Rolfe has run Monster Madness, in which he reviews one horror movie for each day in October, since 2007. Each year, he has adopted a different theme for Monster Madness. 2007 was the history of horror. 2008 was Godzillathon, in which he reviewed all of the Godzilla films chronologically. 2009 was Monster Madness Three, which dealt with a variety of popular and little known films of horror. 2010 was Camp Cult, which dealt with both campy horror films as well as cult classic films, such as Troll 2. 2011 was Sequel-A-Thon, which dealt with horror sequels. And 2012 was 80's-a-Thon, which included only movies made in the 1980s. While the first five years of Monster Madness have been one film review per day for the entirety of the month of October 2012's 80's-a-Thon series of Monster Madness was reduced to every other day of October due to the production of The Angry Video Game Nerd Movie. Despite the decreased number of film reviews, the film reviews in 80's-a-Thon were longer than previous reviews on Monster Madness. With October 2013's Sequel-A-Thon 2, Monster Madness has returned to one review per day. 2013 was Sequel-A-Thon 2, which dealt with more horror sequels. The final 31 marathon Monster Madness series ran during October 2016. Rolfe expressed his desire to move onto other Halloween-themed projects and reviews in the future, but said that Monster Madness will always live on in some way.
In 2017, Son of Monster Madness debuted, which consisted simply of five new reviews, with the rest of October bulked by reuploads of older reviews previously not available on YouTube.
Personal Life
Rolfe attended the University of the Arts in Philadelphia from 1999 to 2004. He continued residing in Philadelphia after graduation. He briefly relocated to Los Angeles while filming Angry Video Game Nerd: The Movie (2014), returning to Philadelphia upon completion of the movie.
In 2004, Rolfe was involved in a car crash when a utility trailer came loose from its truck, flung out to the other part of the highway, and hit him head-on. Miraculously, Rolfe sustained no physical injuries from the crash, while his Saturn Ion, which he had bought just nine days prior, was wrecked. Later that year, Rolfe discussed his experience in a short movie, Mechanical Losses, which can be seen on YouTube.
Rolfe met April Chmura in July 2004; she was a cinematographer on the early Nerd episodes. They began dating shortly after and got married in November 2007. He announced at the premiere trailer for Angry Video Game Nerd: The Movie in November 2012, that they were expecting their first child. In April 2013, she gave birth to a baby girl. Rolfe has not divulged details about his daughter except for a few photos and expressing thanks that his wife got past complications resulting during childbirth.
In November 2013, April posted an update on James's Cinemassacre website that their daughter is continually seeking medical treatment due to unspecified complications. On April 13, 2016, Rolfe revealed what happened while announcing an auction of various Cinemassacre memorabilia to benefit Shriners Hospitals for Children. During birth, his daughter suffered nerve damage in one of her arms, and required many months of physical therapy to gain full use of it. Rolfe expressed gratitude to Shriners for all they did for his family during that time.
On April 19, 2017, Rolfe announced on his Twitter account that he and his wife April are expecting another daughter. Their second daughter was born on August 31, 2017. Rolfe is a fan of heavy metal music. He has stated his favorite band is Black Sabbath. He also enjoys Iron Maiden and Pantera.
He has a younger sister named Gina (born 1984). They are of Italian ancestry.
Channel Series
Angry Video Game Nerd
The most popular of the channel's shows, the show revolves around Rolfe playing a character known as "The Nerd" reviewing old school video games which he deems of poor quality. After he's done reviewing them, he very frequently destroys the game in some way. The series has also strayed from reviewing the game itself, into different storylines and plotlines to help further the episode. There are also numerous characters that have been introduced into the series, often to coincide with the video, these character include Guitar Guy, Glitch Gremlin, Shitpickle, The Joker, Batman, Jason Vorhees, Freddy Krueger, Michael Myers, Leatherface, and several others. Since he started doing the show regularly in 2006, he's produced 14 seasons, season 14 being the one that's airing in 2020. Season 1-9 have been released on DVD, and Seasons 1-13 have been released on Blu-ray. They also put out AVGN Volume X on Blu-ray, which contains the first 100 episodes, or 5 seasons, of the series.
Castlevania II: Simon's Quest
Dr. Jekyll and Mr. Hyde
Karate Kid
Who Framed Roger Rabbit?
Teenage Mutant Ninja Turtles
Back to the Future
McKids
Wally Bear and the NO Gang
Master Chu and the Drunkard Hu
Top Gun
Double Dragon 3
Friday the 13th
A Nightmare on Elm Street
The Power Glove
Chronologically Confused About Sequel Titles
Rocky - Sega Master System/Sega Genesis
Bible Games
Teenage Mutant Ninja Turtles III: Part 1 (Not uploaded to YouTube)
Teenage Mutant Ninja Turtles III: Part 2 (Not uploaded to YouTube)
Atari 5200
Ghostbusters NES
Ghostbusters Part 2
Ghostbusters Part 3
Spider-Man
Sega CD
Sega 32X
Silver Surfer
Die Hard
Independence Day
The Simpsons
Bugs Bunny's Birthday Blowout
Atari Porn (Not uploaded to YouTube)
Nintendo Power
Fester's Quest
Texas Chainsaw Massacre
Halloween - Atari 2600
Dragon's Lair
Christmas Carol Part 1 - Home Alone
Christmas Carol Part 2 - Shaqu Fu
The Legend of Zelda Timeline
Rambo
Virtual Boy
Wizard of Oz
Doublevision Part 1 - Intelivision
Doublevision Part 2 - Colecovision
Super Mario Bros. 3
NES Accesories
Indiana Jones Trilogy
Star Trek
Superman - NES
Superman 64 - Nintendo 64
Batman
Batman Part 2
Deadly Towers
Battletoads
Dick Tracy NES
Dracula
Frankenstein
CD-I Part 1 - Hotel Mario
CD-I Part 2 - Zelda: The Wand of Gamalon
CD-I Part 3 - Faces of Evil/Zelda's Adventure
Bible Games 2
Michael Jackson's Moonwalker - Sega Master System/Sega Genesis
Milon's Secret Castle - NES
Atari Jaguar Part 1
Atari Jaguar Part 2
Metal Gear
Odyssey
X-Men
Terminator
Terminator Part 2
Transformers - Famicom
Mario is Missing
Plumbers Don't Wear Ties - Panasonic 3DO
Bugs Bunny's Crazy Castle
Super Pitfall
Godzilla - NES, SNES
Wayn's World - NES, SNES
Castlevania - NES
Castlevania Part 2
Castlevania Part 3
Castlevania Part 4
Little Red Hood - Unliscenced NES
Winter Games
Street Fighter 2010
Hydlide
Ninja Gaiden - NES
Sword Quest
Pong Consoles
Action 52
Cheetahmen
Game Glitches
Zelda II: The Adventure of Link
Back to the Future ReRevisited
Dr. Jeykle and Mr. Hyde Revisited
Lester the Unlikely
How the Nerd Stole Christmas
Day Dreamin' Davey
Star Wars Games
R.O.B. The Robot
Speilberg Games
The Making of an AVGN Episode
Kid Kool
Nintendo World Championships
Dark Castle
Bible Games 3
Schwarzenegger Games
Ghosts N' Goblins
Atari Sports
Ikari Warriors
Toxic Crusaders
Bill & Ted's Excellent Adventure
Tiger Electronic Games
Alien 3
AVGN Games
Wish List Part 1
Wish List Part 2
Big Rigs: Over the Road Racing
Desert Bus
E.T. - Atari 2600 - AVGN MOVIE SPOILERS!
Beetlejuice - NES
Tagin' Dragons - NES
ALF - Sega Master System/Sega Genesis
Crazy Bugs - Sega Master System/Sega Genesis
Ren & Stimpy: Fire Dogs - SNES
Ricky & Bullwinkle - NES
Marry-Kate and Ashley "Get a Clue" - Game Boy Color
V.I.P. with Pam Anderson - PS1
Lethal Weapon - NES
Porkey's - Atari 2600
Hyperscan
Universal Studios Theme Park Adventures - Game Cube
LJN Video Art
Hong Kong 97
Darkwing Duck
Seaman - Dreamcast
The Crow - Sega Saturn
Mortal Kombat Mythologies: Sub Zero - Nintendo 64
MEGA MAN Games - DOS, PS1, PS2
Paperboy - NES
Beavis and Butthead
Berenstain Bears
Sega Activator Interactor Menacer
Mighty Morphin Power Rangers
Sonic the Hedgehog 2006
Planet of the Apes (Playstation
Game Boy Accessories
Treasure Master - NES
Wrestling Games - NES, SNES
Polybius
Robocop Games
Sonic the Hedgehog 2006 Part 2
Charlies Angels (GameCube)
Star Wars: Masters of Teras Kasi (PS1)
Lightspan Adventures
Earthbound
Dirty Harry
Drake of the 99 Dragons
Tomb Raider Games
Resident Evil: Survivor
Super & Virtual Hydlide
Amiga CD32
The Town With No Name
Home Alone Games with Macaulay Culkin
Chronologically Confused about Kingdom Hearts
Video Game Magazines
Pepsiman (PS1)
Superman 64 Returns! (N64)
Life of Black Tiger with Gilbert Gottfried (PS4)
Chex Quest (PC)
Jurassic Park: Trespasser (PC)
The Immortal (NES)
Spawn Games
The Legend of Zelda: Majora's Mask (N64)
Raid 2020 (NES)
Mortal Kombat 1 Ports
Mortal Kombat Rip Offs
Dennis the Menace (SNES)
The Incredible Crash Dummies (NES)
Mission Impossible (N64)
Eco the Dolphin (Sega Genesis)
Countdown Vampires (PS1)
Legend of Kage (NES)
Taito Legends (PS2)
The Simpsons: Bartman Meets Radioactive Man (NES)
Shrek: Fairy Tale Freakdown (GBC)
Darkman (NES)
Fear and Loathing in Vegas Stakes
3DO Interactive Multiplayer
Corpse Killer (3DO)
Sega Game Gear VHS Tapes
Carmageddon 64 (N64)
Pac-Man 2: The New Adventures
The Rocketeer (NES and SNES)
Greendog (Sega Genesis)
Commordore 64
Freddy & Jason (Commodore 64)
LJN History and Movie Games
LJN Sports and Marvel Games
LJN Wrestling and Other Games
The Last Ninja
Contra How I Remember It
James & Mike Mondays
James and Mike Mondays (previously known as James and Mike Play) is a series where James Rolfe and his friend Mike Matei play either classic or modern games unscripted, often times having other guests on, such as Bad Luck Bootsy, Kyle (the guy who sings the AVGN theme song), JonTron, Macaulay Culkin, among others. They've released a blu-ray which shows some of the best episodes and/or highlights in the series, but have yet to release the entire series on Blu-ray.
Super Mario 4 Rambo
Golf
Atari Jaguar CD
SimCity
Mario Paint
Super C
Turtles in Time
Odyssey II
Snake Rattle N Roll
Atari Video Games (Part 1)
Unlimited & Curse from the Outskirts
Atari Video Games (Part 2)
Taboo: The Sixth Sense
Pilot Wings 64
Atari Video Games (Part 3)
Double Dare
King of Monsters 2
Dr. Jekyll and Mr. Hyde
Corpse Killer
Mike Tyson's Punchout!!!
Excitebike
James Bond 007: Nightfire
Atari Video Games (Part 4)
Smash Bros. Melee
Sonic '06
Godzilla: Unleashed
Karate Champ
The Flower of Robert Mapplethorpe
Bio Force Ape
Rocky
Metal Slug
Contra
Robocop Versus the Terminator
Universal Studios Theme Park Adventures (Part 1)
Universal Studios Theme Park Adventures (Part 2)
Bubsy in Fractured Furry Tales
Super Mario's Wacky Worlds
Dennis the Menace
ToeJam & Earl
Paperboy (N64)
Action Max
Anticipation
Clayfighter
Super Monkey Ball 2
NES Remix
Super Off Road
R.C. Pro-Am II
Nintendo Land
Back to the Future III
Splatterhouse
Jaws: Unleashed
Sonic the Hedgehog Games
Maniac Mansion
Double Dragon
Contra: Legacy of War
Dr. Jekyll and Mr. Hyde Team Showdown
California Games
Super Scope 6
Batman: The Video Game (Part 1)
Batman: The Video Game (Part 2)
Blaster Master Part 1
Blaster Master Part 2
Double Dragon II: The Revenge Part 1
Double Dragon II: The Revenge Part 2
Zombie Nation
Super Castlevania IV Part 1
Super Castlevania IV Part 2
Super Ghouls n Ghosts Part 1
Super Ghouls n Ghosts Part 2
Nosferatu
Chiller
Super Ghouls n Ghosts Part 3
Battletoads "Turbo Tunnel"
Color a Dinosaur
Aquaman: Battle for Atlantis
Daikatana
Mega Man 2 Part 1
Mega Man 2 Part 2
Super Mario X-mas ReKringled & Toyshop Trouble
Excitebike 64
Star Wars: Shadows of the Empire Part 1
Star Wars: Shadows of the Empire Part 2
Star Wars: Shadows of the Empire Part 3
Star Wars: Shadows of the Empire Part 4
Castlevania: Rondo of Blood
Friday the 13th (NES)
Silver Surfer
Top 10 Most Intense James & Mike Mondays Moments (so far)
F-Zero
Bomberman II
Life Force
3-D WorldRunner
Pax East Live!
Probotector/Contra
Golden Axe II
TMNT III: The Manhattan Project
Mortal Kombat X
Yoshi
Earthworm Jim
Double Dragon (Neo Geo CD)
Krazy Kreatures
Mario Kart 64
Super Mario Land
The Legend of Zelda (Famicom)
Ninja Golf
Doki Doki Panic "Super Mario Bros. 2" (Famicom) Part 1
Doki Doki Panic "Super Mario Bros. 2" Part 2
King Kong 2
Burnout 3
Godzilla (2014)
Battletoads
Explosive Fighter Patton
Operation C "Contra"
Super Contra 6 "Contra Force" (Famicom) Part 1
Super Contra 6 "Contra Force" (Famicom) (Part 2)
Indiana Jones and the Eternal Machine
Super Contra 7
Total Carnage
WWF World Rumble
Jackie Chan's Action Kung Fu
Tapper
Metroid (Part 1)
Metroid (Part 2)
Super Morial Arms (Famicom)
Splatterhouse 2
Splatterhouse 3
Castlevania: Bloodlines
Best of James & Mike Mondays Blu-ray!
Zombies Ate my Neighbors
Mortal Kombat (Arcade)
Power Punch II
Gex
Donkey Kong Country
Resogun
Star Wars (Famicom)
Star Wars Chess
Star Wars: Arcade/Star Wars: Rebel Assault
Lego Star Wars "Phantom Menace"
Killing Time
Spirit of Speed 1937
Supreme Warrior
Rod Land (Pal Exclusive)
Flinstones: Surprise at Dinosaur Peak
Mega Man Ultra
Smash Bros. 64
Sky Kid
Keep Talking and Nobody Explodes
Super Game Boy
Metroid II: Return of Samus Part 1
Metroid II: Return of Samus Part 2
Goat Simulator
M.U.S.C.L.E.
Action 53 Part 1
Action 53 Part 2
Super Amazing Wagon Adventures
Star Fox
Power Glove vs. U-Force
Food Fight / Fast Food
Goat Simulator - Devil Goat
Resident Evil: The Umbrella Chronicles
Mortal Kombat XL with LEATHERFACE, JASON, ALIEN, PREDATOR
Doom: Knee Deep in the Dead
Doom 64
AVGN II: ASSimilation Part 1
AVGN II: ASSimilation Part 2
Tengen Ms. Pac-Man
Kung Fu Heroes
Holy Diver
Alex Kidd in Miracle World
TMNT (NES) "You Can Just Walk Over It" 10 Year Anniversary
Ghostbusters (NES) "Defeating the Stairwell"
Batman: Forever
Doom: The Shores of Hell
New Strange Mario Bros.
Joe & Mac
Who's Your Daddy?
Spooky's House of Jump Scares
Wizards & Warriors
Beevis & Butt-Head
The Legend of Zelda: Link's Awakening Part 1
The Legend of Zelda: Link's Awakening Part 2
Wii Car Adaptor and Travel Pack
Aladdin
Eternal Champions
Amnesia: The Dark Descent
Layer's of Fear
Street Fighter II - Ken's Stage
Monster Party
Among the Sleep
Outlast
WWF Super WrestleMania
Terrordrome The Game - Rise of the Boogeyman
The Legend of Zelda: A Link to the Past Part 1
The Legend of Zelda: A Link to the Past Part 2
The Legend of Zelda: A Link to the Past Part 3
Abobo's Big Adventure Part 1
Abobo's Big Adventure Part 2
Fatal Fury Special (Neo Geo)
Palamedes
Road Runner (unlicensed NES)
Sonic the Hedgehog 2 Part 1
Sonic the Hedgehog 2 Part 2
The Worst Stooge - James & Mike Bonus Clip
Ivan Drago Justice Inforcer
NARC (Arcade)
Knuckles Chaotix
Bully
Brutal Doom
Peter Jackson's King Kong
Out of This World
Mighty Morphin Power Rangers
Comix Zone
A Week of Garfield (Famicom)
Use Your Words
Dr. Mario
The Legend of Zelda: Four Swords Adventures - Shadow Battle
Blue's Journey
ActRaiser
BS The Legend of Zelda
Alien vs. Predator
The Thing
Dr. Mario LEVEL 20
Dungeons & Dragons: Shadow over Mysteria Part 1
Dungeons & Dragons: Shadow over Mysteria Part 2
Sailing (Phillips CD-I)
Haunted Castle (Castlevania Arcade)
Goofing Around/Vinz Clortho Monologue
Super Metroid Part 1
Super Metroid Part 2
Super Metroid Part 3
Super Metroid Part 4...the finale
Wrecking Crew
Solomon's Key
F-Zero Part 2
Gun.Smoke
Kabuki: Quantum Fighter
Best Batman: James & Mike Bonus Clip
Wario's Woods
Wawa Discontinued Items - James & Mike Bonus
The Rocketeer Part 1
The Rocketeer Part 2
Castlevania: Overflow Darkness (NES Hack)
Haunting Staring Polterguy
Friday the 13th The Game
Splatterhouse: Wanpaku Graffiti (Famicom)
Ghost Houe
Castlevania II: Simon's Quest
Simon's Destiny
James Rolfe Tells His "Invisible" Super C Story to Mike Matei
Super Mario Odyssey
Game Controllers! with James Rolfe & Mike Matei
Cuphead
The Legend of Zelda: Breath of the Wild Discssion
Rygar Part 1
Rygar Part 2
Gemlins 2: The New Batch
The Immortal
Snow Bros.
Amazing Frog
Super Mario 3D World - Mystery Box Marathon
Super Mario 3D World - Champion Road
Disney Crossy Road
Lords of Thunder
Lookin' at Hacks
Godzilla: Battle Legends
My Horse Prince
Super Mario Bros. (Atari 2600)
Getting Over It
Brutal Super Mario World
ATARI PART 5 - Movie Games
Kart Fighter
Zelda for Atari 2600 (and other Atari hacks)
James and Mike Crack Ups
New Punch Out (NES Hack)
Final Fight 2
Super C Glitched
Earthbound Scratch and Sniff Nintendo Power Magazines
Polybius
Donkey Kong Country 2 Part 1
Donkey Kong Country 2 Part 2
Donkey Kong Country 2 Part 3
The Rocketeer
Super Street Fighter 2 Turbo (3DO)
Ultraman
X-Men: Mutant Apocalypse
Spider-Man and Venom: Maximum Carnage
Donkey Kong Country 3
Mega Man X Part 1
Mega Man X Part 2
ColecoVision Games Part 1
ColecoVision Games Part 2
Grand Theft Auto V Mods
The Death and Return of Superman
More Grand Theft Auto V Mods
Super R-Type
Adventures of Lolo
M.U.G.E.N.
Battletoads/Double Dragon
Shadow of the Beast
Monster Party Part 2
Demons to Diamonds
Ghouls & Ghosts
Catacombs of Nemon
Duck Hunt
Young Indiana Jones
BS F-Zero Grand Prix
Donkey Kong (Game Boy)
The Little Mermaid
Castlevania NO Whip Challenge!
Macaulay Culkin plays The Pagemaster
F-Zero: The Revenge
Ice Climber
Backwards Super Mario Challenge
Mario: No Coins, No Enemies Challenge
Silver Surfer No Shots Fired
James & Mike 300th Episode!
Resident Evil 2 (1998)
Resident Evil 2 (2019)
Ghosts n Goblins Torch Only DEFEATED
Super Castlevania IV HACK
Your Requests! Rocket Knight, Altered Beast, Earnest Evans
Doom Cyberdemon
Life of Black Tiger
Spider-Man (PS4)
ToeJam & Earl: Back in the Groove
Thunder in Paradise
Contra for DOS
R.C. Pro-Am
2 Player Gyromite
Bucky o Hare
Sonic the Hedgehog 2019
Bucky o Hare Part 2
Transformers: Devastation
Playing Some NES Hacks
Godzilla (NES)
NES with Boxing Gloves
Goonies II
Sega Saturn with Racing Wheel
Super Buster Bros.
Scott the Woz plays NES Campus Challenge
Who Will Win the Super Campus Challenge?
Kid Chameleon
Clash at Demonhead
Mike Tricks James Into Playing the Worst Batman Game Ever!
Shinobi 3
Super Mario Maker 2
James is Trying his best at Little Nemo
Skyblazer
The Mask
Mike Matei Shows James Rolf Batman for Sega Genesis
Pocky and Rocky
Bart's Nightmare: The Complete Saga
Super C - No Shots Fired
Decap Attack
Mortal Kombat 11
Doom 2016
4 Player Nightmare on Elm Street (NES)
Ghoul Patrol
Faceball 2000
The Battle of Olympus
Celebrity Death Match
Baby T-Rex (Radical Rex Prototype)
Blazing Chrome
Awesome Super Mario World Hack
Ninja Gaiden (NES)
Die Hard (PC)
QIX
Parodius
SNES Variety Pack
Dr. Jekyll and Mr. Hyde RETURNS Fan Made Game
Super Mario Kart Hacks
The Lion King
Super Metroid Grapple Hack
Deadpool (NES Hack)
King's Knight
The Obscenely Expensive Little Samson for NES
Legendary Wings
Wheel of Fortune
Super Mario Bros. 3
Final Fight
Garfield Kart
Knights of the Round
Switch Shop NES and SNES Games
Mario Kart 8 Deluxe
Discussing Our Pre AVGN Videos While Playing Columns 2
Turtles in Time (NES) vs The Hyperstone Heist (Sega Genesis)
Every Street Fighter II
30 Second Memory Game
Captain Commando
Beating Lolo for NES
Castle Crashers
PixelJunk: Monsters 2
TMNT: Tournament Fighter NES vs. SNES vs. Sega Genesis
Waterworld
Short Hiatus Announcement & The Wizard of Oz
Board James
This show features Rolfe playing old board games mostly from the 1980's and early 1990's as a character called "Board James".
The show often strays from only reviewing the game itself, into cinematic horror-comedy style humor. The show also co-stars Mike Matei as Motherf——cker Mike, alongside Brendan Castner as Bootsy.
The series has been on hiatus since 2015, but James has noted that it could definitely come back in the future, should any more good ideas cross his mind. Between 2009 and 2015, he produced 3 seasons, which ended up developing into an overarching, complicated storyline. He explained the mythology to everyone in the video "Board James Mythology Explained."
Mouse Trap
Dragonstrike
Crossfire
Weapons and Warriors
Fireball Island
Deadly Danger Dungeon
Hero Quest
Mr. Bucket
Tornado Rex
TMNT Games
Key to the Kingdom
Dounut Disaster
Loupin' Louie
Monster Madness
Battle Masters
Splat!
Doggie Doo
Shark Attack
Dream Phone

Dream Phone Commentary

The Making of Board James (Episodes 1-20)
Omega Virus
Lie Detector Game
Ouija/Domino Ralley
Wacky Blaster
Full House & Urkle Games
Video Games!!
13 Dead End Drive
NIGHTMARE and Beyond

Board James Mythology Explained
You Know Whats BS!?
A series starring Rolfe where he rants about different subjects that he calls bullshit, while wearing a mask that resembles bull feces. Since the series started in 2007, he's produced 36 episodes and counting.
DVD Packaging
Pennies
Shoelaces
Penguin Movies
Post Office Pens
Pay Toilets
Temperature
Printers
Christmas Aftermath
Hotel TV's
DVD's
Movie Titles
Too Much Cream Cheese
Fiber Envelopes & Packing Peanuts
DVD & blu-ray Cases
Traffic Spikes
iTunes
Feeding Birds
Wire Hangers
Microwaves
Assholes
Car GPS
Warranties
Amps That Don't Go To 11
Grass
Vampires
Hotel Rooms
Word Pronunciations
Public Bathrooms
Water
Sleep
Dangerous Funeral Processions
Oversized Packaging
Clothing Tags
Wobbly Tables
Snow
The Word Bimonthly
Apple's Lack of Buttons
Rolls of Tape
Pogs
Stickers on Fruit
Inflatable Decorations
Group Texts
Loud Startup Sounds
Bed Sheets
Micro SD Cards
Monster Madness
2007 - History of Horror
During the first Monster Madness in October of 2007, James did a "History of Horror" where he talked about 30 of the best and/or most influencial horror movies in history, staring in the 1930's, and ending in the 2,000's.
The Cabinet of Dr. Caligari (1920)
Nosferatu (1922)
The Phantom of the Opera (1925)
Dracula (1931)
Frankenstein (1931)
The Mummy (1932)
Dr. Jekyll and Mr. Hyde (1931)
The Wolf Man (1941)
Cat People (1942)
Creature from the Black Lagoon (1954)
The Tingler (1959)
Hammer Films (Late 50's to Early 70's)
Roger Corman's Poe Films (1960's)
Psycho (1960)
Night of the Living Dead (1968)
The Exorcist (1973)
The Texas Chain Saw Massacre (1974)
Jaws (1975)
Halloween (1978)
Dawn of the Dead (1978)
Alien (1979)
Friday the 13th (1980)
A Nightmare on Elm Street (1984)
The Evil Dead (1981)
Monster Squad (1987)
Brain Dead aka Dead Alive (1992)
Scream (1996)
From Dusk Till Dawn (1996)
The Last Broadcast (1998)
Bubba-Ho-Tep (2002)
2008 - Godzillathon
During the 2008 Monster Madness, James did a Godzillathon, where he reviewed all 29 of the major Godzilla films up to that point, even the 1998 Godzilla American remake.
Godzilla (1954)
Godzilla Raids Again (1955)
King Kong vs. Godzilla (1962)
Mothra vs. Godzilla (1964)
Gidorah, the Three Headed Monster (1964)
Monster Zero (1965)
Godzilla vs. The Sea Monster (1966)
Son of Godzilla (1967)
Destroy All Monsters (1968)
Godzilla's Revenge (1969)
Godzilla vs. The Smog Monster (1971)
Godzilla vs. Gigan (1972)
Godzilla vs. Megalon (1973)
Godzilla vs. Mechagodzilla (1974)
Terror of Mechagodzilla (1975)
Godzilla 1985 (1984)
Godzilla vs. Biollante (1989)
Godzilla vs. King Gidorah (1991)
Godzill and Mothra: The Battle for Earth (1992)
Godzilla vs. Mechagodzilla II (1993)
Godzilla vs. Space Godzilla (1994)
Godzilla vs. Destroyah (1995)
Godzilla (1998)
Godzilla 2000: Millennium (1999)
Godzilla vs. Megagirus (2000)
Godzilla, Mothra, and King Gidorah: Giant Monsters All-Out Attack! (2001)
Godzilla Against Mechagodzilla (2002)
Godzilla: Tokyo S.O.S. (2003)
Godzilla: Final Wars (2004)
2009 - Monster Madness Three
During the 2009 Monster Madness, James did the same thing he did the first time, two years ago, where he chronicalled the history of horror movies, from 1910 up until the 2000's, for thirty days in a row.
Frankenstein (1910)
Spanish Dracula (1931)
White Zombie (1932)
The Old Dark House (1932)
Freaks (1932)
Invisible Man (1933)
King Kong (1933)
Black Cat (1933)/The Raven (1934)
Man They Couldn't Hang (1939)
The Body Snatcher (1945)
House of Wax (1953)
Daughter of Horror (1955)
The Giant Claw (1957)
The Fly (1958)
Coffin Joe (1963)
Monsters Crash Party (1964)
The Abomonable Dr. Phibes (1971)
American Werewolf in London (1981)
Basket Case (1982)
Creepshow (1982)
Poltergeist (1982)
Re-Animator (1985)
Return of the Living Dead (1985)
The Texas Chainsaw Massacre 2 (1986)
Hellraiser (1987)
Child's Play (1988)
The Brain (1988)
Spontaneous Combustion (1990)
Leprechuan (1993)
Cemetary Man (1994)
The Devil's Rejects (2005)
2010 - Camp Cult
During the 2010 Monster Madness, James did a thing called Camp Cult, where he talked about a movie every single day that is considered a cult classic by today's standards, although not all of them are considered good. In addition, he also did bonus videos such as a tribute to Monstervisision, his Crestwood House Monster Books collection, and his collection of the Universal Studios Monster Classics.
A Tribute to TNT's Monstervision
The Creastwood House Monster Series
Universal Studios Monster Classic Collection
T:he Phantom Creeps (1939)
Return of the Vampire (1944)
Robot Monster (1953)
The Cyclops (1957)
From Hell It Came (1957)
Fiend Without a Face (1958)
Frankenstein 1970 (1958)
The Screaming Skull (1958)
The Terror (1963)
War of the Gargantuas (1966)
Dracula vs. Frankenstein (1969-1972)
Legend of the Seven Golden Vampires (1974)
Infra-Man (1975)
Exorcist II: The Heretic (1977)
The Manitou (1978)
Laserlast (1978)
Night of the Demon (1980)
Mystics in Bali (1981)
Fight Night (1985)
Translvanya 6-5000 (1985)
Critters (1986)
Monsters in the Closet (1986)
Troll Trilogy
Brain Damage (1988)
Monkey Shines (1988)
Leatherface: The Texas Chainsaw Massacre III (1990)
Ernest Scared Stupid (1991)
Robot Wars (1993)/Robot Warriors (1996)
Evil Ed (1995)
Reptilian (1999)
Lost Skeleton of Cadavra (2001)
2011 - Sequel-a-Thon
During the 2011 Monster Madness, James did Sequel-a-Thon, where he went back and reviewed all of the major sequels to a few of the series they've talked about before, including Frankenstein, Dracula, A Nightmare on Elm Street, and Halloween.
Frankenstein Sequels

Frankenstein (1931)
Bride of Frankenstein (1935)
Son of Frankenstein (1939)
Ghost of Frankenstein (1942)
Frankenstein Meets The Wolf Man (1943)
House of Frankenstein (1944)

Dracula Sequels

House of Dracula (1945)
Abbott and Costello Meet Frankenstein (1948)
Horror of Dracula (1958)
Dracula: Prince of Darkness (1966)
Dracula Has Risen From The Grave (1968)
Taste the Blood of Dracula (1970)
Scars of Dracula (1970)
Dracula A.D. 1972 (1972)
The Satanic Rites of Dracula (1973)

A Nightmare on Elm Street Sequels

A Nightmare on Elm Street (1984)
A Nightmare on Elm Street 2: Freddy's Revenge (1985)
A Nightmare on Elm Street 3: Dream Warriors (1987)
A Nightmare on Elm Street 4: The Dream Master (1988)
A Nightmare on Elm Street 5: The Dream Child (1989)
Freddy's Dead: The Final Nightmare (1991)
New Nightmare (1994)
Freddy vs. Jason & Remake

Halloween Sequels

Halloween (1978)
Halloween 2 & 3
Halloween 4: The Return of Michael Myers (1988)
Halloween 5: The Revenge of Michael Myers (1989)
Halloween 6: The Curse of Michael Myers (1995)
Halloween H2O: 20 Years Later (1989)
Halloween: Resurrection (2002)
Rob Zombies Halloween Remakes
2012 - 80's-a-Thon
During the 2012 Monster Madness, James did 80's-a-Thon, where he reviewed 16 classic horror movies or monster movies from the 80's, uploading one every other day, rather than other years, where he uploaded one every single day.
Galaxy of Terror (1981)
Q-The Winged Serpent (1982)
Nightbeast (1982)
Twilight Zone: The Movie (1983)
Deadly Spawn (1983)
Toxic Avenger (1984)
The Stuff (1985)
Making Contact (1985)
Teen Wolf (1985)
Spookies (1986)
Terrorvision (1986)
From Beyond (1986)
The Gate (1987)
Pumpkinhead (1988)
Puppet Master (1989)
Killer Klowns From Outer Space (1988)
2013 - Sequel-a-Thon 2
During the 2013 Monster Madness, James did another Sequel-a-Thon, where he talked about all the major sequels of not only films he's talked about before on Monster Madness, but sequels to series he hasn't, including The Mummy, Frankenstein, Gamera, Alien, and the Of the Dead Franchise; in addition, he also ended it with a full commentary of Night of the Living Dead due to it being in the public domain.
The Mummy Sequels

The Mummy (1932)
The Mummy's Head (1940)
The Mummy's Tomb (1942)
The Mummy's Ghost (1944)
The Mummy's Curse (1944)

Frankenstein Sequels

The Curse of Frankenstein (1957)
The Revenge of Frankenstein (1958)
The Evil of Frankenstein (1964)
Frankenstein Created Woman (1967)
Frankenstein Must Be Destroyed (1969)
Frankenstein and the Monster from Hell (1973)

Gamera Sequels

Gamera (1965)
Gamera vs. Barugonb(1966)
Gamera vs. Gyaos (1967)
Gamera vs. Viras (1968)
Gamera vs. Giruon (1969)
Gamera vs. Jiger (1970)
Gamera vs. Zigra (1971)
Gamera Next Gen

Alien Sequels

Alien (1979)
Aliens (1986)
Alien 3 (1992)
Alien Resurrection (1997)
Alien vs. Predator (2004)
Alien vs. Predator Requiem (2007)

Of the Dead Sequels

Dawn of the Dead (1978)
Day of the Dead (1985)
Land of the Dead (2005)
Diary of the Dead (2007)
Survival of the Dead (2010)

Other

Night of the Living Dead FULL COMMENTARY
2014 - Monster Madness Eight
During the 2014 Monster Madness, James chose to not have any sort of specific category, but instead just review random horror movies throughout the decades. One day he would review one from the 1930's, the next from the 2000's, and the next he'd go back several decades, all month long.
Cabin in the Woods (2012)
Haxan (1922)
Slice Sweet Alice (1976)
Hilarious House of Frankenstein (1971)
Night of the Creeps (1986)
Man Made Monster (1941)
Texas Chainsaw Massacre 4 (1994)
Night Gallery (1969-1973)
The Black Cat (1981)
The Vampire Lovers (1970)
The Exorcist III (1990)
The Walking Dead (1936)
They Live (1988)
Rodan (1956)
Beetlejuice (1988)
The Beast From 20,000 Fathoms (1953)
Bram Stoker's Dracula (1992)
Doctor X (1932)
Insidious (2010)
Murders in the Rue Morgue (1932)
Tourist Trap (1979)
Island of Lost Souls (1932)
Bride of Chucky (1998)
Son of Kong (1933)
Steven King's It (1990)
The Night Walker (1964)
Death Proof (2007)
Dracula's Daughter (1936)
Are You Afraid of the Dark? (1991-2001)
Young Frankenstein (1994)
Trick 'R Treat (2007)
2015 - Monster Madness Nine
During the 2015 Monster Madness, James chose to not have any sort of specific category, but instead just review random horror movies throughout the decades. One day he would review one from the 1930's, the next from the 2000's, and the next he'd go back several decades, all month long. Aside from his normal reviews, of which he did 27 of, James also did four discussions about Horror Movies or Halloween, too.
Reviews

The Ring (2002)
The Wasp Woman (1959)
Sleepaway Camp (1983)
Frozen (2010)
Supsiria (1977)
Misery (1990)
Poultrygeist: Night of the Chicken Dead (2006)
The Monster (1925)
Candy Man (1992)
Little Shop of Horrors (1960)
Silcen of the Lambs (1991)
Human Centipede (2009)
Shaun of the Dead (2004)
The Omen (1976)
Last Man on Earth (1964)
Frankenstein Unbound (1990)
Saw (2004)
Carrie (1976)
Last House on the Left (1972)
Carnival of Souls (1962)
The Beast With Five Fingers (1946)
It Follows (2015)
Night of the Lepus (1972)
City of the Derad (1960)
The Descent (2005)
Invisible Man Series (1933-1951)
House on Haunted Hill (1959)

Discussions

Is it Horror?
Future of Universal Monsters?
Halloween TV Specials
Celebrating Halloween
2016 - Monster Madness X
The 2016 version of Monster Madness has been said to be James' last ever Monster Madness, after ten years of doing the series. Every day of the week has a different theme. Modern Monday, Top 10 Tuesday, WTF Wednesday, Blood Thirsty Thursday, Franken Friday, and Whatever Weekends.
Modern Monday

The Babadook (2014)
Tusk (2014)
Oculus (2013)
Lumberjack Man (2015)
Krampus (2015)

Top 10 Tuesday

Top 20 Golden Age Horror
Top 15 Silver Age Sci-Fi
Top 15 Silver Age Horror
Top 20 Bronze Age Horror

WTF Wednesday

Eraserhead (1977)
Terror Firmer (1999)
House (1977)
Rocky Horror Picture Show (1975)
Blood Thirsty Thursday
Vampyr (1932)
The Lost Boys (1987)
Wolfman Vs Dracula
Dracula Dead and Loving It (1995)

Franken Friday

Frankenhooker (1990)
Mary Shelly's Frankenstein (1994)
Frankenstein Meets the Space Monster (1965)
Victor Frankenstein (2015)

Whatever Weekends

The Wicker Man (1973)
Mr. Sardonicus (1961)
Mighty Joe Young (1949)
Swamp Thing (1982)
Matinee (1993)
Metropolis (1927)
Clash of the Titans (1981)
Targets (1968)
History of Midnight Ghost Shows
Sleepy Hallow (1999)
2017 - Monster Madness 11/Son of Monster Madness/Sunday Bloody Sunday
Even though he previously stated that he was done with Monster Madness, he did decide to bring it back during October of 2017, calling Son of Monster Madness. This time around, however, he would only post a review every Sunday, earning it its alternate name Sunday Bloody Sunday, which means five reviews in total.
Gargoyles (1972)
The Most Dangerous Game (1932)
Hobgoblins (1988)
The Exorcist Prequels: Beginning (2004) & Dominion (2005)
Don't Breathe (2016)
2018 - Monster Madness 12
During October 2018, James uploaded very few new horror movie reviews, while compling the rest of the month with Resurrected Reviews. These are where he uploads old Monster Madness reviews to YouTube for the first time, editing out the clips and replacing them with still images to avoid copyright.
Resurrected Reviews

The Brain (1888) (Resurrected Review)
Return of the Living Dead (1985) (Resurrected Review)
Candyman (1992) (Resurrected Review)
From Dusk Till Dawn (1996) (Rental Review)
An American Werewolf in London (1996) (Resurrected Review)
Coffin Joe series (1960's) (Resurrected Reviews)
Misery (1990) (Resurrected Review)
Night of the Creeps (1986) (Resurrected Review)
The Toxic Avenger (1984) (Resurrected Review)
Tourist Trap (1979) (Resurrected Review)
Twilight Zone: The Movie (1983) (Resurrected Review)
Doctor X (1932) (Resurrected Review)
Dracula's Daughter (1936) (Resurrected Review)
The Night Walker (1964) (Resurrected Review)
Mystics in Bali (1981) (Resurrected Review)
Dracula vs. Frankenstein (Resurrected Review)
Monkey Shines (1988) (Resurrected Review)
Suspiria (1977) (Resurrected Review)
Young Frankenstein (1974) (Resurrected Review)
The Manitou (1978) (Resurrected Review)
Brain Damage (1988) (Resurrected Review)
Shaun of the Dead (2004) (Resurrected Review)
Trick or Treat (2007) (Resurrected Review)

Original Reviews

Hollow Man (2000)
Psycho Series Review (1960-1990)
Halloween (2018) Review. The sequel to "Halloween" called "Halloween"
Link (1986) Review

Rental Reviews

Event Horizon (1997) (Rental Review)
Underrated Horror Movies (Rental Reviews)

Other

Joe Bob Briggs (talking horror)
Cinemassacre's Monster Madness Live (this is where James, Mike, Ryan, and a couple more of their friends do live streamed commentaries over two old, shitty, public domain horror movies, The Terror from 1963 and House on Haunted Hill from 1959. After that, James showed every single episode of Cinemassacre's Monster Madness, from 2007 to 2017, in their original premiere order, in their uncut versions. After the livestream was over, he uploaded the entire thing to YouTube).
2019 - Monster Madness 13
Evil Dead Franchise (1981-2018)
Incubus (1966)
Ernest Scared Stupid (1991)
One Hour Photo (2002)
Man's Best Friend (1993)
The Head Incident (1999)

This is the first time that James is reviewing a horror film that he made. It was made almost exactly 20 years prior to reviewing it.

At Midnight I'll Take Your Soul (1964)
Gremlins 1 and 2 (1984 and 1990)
Space Invaders (1990)
M (1931)
Cage Match!! Mandy vs 8mm
Braindead aka Dead Alive (1992)
The Phantasm Series (1979-2016)
The Devil's Rejects and 3 From Hell (2005 and 2019)
Jacob's Ladder (1990)
Tales from the Darkside: The Movie (1990)
Monster Brawl (2011)
Hereditary (2018)
Waxwork (1988)
Demon Knight (1995)
2020 - Monster Madness 14
Original Videos

Best Horror by Decade
Best Monster by Species/Category

Resurrected Reviews (old Monster Madness reviews, uploaded to the Cinemassacre Plays YouTube channel, first time on YouTube)

Fright Night
Spookies
Carrie
Puppetmaster
Re-Animator
Poltergeist
Hellraiser
They Live
Critters
The Stuff
The Beast With Five Fingers
The Last House on the Left
Pumpkinhead
Child's Play
Rodan
The Omen
The Cyclops
The Hagstone Demon
Spontaneous Combustion
From Hell It Came
Creepshow
Hilarious House of Frankenstein
Infra-Man
From Beyond
Cabin in the Woods
Reptilian
The Gate
Basket Case
Sleepaway Camp
TerrorVision
Bram Stoker's Dracula
2021 - Monster Madness 15 - The RETURN of Monster Madness - Around the World
With 2021's Monster Madness, subtitled Around the World, he chose movies from various different countries, to explore how other cultures interprets horror. Every movie he reviewed was from a different country.
28 Days Later (United Kingdom, 2002)
The Host, (South Korea, 2006)
Mark of the Devil (Germany, 1970)
The Lift (Netherlands, 1983)
Mahaakal (India, 1994)
The Ship of Monsters (Mexico, 1960)
Troll Hunter (Norway, 2010)
Eyes Without a Face (France, 1960)
Pulgassari (North Korea, 1985)
Grabbers (Ireland, 2012)
Seytan AKA Turkish Exorcist (Turkey, 1974)
Fangs aka Egyptian Rocky Horror (Egypt, 1981)
Road Games (Australia, 1981)
Ghost Killers vs. Bloody Mary (Brazil, 2018)
Vampire Hunter D (Japan, 1985)
A South African Horror Story (South Africa, 2019)
Let the Right One In (Sweden, 2008)
Terrified (Argentina, 2017)
Juan of the Dead (Cuba, 2011)
A Chinese Ghost Story (China, 1987)
Lady Terminator (Indonesia, 1988)
Run! (Cambodia, 2013)
Sauna (Finland, 2008)
Night Watch (Russia, 2004)
Muoi (Vietnam, 2007)
Ghoul (Czech Republic, 2015)
Rabid (Canada, 1977)
REC (Spain, 2007)
Big Bad Wolves (Israel, 2013)
Inferno, (Italy, 1980)
Bad Taste, (New Zealand, 1987)
Rental Reviews
Rental Reviews is a more recent series on the channel where James and his friends Justin, Tony, and Kiren, casually discuss & review various movies, sometimes horror, but not always. Occasionally Mike will join them too, but not often. The reviews take place in James' basement, which is laid out in the design of a retro video rental store, which he humorously calls Cinemassacre Video; this is due to James' deep seated nostalgia for old school video rental stores.
MAC and ME: McDonald's Rip-Off E.T. Movie (1988) - Rental Reviews
COMMANDO: 'Schwarzenegger Action' at its Best - Rental Reviews
Surf Ninjas: Surfing Karate Kids and Rob Schneider - Rental Reviews
Movies We Changed Our Minds About - Rental Reviews
RAD: The Raddest (and Only?) BMX Racing Movie - Rental Reviews
THE Predator Movie Review... or is it Predator 4? or 6? - Rental Reviews
The BIGFOOT Movie: Harry and the Hendersons - Rental Reviews
Starship Troopers Review: Good, Bad, or Both? - Rental Reviews
From Dusk Till Dawn: Tarantino takes on Vampires - Rental Reviews
Event Horizon: Space Horror That's Scary Good - Rental Reviews
Underrated Horror Movies for Monster Madness - Rental Reviews
Star Trek V: The Final Frontier, Worst of the TOS Films - Rental Reviews
Mortal Kombat Annihilation: Terrible Sequel, Terrible Movie - Rental Reviews
Creed II: The Solid Sequel to Rocky IV - Rental Reviews
Video Rental Store Memories with Nostalgia Critic & Cinema Snob - Rental Reviews
Is Jingle All the Way Really That Bad? - Rental Reviews
"Old Habits DIE HARD" - Christmas Rental Reviews
Macaulay Culkin's Pick: Big Trouble in Little China - Rental Reviews
The Star Wars Holiday Special Made Us Itchy and Lumpy - Rental Reviews
Freaked Review: Pretty Freakin' Gross - Rental Reviews
Demolition Man Review - Rental Reviews
What's the Goriest Movie You've Ever Seen? - Rental Reviews
Akira (1988) Anime Review - Rental Reviews
Underrated Action Movies - Rental Reviews
Caddyshack (1980) Review - Golfers, Gophers, and Goofballs - Rental Reviews
Raiders VS. Last Crusade - Indiana Jones Showdown - Rental Reviews
Temple of Doom VS. Crystal Skull - Indiana Jones Showdown - Rental Reviews
Strangest Actor Recastings in Movies & TV - Rental Reviews
Leprechaun St. Patrick's Day Special (Original & Leprechaun Returns) - Rental Reviews
Ernest Goes To Jail - Jim Varney's Most Electrifying Performance - Rental Reviews
Road House (1989) Review and our Weirdest Bar Stories - Rental Reviews
The Running Man (1987) When Reality TV gets TOO real! - Rental Reviews
Mortal Kombat: The Journey Begins (2D & 3D Animated Film) - Rental Reviews
Kazaam Review (1996) Starring Shaq the Rapping Genie - Rental Reviews
Why Doesn't James Like the Avengers Movies? (No Endgame Spoilers) - Rental Reviews
Pokémon Detective Pikachu Review (2019) - Rental Reviews
The Fifth Element (1997) the Wacky Sci-Fi Action Comedy Love Story - Rental Reviews
Last Action Hero (1993) the Schwarzenegger Parody Better Than Most Other Action - Rental Reviews
Godzilla: King of the Monsters Review (2019) "Godzilla 2" - Rental Reviews
Superman IV: The Quest for Peace (1987) - Worst Superman Movie?? - Rental Reviews
The Spice Girls Movie "Spice World" Review (1997) with Erin Plays - Rental Reviews
R.O.T.O.R. (1987) - Part Terminator, Part Robocop, ALL TERRIBLE! - Rental Reviews
Rental Reviews LIVE! (Panel from TooManyGames) - Rental Reviews
Scott Pilgrim vs. the World, with Scott The Woz!! - Rental Reviews
Kermit's Swamp Years (with Arlo) the Worst Muppet Movie - Rental Reviews
Plan 9 from Outer Space (60th Anniversary) the Ed Wood Classic - Rental Reviews
Dumb and Dumber (1994) the '90s Comedy Classic - Rental Reviews
Teenage Mutant Ninja Turtles 1 and 2 - The First (and best) TMNT Films - Rental Reviews
DUEL (1971) It's Steven Spielberg's "Jaws," but with a Truck - Rental Reviews
Norm Macdonald and Bob Saget's Dirty Work (1998) Chris Farley's Last Film - Rental Reviews
Anonymous Rex (2004) Dinosaurs in Disguise! (with Psychostick) - Rental Reviews
Airplane! (1980) Laughs, One-Liners, and Leslie Nielsen (with Psychostick) - Rental Reviews
True Lies Review (1994) The Tippy Top of Mount Schwarzenegger - Rental Reviews
The Sandlot (1993) - A Family Film About Baseball and a Big Dog! - Rental Reviews
Rambo: First Blood (1982) Review with Keith Apicary & Nathan Barnatt - Rental Reviews
Jurassic Park 2 VS. 3 - What's better, The Lost World or Jurassic Park III?? - Rental Reviews
The Blob (1958) VS.The Blob (1988) - Rental Reviews
Chopping Mall - Where Shopping Costs You an Arm and a Leg! - Rental Reviews
The Monster Squad (1987) The Ultimate Monster Mash? - Rental Reviews
Our Favorite Halloween TV Memories with Mr. Lobo - Rental Reviews
Predator (1987) - Rental Reviews
Characters
Protagonists
Mother Fucker Mike
Guitar Guy
Nerdy Terd
Shit Pickle
Super Mecha Death Christ
Pat the NES Punk
Spider-Man
The Angry Video Game Nerd
The Ninja
Lloyd Kaufman
Antagonists
Nostalgia Critic
Glitch Gremlin
Bugs Bunny
Hillbilly
Chop Top
Leatherface
Klingon
Bad Luck Bootsy
Dream Phone
Mr. Bucket
Franken Nerd
R.O.B. The Robot
Jason Voorhees
Freddy Krueger
The Devil
The Joker
Michael Myers
The Ghosts of Christmas
The Cowardly Lion
Death Mwauthzyx
Board James
Skylar
Dream Phone
Bloodstain Bears
Angry Video Game Nerd (Bloodstain Bears Universe)
Tyrant
Pepsiman
Fred Fuchs (alternately Fred Fucks)
Other
Bullshit Man
Boo
Naggi
Beer Droid
Mr. Riggs
Cinemassacre Extras (Channel)
James and Mike have another channel on YouTube, where they upload additional bonus material such as old Angry Video Games episodes in higher quality and other bonus material.
Angry Video Game Nerd Movie
It was announced that a movie based on his "Angry Nerd" Character would be made. The film premiered at the Grauman's Theater in Hollywood, California, on July 21, 2014.
Angry Video Game Nerd Adventures
Matei appeared as a playable character in 2013's The Angry Video Game Nerd Adventures for Steam and Wii U. He wields a red lightsaber and has the ability to see through blocks hiding items that will assist the play such as health. His only quote is "Hey, Nerd! You're here too!" once the player stumbles upon him. When the actual Nerd reviewed such a game in AVGN Games, he didn't know who Mike was. This is because Mike only appears behind the scenes between the Nerd's fictitious world and James Rolfe's real world.
Mike's Game Glitches
On January 14, 2011, Mike Matei did his first solo video for Cinemassacre "How to Jump Over The Flagpole on Stage 1-1 in Super Mario Bros". Which went viral on the web. In interviews, Matei has stated that he originally was going to include this as part of the abandoned video "AVGN Game Glitches 2". Instead, Matei started his own spin-off series called "Mike's Game Glitches", where he showed the audience how to perform glitches and tricks in video games. This series ran from Feb 2011 to Feb 2012. Currently Matei spends most of his time editing James & Mike Mondays and other Cinemassacre videos.
Game Reviews
James & Mike Mondays
Mike & Ryan Talk About Games
Miscellaneous
Though Mike began doing comedic videos, he has progressed into doing more serious critiques of games. Matei is a major contributor in helping with the video editing for Cinemassacre's Monster Madness. Rolfe also made many student films in college.
Theme Songs
Starting with his review of McKids James got his close friend and musician Kyle Justin to write and record an offical theme song for the show, by taking a lot of the phrases that James has said in previous reviews and putting them into lyrics.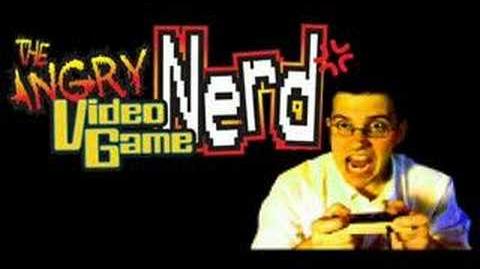 Original Lyrics
"He's gonna take you back to the past, to play the shitty games that suck ass, he'd rather have a buffalo, take a diarrhea dump in his ear, he'd rather eat, the rotten asshole, of a roadkilled skunk and down it with beer, he's the angriest gamer you've ever heard, he's the angry Nintendo Nerd, he's the angry Atari Sega nerd, he's the angry video game nerd."
Full Lyrics
"He's gonna take you back to the past, to play the shitty games that suck ass, he'd rather have a buffalo, take a diarrhea dump in his ear, he'd rather eat, the rotten asshole, of a roadkilled skunk and down it with beer, he's the angriest gamer you've ever heard, he's the angry Nintendo Nerd, he's the angry Atari Sega nerd, he's the angry video game nerd. When you turn on your TV, make sure it's tuned to channel 3, he's got a nerdy shirt, and a pocket pouch, although I've never seen him write anything down, he's got a power glove, and a filthy mouth, armed with his every will tear these games down. He's the angriest gamer you've ever heard, he's the angry Nintendo nerd, he's the angry Atari Sega nerd, he's the Angry Video Game Nerd. He plays the worst games of all time, horrible abonimations of mankind. They make him so mad he could spit, or say cowabunga - Cowa fuckin' piece of dog shit. The rip you off and down care one bit, but this nerd he doesn't forget it, like why can't a turtle swim, why can't I land a plane, they got a quick buck for this shit load of fuck. The characters names are wrong, why are the passwords so long, why don't the wapons do anything.....he's the angriest gamer you've ever heard.....the games suck so bad he makes up his own words. He's the angriest most pisssed off gaming nerd. He's the angry Atari, Amigo, CD-I, Colecovision, Intelevision, Sega, Neo Geo, Turbo GrafiX 16, Odyssey, 3DO, Commador, Ninendo nerd.....he's the angry.....video game.....nerd....."
Christmas Alternative Lyrics
"He's playing some games, the worst he recalls, he's gonna find out which ones suck the most balls, the Angry Video Game Nerd is here. Oh, he's making a list and checking it twice, he's gonna go home and eat chicken and rice, the Angry Video Game Nerd is here. He plays the games that stink, he knows which games to break, he just might even hate them all, cause he's mad for fuckin' sake. You better watch out, don't give these games a try, you better not play them, he's telling you why, the Angry Video Game Nerd is here."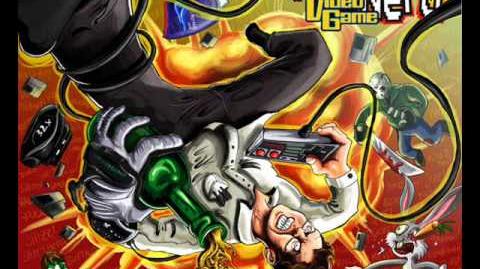 Nintendo Power Alternative Lyrics
"Get the power, Nintendo Power, get the clues that you can use Nintendo Power, higher and higher fighting your way through enemy fire."
Techno Remix
As a one time thing James had the theme song remixed in a techno version.
Controversies
Cheetahmen 2 Play Or Die Kickstarter Drama
Back in 2012, Cinemassacre and Pat the NES punk promoted a Kickstarter called 'Cheetahmen 2: Play or Die', which was a fix for the infamous Cheetahmen 2. Controversy sparked for 3 main reasons:
It came out around the time James thanked people for donating to the AVGN Movie Kickstarter, which some people speculated that this new Kickstarter went to funding for his new house instead.
Mike, who managed the Cinemassacre YouTube channel at the time, disabled the ratings and comments.
The Kickstarter was asking for $65,000 for what was, essentially, a ROM hack.
Mike Matei would eventually share his opinion, saying that he was also suspicious of the Kickstarter, as there was already a "fixed" version available online, and because of the high aforementioned goal of $65,000.
Thoughts on Ghostbusters 2016 reboot
On May 17, 2016, James uploaded a video to Cinemassacre's YouTube channel in which he expressed unhappiness with the 2016 Ghostbusters reboot film and how he both planned to not see it nor release a review. His stance was criticized by some in the entertainment industry who saw the stance as grounded in sexism. However, James kept silent throughout the entire stir, and it quickly dissipated.
ScreenWave Media
In 2014, the company who previously owned Cinemassacre, ScrewAttack disbanded which would later become Death Battle. Around 2015, Cinemassacre was acquired by ScreenWave Media since James's friend, Ryan Schott was the founder of the company. Many older fans would question the company's practices. Such as the sudden disappearance of Bootsy and Kyle Justin around 2016. While the initial reason for Bootsy's departure was because of his music career, he later revealed that it was because Mike was jealous of his popularity[2]. However, the reason for Kyle Justin's departure is currently unknown, although many theories exist online.
Soon new members would join Cinemassacre like Justin Silverman, Kieran Fallon, and Tony Piluso, who've been met with mixed responses from fans. Some would criticize the editing, humor, and continuation of the Angry Video Game Nerd. An example is the multiple sound effects in the new 'You Know What's Bullshit' episodes. It even got to the point where a subreddit, called 'The Cinemassacre Truth', was created to "expose" the channel. However, Cinemassacre has never made a comment on these criticisms, and most fans nowadays are unaware of the subreddit's existence.
Plagiarism Accusations
On October 1, 2021, Cinemassacre posted it's first Monster Madness review in 2021 in which he reviewed 28 Days Later. A day later, a reddit user on The Cinemassacre Truth subreddit named "Z_B_123" accused them of stealing certain phrases from a 2003 article by Cecilia Sayad. Soon after, multiple people accused Cinemassacre and ScreenWave Media of plagiarizing other monster madness videos as well as certain Angry Video Game Nerd videos. The review for 28 Days Later would soon be deleted from the website, however reuploads exist on YouTube. A producer from Screenwave, Justin Silverman responded to these accusations in comments blaming an employee named Newt Wallen for stealing phrases from the article.
On October 4, James made a video apologizing for the plagiarized video. He explains that he collaborated with other writers to make Monster Madness videos, and James read the script for the video, being unaware that it's lines were stolen. He states that plagiarism is unacceptable and that the 28 Days Later review is being reworked. On October 3, Justin Silverman apologized and elaborated in a YouTube comment on the Red Cow Arcade podcast. He says that since James isn't knowledgeable in foreign films, he has to ask other writers to do research and write some parts of the script. He apologized for the episode and further states that ScreenWave does not own Cinemassacre and is only a partner. While some fans have forgiven Cinemassacre, others have criticized them for shifting blame onto Newt Wallen. A rewritten review was uploaded sometime later onto the website in place of the original.
Criticism
Rex Viper concert
Around 2021, James set up a rock band called Rex Viper, which covers 80's rock music with video game references added in. The band received mixed responses from fans, either praising or criticizing them. On October 9, 2021, at the TooManyGames convention, Rex Viper held their first public concert, covering six songs. The footage was uploaded onto the Cinemassacre Clips channel on October 22, 2021. It received an overwhelmingly negative response from fans and critics for them being out of tempo, inconsistent volumes for the instruments, and poor singing from James Harding. The like to dislike ratio on the video was split in the middle and the majority of the comments would be mocking the concert. Rex Viper have said that they did practice three days before the concert was scheduled, which was also criticized as well since this was the band's first time together in person.
Quotes
"What a sh*tload of f*ck."
A**! Hole? A** [Beep]! Television makes a lot of sense."
"A**!"
"Yeah, I like saying the word 'a**' a lot. I guess you could say I'm an 'a**aholic.'"
"I'd rather have a buffalo take a diarrhea dump in my ear."
"I'd rather eat the rotten a**hole of a roadkilled skunk and down it with beer."
"I'd rather have a diarrhea dog take a lava dump in my ear!"
"What were they thinking?"
"You know what, you f*cking game, I banged your mom."
"Cowa f*ckin' piece of dog sh*t! This game is diarrhea coming out of my d*ck!"
"It's MeatWad! Yeah, it's f*cking MeatWad!"
"You're a p**py head!"
"Even the song is the same, but it's not that bad. It sounds like nail making sweet love to chalkboard, rather than the hardcore nail on chalkboard gangbang like the nes version (comparing the music of the NES and SNES versions of Legend of Kage)
"This game sucks."
"64 bit. 32 bit. 16 bit. 8 bit. 4 BIT. 2 BIT. 1 BIT! HALF BIT! QUARTER BIT! THE WRIST GAAAAAAAAME!!!"
Trivia
In the Power Rangers episode of James & Mike Mondays, James said that, back in 2006 or 2007, he was originally planning on having a different character for each console. They would be the Angry Nintendo Nerd, (the original name of the Angry Video Game Nerd), the Pissed Off Playstation Poindexter, and the Atari Geek. This is what inspired the idea in the Power Rangers AVGN episode. It's unknown what his Sega name would have been, or if they would have originally been able to fuse together into The Angry Video Game Nerd. He also presumably didn't have a name for the Tiger games, as it's very unlikely that he ever planned to review Tiger games at that point, (plus, later on, he only talked about them two times, one in their own episode, and another when he talked about Mortal Kombat 1 Ports).
In the video "Top 10 Popular Films I Don't Love", James has stated he is of Italian descent.
James has stated that he wanted to make movies ever since he was a kid.
He is one of the original YouTubers having started his career in 2006 along with Onision, Nigahiga, and Shane.
He actually started his career back in 2004 when he uploaded videos on his website.
Due to the reveal of Board James and the Nerd being the same person, many fans have speculated that the Board James series is either a prequel to AVGN or a sequel. However, James Rolfe has revealed that The Nerd is Board James's split personality, although Rolfe has also said that he sees the two entities as separate ones, hinting that Board James may be imagining that part as well, or there may exist an alternate universe, where they are two identities in the same person.
As explained in the Board James Mythology Explained video, the release dates of each Board James episode has a secret message when taking the date numbers.

April 1 = 1
May 3 = 3
June 1 = 1
July 3 = 3
August 4 = 4
September 5 = 5
November 1 = 1
December 4 = 4

If you take the last four numbers and convert them into words, the message reveals itself as "1313 DEAD".
Also explained in the Board James Mythology Explained video, the hats that Board James wears: Apple, Frankinstein, Top Gun, Empire Strikes Back, RCA and the Skull that means death. If you take the first letters of each of the first 6, A-F-T-E-R Death = After Death.
In the 3rd season, you can see that Board James's T-Shirts get increasingly darker by episode: White, Orange, Light Grey, Blue, Navy then Black.
The May 5, 2014 episode of James & Mike Mondays, titled, "NES Remix", marks the first time that an eighth generation console has appeared on the Cinemassacre channel (Wii U).
The September 21, 2015 episode of James & Mike Mondays, titled, "Metroid (NES) Part 2", marks the first and so far only time in the series (as well as in all of Cinemassacre) where James has done a solo let's play.
In a podcast with Pat Contri, Mike explains the conception and origins of the show James & Mike Mondays (beginning at 8:05).
The March 30, 2020 episode of James & Mike Mondays, titled, "Timberman VS" marks the first time since "TMNT III: The Manhattan Project" that James and Mike played in separate locations via video call.

The video's upload comes during the COVID-19 pandemic where people are practicing social distancing and self-quarantine to avoid spreading/coming into contact with the virus.

The second episode of You Know What's Bulls*it?, his rant on pennies was featured on CNN, but all the swear words in the CNN broadcast were censored. You can watch a recording Here
In episode 38 of You Know What's Bullsh*t?, the intro is changed to "You know what's BS?". He claims he "can't say the word anymore". He says it anyway at the end.
James Rolfe (as himself from Rental Reviews) made a cameo in the "Amiga CD32" episode of The Angry Video Game Nerd where the Nerd inquired if anyone in Surf Ninjas got their heart ripped-out Kano style since it happened in the video game adaptation. After James uncomfortably denies this, the Nerd hangs up on him as James calls the Nerd an a**hole for his rudeness.
The series Talk About Games was conceived out of Mike's desire to do more videos on modern games, as he had predominately been a retro gamer up to that point. Since Ryan enjoyed playing modern games a lot, Mike suggested to Ryan the idea of them doing videos together. Ryan did not initially want to do it, but Mike was eventually able to convince him. Mike explained this in a live stream he did of Super Mario Bros. 3, although the stream was later removed.
James Rolfe had a cat, named Boo, who appeared in several episodes of Angry Video Game Nerd. He died in 2020 from cancer at 13 years of age.
James has another snow-white cat named Yeti, who has yet to appear in any episodes.
In the part where Boo chases the Jaguar cube, a laser pointer was used to get Boo to chase after it, which is how the scene was created. The laser dot can be seen as the cube moves around the floor.
He was never directed to by name in the series, instead being addressed to as "cat", "little b*stard", or "death kitty".
Boo makes a short appearance in the Board James review of Weapons and Warriors, chasing after plastic balls and disturbing Motherf*cker Mike's focus as he tries to play the game.
James was a guest star in the Adult Swim series, Smiling Friends where he made a brief live-action cameo. It was originally thought that he also played as Satan. However this was debunked, instead being voiced by Zach Hadel.
Gallery
External links
References