Comments are a function that is used on YouTube enabling members to post their statements, opinions, facts, questions or remarks on the video or channel. This function is used to put a comment in the bottom of a video.
History
Comments were surprisingly not used in the beginning of YouTube. That's because in the beginning of YouTube, it was a dating site, in mid 2005, when YouTube's premise changed the comment section was created. A lot of people though that the first comment ever posted was from the user COBALTGRUV, which was posted on July 12, 2005, on Jawed's video, Me At The Zoo. But the actual first comment ever posted on YouTube was posted by a guy called Marco Cassé, witch was succesfully posted on June 14, 2005, the comment said "LOL!!!!!!" It is rumoured that this comment was removed.
LINK:http://i.imgur.com/lzDaC0k.png
Google Plus
By 2011, Google Plus (G+) was directly integrated onto YouTube so it can streamline the site. But, when this event happened the Bob Army was made by people texting a stick figure next to a tank and the comment says: "Bob is building an army. This tank & Bob are against Google+. Copy and Paste this all over YouTube, if you are with us."
2013, Google+ came back with a vengeance, now forcing users to have a G+ account, in order to comment on videos. It was so terrible, that one of the founders of YouTube, Jawed Karim, came back to Google just to ask, "Why the f--k do I need a Google+ account to comment on a video" (His actual words)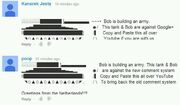 Spam/Scam/Trashposting/Troll Comments
Spam/Trashposting/Troll/Scam comments were well known to be a part of the YouTube comment's system, most users either asked for likes or subs or attention.
Here are some examples:
The Mr.Butt Comment.

"This is Mr.Butt 🍑
He farts alot but his friends make fun of his farts for not being smelly enough.
1 like = the smellier his fart is.
Copy and paste to make him happy."
Started by ActicDude
Link to the video where the comment's popularity started.
The "This Is Bob" Comment.

Comment bots
Mostly appearing on videos relating to Bollywood and ElsaGate, since October 2014, gibberish comments from bots has clearly became a thing now. Such as writing one letter or writing nonsense gibberish or just commenting their own channel names, here are some examples: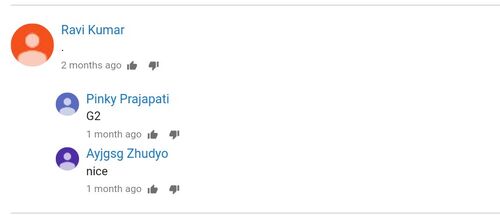 Community content is available under
CC-BY-SA
unless otherwise noted.