Cristina Vee is an American singer and voice actress, known for acting in various anime and video games. She also posts covers of songs on her YouTube channel.
YouTube Channel
Cristina created her channel on November 8, 2008. Her first video was a cover of the opening to Higurashi no Naku Koro and was posted on the same date as her channel's creation.
Since the creation of her channel, Cristina has posted various other videos, such as covers, remixes, and acting reels.
Music
Music takes up a lot of Cristina's work available on her channel. She has posted many covers, ranging from anime and other shows (Such as her Fullmetal Alchemist cover and her Teen Titans theme song cover.) She as also uploaded music from films, like her cover of "Whole New World" from Disney's Aladdin, and "Let It Go" from the animated feature Frozen.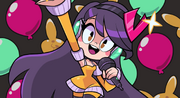 She also has some remix videos, such as the video "Discotheque".
Another popular video on Cristina's channel is videos translated into English. In these she takes popular songs (often
those in Japanese) and covers it in English. In fact, her most popular video to date (with almost 2 MILLION views!) is a translated version of the popular song "Bad Apple". Some other translated songs Cristina made are Haruhi Suzumiya's "Super Driver" and Sword Art Online's "Innocence".
Some other music she has posted include that from games, and (Portal's "Still Alive") Broadway. (Rent's "Take Me or Leave Me")
Acting
On her channel, Cristina has acting reels. The first is created for her work as a voice actress, displaying her talents in the feild. The second is her work in many different video games. She also has been in a couple different YouTube short films, of which she created a playlist for.
Other
Though not very often, Cristina makes some vlogs. An example of this would be her short video created as an announcement for the new Sailor Moon English release, as well as her role as Sailor Mars in the show. She also created a video about the 2014 Vox Reax Tour and her appearance there.
Work Outside of YouTube
Cristina has done quite a bit of work outside of YouTube.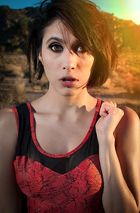 As a voice actress and musician, Cristina has done various voice acting jobs, in both video games and television, including:
Alicia Ru in Sword Art Online
Riruka Dokugamine in Bleach
Homura Akemi in Puella Madoka Magica
Layla in Pokémon Black & White
You can read a bit more about her other work here.
Trivia
In the spring of 2012, Cristina held a Kickstarter in order to get an animated music video for one of her songs, with a goal of $6,000. She reached the goal on April 5 of the same year, as was even able to surpass the goal by $2,000 before the fundraising ended.
Community content is available under
CC-BY-SA
unless otherwise noted.