Wiki Targeted (Entertainment)
Play Sound
Warning!
This article, CwcvilleGuardian, may contain material that is
disturbing, such as rape and incest
.
"
Hello everybody, this is Christine Chandler coming to you live from home once again.
"

―CwcvilleGuardian Intro
Christine Weston "Chris" Chandler, formerly Christian Weston Chandler (born: February 24, 1982 (1982-02-24) [age 39]), better known online as CwcvilleGuardian or Chris Chan, is an American YouTuber, vlogger, artist, musician, and cult leader known for creating the web comic series Sonichu.
Chris originally identified as male, but since 2016, has identified as a trans woman. Chris' internet career began in 2000 with the uploading of Sonichu comics to a personal website. Chris has become an infamous trolling target due to her comics and personal life, notably one of the most documented people in history.
Background
Early Life
Christopher Weston Chandler was born in Charlottesville, Virginia on February 24, 1982 to parents Barbara Anne Weston and Robert Franklin Chandler Jr. Chris had an abusive babysitter named Roach at 18 months old. She says that Roach would lock Chris in her room whenever she got angry.[1] Chris claims that this event was the source of her autism (which is false, as autism is a genetic condition and isn't activated by traumatic events).[2]
Up until when Chris was 7, she didn't speak at all, and visited James Madison University for speech therapy, during that time, Chris was diagnosed with high-functioning autism, with doctors predicting that she would never make it to high school, much less be able to write her name. However, Chris was able to meet these cognitive milestones in time.[3] By the age of 7, Chris was finally able to talk by slowly reading out a Gobots package, thus, ending her six years of silence.[4] According to Chris and her half-brother, Cole Smithey, Barbara abused and manipulated them, although not as much to Chris. One example was when Chris and Bob attempted to clean up her hoarding, but she threatened to commit suicide, so Chris and Bob never cleaned up the mess.
In 1993, her first name was legally changed to Christian after an mall animatronic bear pronounced her name incorrectly, which she took as a sign from god.[5] Chris often liked to play video games and watched cartoons and films as a child, becoming fans of Sonic the Hedgehog and Pokémon.
Chris first attended Greene County Primary School, before transitioning to Nathanael Greene Elementary School in Fourth Grade, were she claimed that she was abused by the teachers and principals, such as pinning her down to the ground, holding her wrists and ankles, and audio taping her cries. Bob and Barbara took legal action against the school district of Greene County. The district recommended putting Chris in a Special Education School but Bob refused the offer, fearing that his son would be institutionalized. Chris and Bob moved away from their Ruckersville home, while Barbara stayed in Ruckersville, alongside the family dog, so she could continue working at Virginia Power.[6]
In September 1993, Chris attended Province Middle School in Richmond, Virginia, until she graduated in 1996. She would attend High School in Richmond where she meet several female friends which she called "gal-pals". She graduated in 2000 and attended Piedmont Virginia Community College but was suspended for a year by the dean due to soliciting. She later returned and graduated in 2006 with a degree in Computer Aided Drafting and Design.[7]
Internet fame
On March 17, 2000, Chris created Sonichu in a graphic design class; she wanted to use Sonic the Hedgehog and Pikachu on a CD cover, which wasn't allowed for legal reasons, so she combined features from Sonic and Pikachu to create a brand new character.[8] The first Sonichu comic was released on March 24, 2005.[9] She first got attention in 2007 when Encyclopedia Dramatica made a page mocking Chris. She's been ridiculed online for her art, views on women and homophobia, laziness, manipulation, narcissism, etc.
She also created a virtual band called "Christian and the Hedgehog Boys" which featured characters from the Sonichu comic as band members. Two albums were released: Christian & the Hedgehog Boys (2003) and Christian & the Hedgehog Boys COMEBACK! (2009). The music was made by singing over pre-existing pop songs and changing some of the lyrics.[10]
Current
On September 6, 2011, Bob died from complications from heart failure, which made Chris depressed and became silent from the internet. Around the same year, Chris claimed that she was a tomgirl and went through gender dysphoria, but her parents heavily disapproved.[11] On January 10, 2014, their house had caught fire in the early morning. Firefighters were able to put out the fire which took two hours. While the reason for the fire is unknown, Chris claims that it was caused by an extension cord from her coffee machine. Chris and her family later moved into a rental house.[12]
In 2016, her name changed a second time to Christine after she came out as transgender. She believed that her gender was changing after watching high frequency videos, which lead her to cut her taint in order to grow a vagina, which resulted in an infection.[13] Her gender was also legally changed and she later came out as bisexual.[14][15]
Around 2018, Chris started to believe that she is a goddess, and her followers are known as CWCans, or the Devotees of Chris Chan Sonichu.[16][17] However, it's unclear if there are any true believers other than Chris herself, since most of the members are considered to be trolls. They claim that our reality and cartoon reality will soon collide in a "Dimensional Merge," destroying 41% of humanity in the process. Chris also said that everyone is an OC and any characters people have created will come to life.[18] On August 1, 2021, she was arrested by Richmond police for accounts of incest charges towards her mother. She appeared in court on August 5 where she interrupted and asked for demands multiple times. Chris is in prison and is awaiting another court case until September 16.
YouTube History
Chris' original YouTube account was
"Sonichu"
, created on May 8, 2007. The channel mainly consisted of fanart and her appearances on the news. She deleted the channel on September 11, 2007 after it was hacked by Encyclopedia Dramatica trolls.
After closing the Sonichu channel, she created a new channel called
"CChan6789"
on September 18, 2008. It mainly consisted of updates about any girlfriends or trolls in her life. The channel was abandoned on March 30, 2009 in an attempt to stop trolls from mocking her. Surprisingly, this channel is still up on YouTube to this day.
Christ returned to YouTube on April 9, 2009 with a brand new channel,
CChanSonichu
. Much like CChan6789, most of the videos were updates along with music videos, and other random videos. It was hacked on June 5 of the same year, but Chris eventually got the account back, and made three insulting videos that led to the channel's termination.
Chris didn't bother trying to get her previous channel back and created a new channel, IBAChandler, on July 11, 2009. The name was meant to be a pun on "I be a Chandler." The channel's first video was "Rollin and Trollin," which was created in an attempt to trick the trolls by making them think that Chris was completely different than how she portrays herself online. This video inspired a troll who would soon be known as "Liquid Chris" to claim to be the true Chris Chan.
Chris created the
ChristianWChandler
channel on August 18, 2009 to stop Liquid Chris and make it clear that she is the true Chris Chan. Not many videos were uploaded to this channel, and most of them were callout videos directed at the trolls. The channel still exists today.
Chris' current channel, CwcvilleGuardian, was created on February 27, 2012, but Chris didn't post any videos on it until November 5, 2013.[19] Originally, most of the videos on the channel were gameplay videos of Mario Kart and Super Smash Bros, but she later switched to making vlogs. In recent times, she mostly livestreams card games or preaches about the Dimensional Merge.
Other channels
ClydeGreggCashMays
is another channel Chris created on October 26, 2009. Not much is known about this channel. Only four videos were uploaded; the first three videos were making fun of a troll named Clyde Cash, and the final video was an apology for joking about 9/11.
The
Christine Chandler
channel was created on October 28, 2013, and was only used in 2016. It was used to upload paid video requests while CwcvilleGuardian was restricted from uploading videos. The channel was abandoned two weeks later once the restriction ended.
Controversies

This article contains NSFW content and/or references; read at your own risk.
Piedmont Virginia Community College Ban
Around the early 2000's, Chris attended Piedmont Virginia Community College. She has made many attempts to date a girlfriend by hanging attraction signs, which lists Chris' interests with females. Chris recounts that the dean of the school, Mary Lee Walsh tore the sign and belittled Chris. Although many people think Chris could be exaggerating. The school accused Chris of soliciting and email threats to Mrs. Walsh, so Chris was temporarily kicked from the school and had to attend anger management class. She later returned and earned a degree in Computer Aided Drafting and Design.[20]
Sonichu criticism
Sonichu is a series of web comics that were created in 2000. The story is about an electric hedgehog Pokémon called Sonichu who defends the city of Cwcville from the forces of evil. The comics would become notorious online and would be criticized for childish art, awkward writing, nonsensical story telling, and self pity. Fans would question Chris' understanding of copyright, which she would mention in the comics that she owns the right to her original characters and any real life people. However, multiple copyrighted characters would appear in the comics, such as Sonic the Hedgehog. The character himself would become mocked for being a reskin of Sonic the Hedgehog and breaking copyright law.
She would also insert her views into the comics, such as the dean at her college who is depicted as an evil witch. Chris has mentioned several times that the comics were meant for a younger audience. However, the comics would become inappropriate overtime, mostly in nudity, sex, and violence. For example, one comic involves Sonichu's girlfriend, Rosechu taking nude photographs of herself which would be leaked online by the website, 4-Cent Garbage. Chris addressed the criticism by saying it's supposed to educate children. While the comics are still ongoing, the comics would be more delayed due to online trolling.
Encyclopedia Dramatica
Chris had posted the Sonichu comics onto her website and had made many videos talking about herself and views. Eventually websites like Something Awful and 4chan discovered her activities. Around 2007, The joke website, Encyclopedia Dramatica created a page about Chris mocking her art, personality, and homophobia. She responded with several videos demanding that the page be taken down or she'll take action. Chris would upload several pornographic drawings onto the website to prove she was straight. One of the drawings include Chris fingering a person who's eyes were censored. Chris later stated that this was her real college friend, Megan Schroeder. Megan expressed in emails to Chris that she was appalled by the drawings, but Chris stated this was meant to educate her about sex. Megan cut communication from Chris entirely.[21]
Love Quest
Since the early 2000's, Chris has wanted a girlfriend and specific qualities of a female. Chris has dubbed this the Love Quest. Some qualities include being single, white, 18 years old, neurotypical, etc. This would lead to criticism of how specific she wanted her wives. She's also been bashed for not attempting to put any responsibility in the relationship, as Chris wanted to be more of a house husband. There have been many instances of failed attempts to attract females in public before she became well known online. Chris used to pace or sit around malls with attraction signs. However, security would be have to intervene due to soliciting which got Chris kicked out of many malls.
Many people make fun of Chris for being incredibly gullible for online trolls. Many trolls had disguised themselves as girlfriends to manipulate Chris and giving out information. The first fake girlfriend was Blanca Weiss who attempted to swoon Chris in order to get her custom made necklace, the Sonichu medallion. Chris mailed the medallion to her and a video was uploaded showing the medallion being destroyed. Chris seemed to not have been effected by this because she later made another medallion.[22] In 2018, her love quest ended when she was in a polyamorous marriage with fictional characters (which the Idea Guys had a hand of making Chris believing that she was married to her own characters and ones from popular cartoons and video games).[23]
BlueSpike
In 2007, Chris met a troll of the name of BlueSpike. BlueSpike (who was 13 years old at the time) tricked Chris into believing that he was a 19 year old girl of the name of Julie, who was held captive by her brother Max. BlueSpike is considered as one of the worst trolls in Chris Chan's internet history by most people who document her actions because BlueSpike later sexually violated Chris in a phone call after reveling he was not in fact a 19 year old but instead a 13 year old boy and that Chris was having cyber sex with a minor the whole time. BlueSpike bullied Chris into shoving her second medallion up her anus and into saying the n word (which Chris tried to outsmart BlueSpike by saying an altered version of the Slur but BlueSpike later cussed Chris out and made her say the slur multiple times).
After the fact, BlueSpike preceded to insult Chris and call Chris a pedophile until the end of the call. A few days later Chris had another call with BlueSpike but another infamous troll who was interacting with Chris at the time (Clyde Cash) joined. Clyde told Chris that him, BlueSpike, and a group of people who were messing with her planned the entire call and that Chris was an idiot for not figuring out that BlueSpike wasn't a girl. Bluespike later interrupted Clyde and proceeded to harass Chris even more. Clyde later told BlueSpike that he was "being too mean" and kicked him out in the call with Chris. Chris later made a video saying that she will blackmail BlueSpike and his real identity. This went nowhere and Chris gave up on attempting to expose the infamous troll. Chris had expressed stress and decided to halt the upload of Sonichu comics.
Political and Social Views
Many of her past and present views is considered by many people to be politically incorrect or offensive. Chris had expressed huge distaste towards homosexuals, mocking and threatening them multiple times. Her homophobia was extreme to the point where in one of the comics, Chris finds the "vaccine for homosexuality" and "cures everyone". Many trolls use this view against her by hacking her sites and uploading sexual gay pictures. She later came out as transgender in 2014 and has since apologized to the LGBTQ+ community.
Chris has also expressed different views on the autism community since she's diagnosed on the autism spectrum. But this would lead many to criticize her for ableism and a lack of knowledge. She has stated that Asperger's syndrome shouldn't be on the spectrum because she thinks people with Asperger's are taking the attention away from autistic people. She also made fun of Dr. Hans Asperger because she found it offensive that a disorder would be called "ass burger" in English. A parody comic of Sonichu called Asperchu was created in 2010 by Alec Benson Leary, where the character Asperchu struggles with Asperger's syndrome. Chris had criticized the comic for parody and distastefulness. Alec had attempted to try and help Chris deescalate the drama between them and other issues Chris was dealing with at the time. However, Chris retaliated in the Sonichu comics by putting Alec on trial and electrocuting him. Chris has expressed a disliking to other autistic or mentally impaired people calling them "windows to hell". She's also stated that she wouldn't date a female with autism.
Chris was originally a republican but was criticized for extreme right wing ideologies such as racism, sexism, and also a lack of political background. Chris would make fun of US president, Barack Obama in her comics, depicting him painting the White House. She later said she got this idea from her father, remarking if she got elected, his first order would be to paint the White House black. Later on, Chris would become a democrat and developed radical liberal ideas. Around 2016, she would threaten US president, Donald Trump with hanging and praying for his death. After he won the election, she uploaded a video of her kicking around a transformer toy she called "Pmurt", wishing death on him.[24]
9/11 Video
On November 1, 2009, Chris posted a video called "Twin Falling Towers" in which she threatened two trolls, Clyde Cash and Jack Thaddeus by saying they'll fall like the Twin Towers. The video would gain severe backlash from trolls and other viewers on how offensive the video is to the victims of the September 11 attacks. In response, Chris deleted the video and uploaded an apology saying it was meant to attack Clyde and not to mock the terrorist attack. But the video would be criticized anyway for Chris not taking the apology seriously. Years later, a veteran troll said that Chris got the idea from suggestions from online trolls.[25]
Game Place Hit and Run
Chris regularly attended a game store called The Game Place. However, she was banned in 2008 by the owner, Michael Snyder due to rude and inappropriate behavior, such as yelling at children. Chris would try several times to apologize to him, but many times would fail. He recorded audio of her attempting to apologize to Michael Snyder, only to leave calling Snyder a Jew. On October 28, 2011, Chris and her mother, Barbara visited the Game Place and took pictures of the store and Snyder. Snyder tried to intervene before they could leave, but Chris and Barbara hit him with their car and drove off. They were later caught by police and were accused for multiple felonies, including jail time.[26]
Sonic Boom Protests
Around 2014 the video game, Sonic Boom: Rise of Lyric was slated to be released. Chris bashed the game because Sonic's arms were colored blue, and not the usual skin color. Chris would protest the game online and in multiple stores, only to have her being banned from malls and stores. On December 26, 2014, she vandalized multiple Sonic Boom games at GameStop, to which she was asked to leave. Footage was recorded of Chris begrudgingly leaving, before spraying an employee with mace. She was later charged and sentenced to court. However, Chris stated that she felt threatened, claiming she was the victim. Chris' dissatisfaction for Sonic's arm color would end up becoming a meme online.[27][28]
The Idea Guys
The Idea Guys were a group of trolls who interacted with Chris from October 2017 to April 2018. Their interactions with Chris ranged from malicious cyberbullying and manipulation to downright abuse. They manipulated Chris into announcing that she was a pedophile, slapping her mother across the face, and much more. They also extorted $6,000 out of Chris and blackmailed her while also feeding into her delusions about the Dimensional Merge. Former trolls and Kiwi Farms users formed a group called the "Guard Dogs" which ousted the Idea Guys by doxing them because the ring leader of the group had an account on the website. The Kiwi Farms forum moderators decided to dox him and his associate. This action is still controversial to this day, but it did prohibit The Idea Guys from influencing Chris delusions, and no longer gave them the power to enable Chris' mental state from becoming worse.
Chris still has signs of the abuse and still believes in some of their beliefs. The Idea Guy's actions were reported to the police but nothing really came of it. In a tweet that Chris made. She stated that the Idea Guys did "dimension levels of damage" but she considers an abusive teacher, Michael Snyder, and BlueSpike as being more negative influences in her life. The reason why Chris does not consider the Idea Guys as her worse tormentors yet is probably because her delusions are still based around most of the jokes the Idea Guys made Chris put into her comics (which included references to the holocaust, Nazis, etc) in which Chris most likely now believes in.[29]
Financial Issues and Delusions
Throughout 2016 to 2019, Chris and her mother created multiple videos convincing people to donate to her Patreon. However, many people criticized her for not keeping her promises as some people came out and said they would wait weeks after the deadline until their requests were fulfilled. Many accused her for laziness and refusal to get a job. She responded with excuses such as social security, public ridicule, and work on the Sonichu comics. Fans have also expressed concern for her having a childish mindset, with Chris stating that she can communicate with the Sonichu characters and that they could possess her. However, she has refused to talk to any psychiatrists because of past trauma from school and college.
TF2 Analysis Drama
In 2018, Chris had attempted to become a part of TF2 Analysis, created by Joshscorcher, and had attempted to connect with several members of the cast. However, in January of 2019, most of the cast members, as well as other bronies in the community, had blocked her on Twitter for one reason or another, with several more having already blocked her prior. Chris responded by privatizing her account until June of that year. She also released a video entitled, "Apologies to the liked Bronies and Pegasisters; PLEASE UNBLOCK ME ON TWITTER!" on January 28, 2019.
ProjectSNT Drama
In 2019, Youtube artist, ProjectSNT created two videos where she redesigned some of the Sonichu characters. Chris had previously liked some of ProjectSNT's redesigns such as Sonichu and Rosechu. But one of the characters she redesigned was Wild Sonichu, where she made him more naturalistic and a ranger type. Chris was upset by this redesign but only gave vague criticisms as to why, saying that she was stressed and triggered. She later said that ProjectSNT's redesign was too similar to Sonic Boom characters like Dave the Intern. Many people criticized her for lashing out and acting childish. Chris later apologized for her behavior, but ProjectSNT never responded to the drama.
Sexual Abuse towards Mother
On July 30, 2021, an audio file and text messages were leaked online in which Christine described in graphic detail how she sexually assaulted her own mother numerous times. Chris claimed that she started having sex with Barbara every 3 days beginning on June 27. In the text messages, Chris acknowledged that it was hurting Barbara and that she told Chris to stop.[30]Barbara also never consented to the incest since she could possibly be suffering from dementia.
The leaks were verified to be real by Null, owner of the Kiwi Farms website and former associate of Chris. Chris had privately disclosed to Null on July 5 that she was in a relationship with someone "physically older" but was vague about who it was at the time. However, Chris left several clues that match Barbara's description, such as occupation and interests. In the conversation with Null, Chris said that she "no longer believes in labels" (apparently referring to their mother-daughter relationship) and that she has no regrets about what she did.[31] Chris also confirmed the allegations in Twitter DMs with another YouTuber named Dillin Thomas.[32]
So far, Chris' only public response is a tweet on July 30 telling her followers to ignore the situation.[33] Prior to this event, Chris and Barbara were noted for their inappropriate behavior, such as flirting and cuddling together. In 2016, Chris admitted to having dreams about having sex with Barbara, and in 2019, referred to her as a "guilty pleasure waifu."[34] Also in 2016, when responding to a Facebook post about an incestuous couple who got arrested, Chris stated that incest "offers a chance for better teaching the child how to better satisfy their eventual partner(s)."[35] The person who originally called Chris was allegedly found out to be a troll named Isabella Janke. She has gotten backlash for encouraging Chris to do bad behavior, animal abuse and murder, doxxing, and cyber bullying. Isabella released a document in response saying that another girl named Fiona was responsible for the phone call.
Legal proceedings
On July 30, 2021, an emergency protective order was put in place, and Chris was removed from her family home. She was not allowed to return to the house until August 5.[36] The next day, however, she violated the protective order by stealing $750 from Barbara's bank account.[37] Null had been made aware of this transaction via a confirmation email, due to his access to Chris' emails. When he confronted her about this, Chris initially denied ever siphoning the $750 from Barbara's bank account. However, when a screenshot of the confirmation email was displayed to her, she then confessed that she had online control of Barbara's account, but she said it was "an emergency" and that she planned on returning the $750 to Barbara after $1000 (presumably from his GoFundMe for a trip to Everfree Northwest, a My Little Pony convention held in Seattle, WA) was added to her account. Frustrated with Chris' dishonesty, Null reported her actions to law enforcement and has currently ceased communication with her.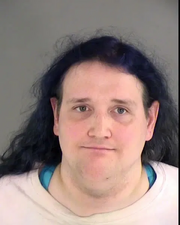 On August 1, 2021, Chris was arrested at the Regency Inn, located in Richmond, Virginia where she was staying as a result of being evicted from her home. She was led away by police and was charged with felony incest, with additional charges pending. She was taken to Henrico County Jail and later moved to Central Virginia Regional Jail, where she is currently being held without bond.[38] The event was recorded by several onlookers, one of them being Ethan Ralph, of the Ralph Retort. (Whom had attempted to bribe Chris into appearing on a podcast, the Killstream earlier that day). Ralph's motives of trying to have Chris on his show was to "get back" at Null from Kiwi Farms (who took care of Chris since the Idea Guys controversy) because Null and Ralph has an ongoing rivalry since Null has made a joke on Ralph's expense on an old stream of his. During the arrest, Chris continued to be delusional and declared that the Dimension Merge had officially begun.
On August 5, 2021, Chris Chan first appeared in court. The judge deemed Chris to be a danger to the public and ordered her to remain in police custody without bond until the preliminary hearing, which is scheduled for September 16. Chris was also noted for announcing to the courtroom that she is famous on the internet, and for throwing a tantrum because she wasn't allowed to grab her stuff that she left at home.[39]
Public reaction
Much of the fans were appalled and disgusted, mostly at Chris for her sexual relationship with her mother. She began to trend on Twitter where most felt it was the end of the ironic humor of Chris. It was so highly discussed that, for a few hours, Chris Chan was trending higher than the 2020 Olympics.[40] Many popular YouTubers such as Optimus, Bowblax, and Lessons in Meme Culture made videos discussing the situation. Many news articles and stations talked about Chris Chan's arrest, such as Fox News. The situation also caused a major controversy on social media, primarily Twitter and YouTube, due to left-wing commentators complaining about people intentionally misgendering Chris Chan, while others argued that they should be more concerned about Chris' crimes than her pronouns.[41] On August 2, 2021, Chris' Patreon account was suspended by the website's Trust and Safety team for "harmful and illegal activities." [42] Some have tried to defend Chris as some say she was manipulated by trolls into incest.


End of NSFW references/content.
Quotes
"Captain's Log, Stardate..." (the start to many of Chris' vlog style videos)
"Hello, ladies and gentlemen, girls and boys, and dudes of all teenages, as well as the gals."
"MY NAME IS NOT IAN! BRANDON! SOMETHING!"
"JULIE! JU-LAAAAAY!!!"
"SONIC'S ARMS ARE NOT BLUE, AND THEY SERIOUSLY CAUSE SENSORY OVERLOADS IN ME!!! SEGA NEEDS TO RECALL EVERYTHING SONIC BOOM AND CHANGE SONIC'S ARM COLOR BACK IMMEDIATELY!!!"
"I'm working on it!"
"Don't call anybody!"
"I got a fish, would you like to make a wish?"
"I'LL STRANGLE THAT CLYDE CASH! I WILL PUNCH HIS LIGHTS OUT!"
"This makes me really, ANGRY!"
"My life sucks."
"CURSE-YE-HA-ME-HA!!!"
"Go Sonichu! Go out and zap to the extreme!"
"I'LL BREAK YOU DEAD!"
"I'm straight. STRAIGHT! Believe me. I have a subscription to Playboy."
"I love dykes. DYKES! CHINA!"
"God is a woman!"
"Do not hate. Hate is not so good."
"If I see a dick, I just look away with a moment of being freaked out."
Trivia
She developed heterochromia when she contracted pink eye at a young age. Her eyes are slightly blue and green.
She says her first word was at six months old when she tried to say "mommy" but accidentally said "monkey".
Chris claims that she is a descendant of English Queen, Anne Boleyn, and of a Cherokee ancestor.

When she took a DNA test, there was no trace of Cherokee ancestry.

There is an Wiki website dedicated to archive and document Chris' life called the CWCki.

There is also a YouTube documentary series about Chris' life by GenoSamuel2.1.

YouTube animator, Spazkidin3D created a parody series of Sonichu in 2009 called Sonichu: The Animated Series.
Chris entered and won a Sonic contest when she was 11, which she won $1,000[43].
In the Sonic Boom episode, The Biggest Fan, a character named Mark the Tapir who bore some resemblance to Chris. However, Chris said that the parody did not resemble her and Cartoon Network said that these claims where false.
Chris said that out of all of the trolls that mocked her, she would want to meet Clyde Cash the most.
She collaborated with 3GI in the fan videos, Shrek Retold and Sonic Rebuilt.
In the AVGN episode, Shrek: Fairy Tale Freakdown, a character is seen wearing a Shrek medallion made by Chris herself.
In March 2018, Chris revealed she is in a polyamorous marrige with four fictional characters. She's married to Magi-Chan, Cryzel Rosechu, Mewtwo, and Sylvanna Rosechu.
There was a book published in 2021 by Don Lashomb called "Warhol / Chris Chan: The Lifespan of American Pop Culture, or The Suppression of Reality", which compared Christine and Andy Warhol.
Chris hates the word "naive".
Her avatar was drawn by Planet Dolan member and YouTube artist DoopieDoOver.
Chris used to have a job at Wendy's, but she got fired after scaring a child with a Donald Duck impression.
Gallery
External Links
References