Wiki Targeted (Entertainment)
Play Sound
Daymon Scott Patterson (born: September 24, 1977 (1977-09-24) [age 43]), better known online as Daym Drops, is an American food critic and vlogger. He initially gained popularity for his video review of a Five Guys takeout meal, which spawned a viral online song by the Gregory Brothers. In 2013, he hosted Best Daym Takeout, a food-review oriented series on the Travel Channel, based on him and with certain aspects borrowed from his YouTube channel.
Career
For many years, Patterson has worked as a manager at retail stores including |Wal-Mart and CarMax, Patterson now reviews takeaway fast food full-time. Among others, his videos have showcased foods from Burger King, McDonald's, Jack in the Box, In-N-Out Burger, and Taco Bell. He shot to prominence with his viral video titled Five Guys Burgers and Fries Review, where he reviewed a Five Guys cheeseburger and fries. The video was remixed into "Oh My Dayum", a song by The Gregory Brothers, which similarly created online buzz.
Departure from Fast Food Reviews
In January 2016, Daym released a video titled "GOODBYE FAST FOOD REVIEWS", announcing his decision to stop reviewing fast food. He cited his health as the reason.
In March 2016, Daym announced he would return to reviewing fast food.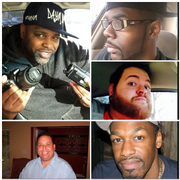 #TeamDaym
In 2013, Daym introduced #TeamDaym, an alliance consisting of other food YouTubers.
Current members of #TeamDaym include:
Chris Clarke
ReggReviews
FoRbiDDeN Food TV
FooD reVieW sHawTy
In the Media
In 2013, he made a guest appearance on an episode of Late Night with Jimmy Fallon. In February 2013, he guest-starred in an Epic Meal Time episode titled "Luther Lasagna". Also in 2013, Daym hosted the show Best Daym Takeout for one season. In the television show, which is shot at various locations in the United States, Patterson critiques takeaway foods on-screen in his car.
Personal life
Patterson has been married twice; he has two children, the first from his previous marriage and the second from the current relationship. He resides with his wife and children in New Britain, Hartford County, Connecticut.
Community content is available under
CC-BY-SA
unless otherwise noted.