Doctor Strange in The Multiverse o Madness - The Loop
Play Sound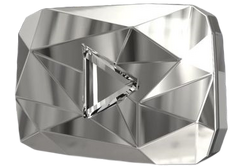 The Diamond Play Button is one of the five subscriber plaques created and distributed by YouTube to its content creators with over 10 Million subscribers as part of their Creator Awards.
Like the other subscriber plaques, the Diamond Play Button is designed to resemble the YouTube Play Button logo. It made out of silver-plated metal insets with a large piece of crystal.
The button was revealed at VidCon 2015 by Smosh (who was the first channel to reach 10 million subscribers back in 2013) ERB, Spinnin' Records and The Fine Brothers were the first known ones to receive it. Since then, the button was being constantly delivered to YouTube channels with 10 million subscribers or more.
YouTubers with the Diamond Play Button
The number of YouTubers who have earned the Diamond Play Button has been growing consistently. Here is a list of all of the YouTubers who have earned/have the Diamond Play Button in order (as of May 15, 2019). This list will not include YouTube-owned channels, VEVO accounts, or mainstream companies (ex. WWE).
Receivers of the Diamond Play Button
The award is different from other creator awards, as it is displayed as a small sculpture, rather than contained in metal casing like the previous two. However, the Red Diamond Play Button is very similar to it, since it has an identical design, but is made from a different material and is differently colored. It lists the YouTuber's name on the back along the sentence, "Congrats on receiving 10 million subscribers." The button is made of hard diamond, meaning it's at the medium difficulty of breaking it.
Receiving the award without 10 million subscribers
On July 25, 2020, YouTuber JackSucksAtLife released a video of himself getting the Diamond Play Button, without 10 million subscribers. This is a huge event, as YouTube prides itself on only giving awards to creators on the platform, who have reached the subscriber milestone.