Doctor Strange in The Multiverse o Madness - The Loop
Play Sound
Dream SMP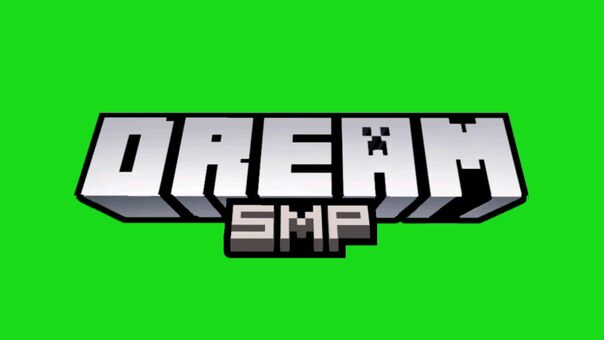 Not to be confused with the channel Dream SMP Memes.
The Dream SMP (abbreviated as DSMP, formerly Dream Team SMP) is a private, whitelisted Minecraft survival multiplayer (SMP) server created by Dream and GeorgeNotFound.
The server is played on by the Dream Team and various YouTubers and streamers. The SMP is mainly played during live streams either on Twitch or YouTube by a majority of the members.
The server was started on April 24th, 2020 and the roleplay streams started on May 2020. More information can be found on the Dream Team Wiki.
Members
Notes for Former Members
Alyssa - After the Dream SMP server changed IP, Alyssa did not request the new IP. She likely has no plans to come back to the SMP. Dream confirmed that she is not on the SMP anymore and that Alyssa is still good friends with the SMP members.
Jikishi - Removed two days after joining due to solicitation and grooming of minors prior to joining the Dream SMP.
Manatreed - Decided to leave after getting doxxed and being accused of abuse after his first stream.
Guests
Nations/Factions
Current Factions/Nations
Greater Dream SMP
Badlands
Snowchester
Eggpire (temporary)
The Syndicate
Kinoko Kingdom
Las Nevadas
New Manifold Land
L'Sandberg (formerly L'Puffberg or L'Puffyberg, future)
Former Nations/Factions
L'Manberg (Formerly Manberg, destroyed)
Logstedshire (TommyInnit's temporary exile town, destroyed)
Pogtopia (annexed by L'Manberg)
Boomerville (abandoned)
Little Penis Land (abandoned)
El Rapids (disbanded and destroyed)
Manifold Land (disbanded and destroyed)
Rutabagville (annexed by L'Manberg)
Dry Waters (abandoned)
Tales From The SMP factions
Gogtopia (present-day, destroyed)
Subben Empire (future)
Alliances
Current alliances
Dream's secret plan (Dream, Punz, & Ranboo)
The Syndicate (Technoblade, Philza, Nihachu, & Connor)
The Revengers (Technoblade, Tubbo, & Eret)
The Hunters (TommyInnit, Sapnap and Sam Nook)
Discontinued alliances
Quest to find/save MICHAEL (Technoblade, Tubbo, & Eret)
SWAG2020/SCHLATT2020 Political Coalition (Jschlatt, Quackity & GeorgeNotFound)
Plan to Kill Dream (TommyInnit, Tubbo, Ranboo)
The Pogback (Pogtopian Army)
Manberg Defence Force (Dream, Punz, Schlatt, Sapnap & Karl)
Team Chaos (Dream, GeorgeNotFound, Sapnap, Punz, Technoblade, BadBoyHalo, Antfrost, Awesamdude & Skeppy)
Bedrock Brothers (Technoblade & TommyInnit)
L'Manberg Doomsday Defense Force (TommyInnit, Tubbo, Quackity, Jack Manifold, Ponk, CaptainPuffy, Punz, Callahan & Sapnap)
Freedom Coalition (Punz, Sapnap, Awesamdude, Ranboo, CaptainPuffy, BadBoyHalo, Ponk, Nihachu, Jack Manifold, HBomb94, Antfrost)
Notable locations
The Socializing Club
The Wall
Wilbur's Giant Ball
Holy Land (In Holy Land, you are not allowed to kill other members of the server)
The Prime Path
Tubbo's Secret Bunker
The Ninja Alley way
The L'Mantree (destroyed)
Eret's Castle
Community House
Community Nether Portal
Spawn Area (walled in)
Pandora's Vault (max security prison)
Ponk's lemon tree
Foolish's Summer Home
Important Items/Books
The Dream SMP holds many important items, most of which are important to lore and hold plot significance.
The SMP also has many important books that have been written over its history.
Timeline
Events that have happened on the SMP sorted by timeline era.
Name
Time frame
Memorable events
BT (Before Tommy)
April 24, 2020 - July 4, 2020
Early Dream SMP Arc

The First Trial
Joffrey Trials

AT (After Tommy)
July 4, 2020 - July 24, 2020
Early Dream SMP Arc

TommyInnit's arrest
The Disc Saga
The Socializing Club Conflict
Diamond armor scam

War for L'Manberg Independence
July 24, 2020 - August 2, 2020
L'Manberg Independence Arc

Camarvan Conflict
Dream Team SMP vs. L'Manberg War

After L'Manberg War
August 3, 2020 - September 1, 2020
L'Manberg Independence Arc

The Railway Skirmish
Fundy's bee game
The Pet War

The L'Manbergian Election
September 2, 2020 - September 22, 2020
L'Manberg Independence Arc

L'Manberg Presidential Debate
SWAG2020 vs POG2020 Election

Electoral Fallout
September 22, 2020 - September 23, 2020
Manberg Rebellion Arc
A New Era
September 23, 2020 - October 8, 2020
Manberg Rebellion Arc

The Rise of Manberg and Pogtopia
Items Conflict
$10,000 Dollar Taco Bell Gift Card Hunt
War of the Burning Eiffel Tower
Battle of the Lake
Dreamon Invasion

The Manberg Festival
October 9, 2020 - October 16, 2020
Manberg Rebellion Arc

The Festival Era
Quackity's press conference
Manberg Festival
Tubbo's execution
Duel at Pogtopia

Festival Aftermath
October 17, 2020 - November 5, 2020
Manberg Rebellion Arc

The Pogtopian Uprising (Part 1)
Ponk's Experiment
Membrane Exchange
Second Pet War

Manberg-Pogtopia War Era
November 6, 2020 - November 16, 2020
Manberg Rebellion Arc

The Pogtopian Uprising (Part 2)
Final Pet War
Manberg vs Pogtopia War

Reconstruction Era
November 17, 2020 - December 4, 2020
Retribution Arc

Jschlatt's funeral
Mexican Dream's trial
Exile Conflict
Dethronement Fallout

Post-Banishment Era
December 5, 2020 - December 16, 2020
Retribution Arc

Tommy's exile
Mexican L'Manberg Conflict
Discovery of the Egg
Squeeks Conflict
Estate Conflict
Technoblade's execution
Quackity vs Technoblade Duel

Vengeance Era
December 16, 2020 - January 6, 2021
Retribution Arc

$100k gift cards challenge
Green Festival
Doomsday War

Disunion Era
January 7, 2021 - January 20, 2021
Retribution Arc

Wilbur's resurrection (First attempt)
Disc Confrontation

Imprisonment Era
January 20, 2021 - February 21, 2021
Empowerment Arc

Project Dream Catcher nuclear test
Big Innit Hotel's opening
Prison Lockdown

Prison Lockdown Era
February 21, 2021 - March 1, 2021
Empowerment Arc
Mourning Era
March 1, 2021 - March 12, 2021
Empowerment Arc
Post-Lockdown Era
March 12, 2021 - April 25, 2021
Empowerment Arc

Second Community House detonation
Snowchester Nuke Theft
Las Nevadas Series (Episodes 1, 2)
Enderwalk Saga
Red Banquet

Banquet Aftermath Era
April 25, 2021 - May 22, 2021
Empowerment Arc

Wilbur's resurrection (Second, successful attempt)
Las Nevadas Series (Episode 3)

Las Nevadas Era
May 22, 2021 - September 14, 2021
Empowerment Arc

Technoblade's imprisonment
Technoblade's escape

Breakout Era
September 14, 2021 - present
Empowerment Arc

Team Seas event
Las Nevadas Series (The Grand Finale)
Pandora's Vault jailbreak

Freefall Era
November 28th, 2021 - January 29th, 2022
Legacy Arc
Counteraction Era
January 29th, 2022 - Present
Legacy Arc
Writing
Prior to the creation of L'Manberg, the storyline was not scripted. After L'Manberg's creation and to the current date, the Dream SMP is comprised of "scripted improvisation," where major plot points are pre-planned and the rest of the story improvised.
Wilbur Soot was the head writer for the L'Manberg Independence Arc and the Manberg Rebellion Arc. He also received help from others (particularly Dream, who served as a secondary story writer for the Pogtopia vs Manberg arc). On November 16, 2020, after Wilbur's character officially died in the Manberg-Pogtopia War, Wilbur announced that he was stepping down to focus on personal projects. However, he has implied that he may resume his role in the future.
Although many plot points are scripted, sometimes they do not play out as planned and the creators improvise instead, as seen during the Manberg Festival.
"
There were a lot of surprises and a lot of stuff changed as improv happened. One I'll give away was how Techno was NOT supposed to use a firework and murder Schlatt and Quackity in crossfire ahahah

Ended up being pretty cool though and we rolled with it

"

―Wilbur Soot
Additionally, Wilbur wrote characters with their respective creators' input.
"
It depends person to person. Techno definitely wouldn't let me write him any differently but Tommy was pretty lenient in working alongside me as a character.
"

―Wilbur Soot
The three lives system did not exist during the L'Manberg Independence and Manberg Rebellion Arcs; Wilbur introduced it later on (after he had already stepped down as head writer). Creators determine whether or not deaths are canon based on their relevance to the plot, and often joke about how canon unplanned or accidental deaths are. On December 4, 2020, Wilbur released a Reddit post with the number of lives every character had.
Following Wilbur's announcement that he was stepping down from the head writer position, on December 3, 2020, Technoblade revealed on stream that he would be writing part of the script. Dream later clarified in a comment on TikTok that Techno was writing specifically for his character. Dream, Quackity, and Tommy would work on the major post-Manberg story arc, with input from Wilbur, Fundy, Tubbo, and other members.
On January 30, 2021, Ranboo stated during a non-lore stream that each creator is writing their own character's main story. He also reconfirmed that the writing process was collaborative.
On February 21, 2021, Dream stated on Twitter that he and Tommy were the ones who wrote about Tommy's current prison predicament, and have already fleshed out the plot. Dream further talked about this on the Eboy's Podcast saying that some of the events were written months in advance, while others were almost a day before decision.
Bloopers
Although the events and overarching story are planned out in advance, there are still mishaps and funny moments that come out of every event, which has lead to many memorable and funny bloopers.
Main article: Dream SMP bloopers
Articles about the SMP
Since its sudden boom in popularity, several articles have been written about the Dream SMP by various publications.
Trivia
The world seed for the first world is 5826025064014972987. The second world seed is currently unknown.
The world's difficulty is set to Easy.
Prior to TommyInnit joining, Dream SMP was just a survival multiplayer world for the Dream Team and their friends.
The plugin used by members to place images throughout the server is ImageOnMap.
The Dream SMP has its own official Subreddit which can be found here.
Although the first part of the Caves & Cliffs update to Minecraft: Java Edition (version 1.17) was released on June 8, 2021, the Dream SMP server skipped 1.17. Instead, the server was updated to the later update to version 1.18 when it was released on November 30, 2021.

To allow for the new generation, a separate world was generated on the same server. Players can move between worlds via a portal constructed out of crying obsidian, and player data such as items and experience are transferred upon changing worlds. More info could be found here.

Since October 21, 2021, Dream officially unbanned the creation of automated farms of any kind to be built on the server such as iron, gold, and villager farms.
The server uses EST/EDST as its time zone.
For more information about creator/SMP-specific vocabulary see: Dream SMP Phrases.
Many important events have fallen on the 16th day of each month, and it is widely regarded as an important day on the SMP by the community. These events are no longer collaborative after the final destruction of L'Manberg and have shifted to individual streams. Collaborative events that took place on the 16th are as follows:

Manberg Festival, creation of the Badlands - October 16, 2020
Manberg vs Pogtopia War, dethronement of Eret - November 16, 2020
Technoblade's execution - December 16, 2020

Further events have been associated with the 16th by the community, but are not analogous to these original events due to lack of collaborative effort:

Dream leaving a note for Tommy, disappearance of Tommy's Cat disc from under Ranboo's house - January 16, 2021
lThe Big Innit Hotel reveal, discovery and settlement of Big Daddy Island - February 16, 2021
Ranboo's Enderwalk ARG, Quackity's quest to get the Book of Necromancy begins, destruction of El Rapids - March 16, 2021