Garrett Williamson (born April 14, 1997 (1997-04-14) [age 22]), formerly known online as GarArtStudios, is a Nashville-based American musician and YouTuber.
History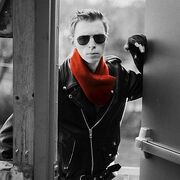 Garrett started the channel in late 2012, about a year after beginning
GC Waves
with Chase. The channel remained fairly inactive, uploading videos once every several months or longer, until 2014 when Garrett began uploading work a little more frequently and eventually released "How to Make Five Nights at Freddy's Not Scary" in August. The video went viral and boosted his subscriber count, and since then he has been far more active on the channel.
Williamson has also been responsible for significant portions of the soundtrack of the 2016 game Asagao Academy: Normal Boots Club.
Music Career
Garrett's first album to be released to the public was Edge of the Universe. It was a mix of acoustic and electronic styles. It was released on April 11, 2012.
Two years later, he released his second album The Beat Demon. Garrett has stated that the idea behind The Beat Demon is the groove being a physical character which is personified throughout the album.

On the March 11, 2017 Garrett released the single "Switch" to his YouTube and music platforms. The music video of this song is a tribute to Nintendo and their Nintendo Switch system. This would not be the last time he would upload a tribute to Nintendo as on the 18th of November 2017 he uploaded his own semi-cover of a track in Mario Odyssey called "Jump Up, Super Star! (Garrett Williamson Version)".
Garrett's latest release of music was published in the springtime of the following year. His single "What If I'm Hurt Again" was uploaded to YouTube and music platforms on the 28th of April 2018 as part of his upcoming album given the placeholder name of "Project1997" which will also feature "Switch", and other songs that are yet to be released.
Links
Affiliates
Trivia
Williamson currently resides south of Nashville, Tennessee.
Williamson's frequent colleague, Chase Weimer, is also his cousin.
Williamson is a Christian.
"What If I'm Hurt Again" is the theme song for his YouTube series called RTTTA.
Garrett Williamson has stated that he is discontinuing the "Not Scary" series to focus on Music and RTTTA.
Community content is available under
CC-BY-SA
unless otherwise noted.