Daniel Sebastián Štrauch (born: September 24, 1996 (1996-09-24) [age 23]), better known online as GoGoManTV, or GoGo, is a vlogger and a let's player. He has three YouTube channels: GoGoManTV – the main channel, GoGosVlog – a random vlogging channel and GoGoEnglishTV – the channel with few videos in English language (inactive). Sometimes he also makes livestream events. Most of his videos are recorded in Slovak language, but it's known that except Slovakia and the Czech Republic, he has subscribers also in Brazil, Mexico, Afghanistan, Great Britain, USA and other countries, as mentioned in one of his videos.
He starts almost each video with "Čaute, tu je GoGo..." (Hi guys, GoGo's here...) or "BAM! Čaute, tu je GoGo..." (BEAM! Hi guys, GoGo's here...) And on the end of his videos he is putting arm on his camera and his is saying Chvašááá ( kva -shaaaaaaahhh ). He plays various video games, though probably the most known of his LP series are from games Minecraft, Outlast , Mafia 1 and 2, Grand Theft Auto 4 and V. His fans are often reffering to him as "The king of Slovak Let's Players" or even "The king of Czech-Slovak Let's Players", being the most subscribed native YouTube channel in both countries (if we don't count ViralBrothers).
GoGo created a music video called MŸSLI, there you can see expensive cars, lots of alcohol, beautiful girls and GoGo as a singer. One of the girl in music video is his real girlfriend called Lucy who is quite a successful vlogger. Later two czech music producers called D.Kop and FadeX teamed up to make a remix out of MŸSLI (link is to the remix).
The music video is a celebration of one million subscribers of his channel. He tried to make a parody of Hip Hop music videos and he says "I want to show that even ordinary guy with a standard life, can make a music video with all that Hip Hop atrocities".
Biography
Daniel lives in Bratislava (capital of Slovakia). He has a younger brother called Maximilián (or Max) who was born in November 2012. His family owns two dogs – Maggie and Agáta, with Maggie belonging to him (not anymore) and Agáta to his mother. Maggie often appeared in his older videos and curses a lot, dubbed by GoGo. He has a grandma living in Austria (who already appeared few times) and older cousin living in Serbia. He is currently not studing and he said that he wants to put more of his time into YouTube.
Trivia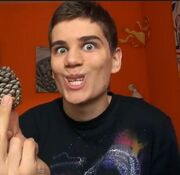 Šiška ("'sheesh-kah"), in English cone, is an old pine cone which often appears GoGo's vlogs. Whenever it appears, he instantly says "Šiška!" and makes his so-called "Deutsch Face". It officialy "died" in first episode of Garage Show, after his dog Maggie champed it. However it appeared again just few videos later with words roughly translated as "imma back, bitches".
He usually opens packages and reads letters during Garage Show. At present he owns so many pine cones and Nutellas sent by fans that he had to directly tell them to stop to do so, since he had no more place to store them.
His room has orange-painted walls, which became symbolical and later became "official color of GoGo". In January 2013 he moved his work place to garage, which had orange painted walls too. In 2015, he and his girlfriend moved to his own flat, and now he's recording most of his videos there.
He's a subscriber of YouTube channels Tobuscus, Freddie Wong, ChaoticMonki, Smosh, CutiePieMarzia, MisterEpicMann and much more. He used to subscribe to PewDiePie in past, however canceled his subscription because he "didn't want to be influenced by his style of playing and thus avoid accusation from fans for copying him".
TROLLaTROTL is a YouTube channel where he and other Slovak let's player Zdochliakk are having around half hour long discusions about various things or events.
There is a game called GoGo Adventures, simple platform game created by two fans. It features Maggie, Šiška and Barack Obama.
His nickname is based on first word he ever said – "gogo", which in Slovak doesn't mean anything.
He often collaborates with other YouTube Let's Players from Slovakia and the Czech Republic, notably with menameselassie, GEJMR, ŠimonVojta , Jirka Král and others. He also invites his friends or classmates from time to time to feature in his videos.
There is a video made by him called 25+ NÁHODNÝCH VECÍ O MNE (25+ RANDOM THINGS ABOUT ME), in which he mentioned among the other things that he has arachnophobia or that his favourite number is 13 481.
You can find his name on the Map of the Internet.
List of the Playlists
List of Games Without Playlist
(note: listed from the oldest. Links reffers to the (first part of) videos)
List of Other Videos
Community content is available under
CC-BY-SA
unless otherwise noted.