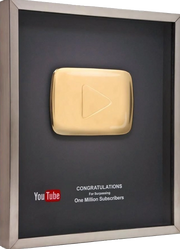 The Golden Play Button is the second creator award. It is delivered to YouTubers with over 1 million subscribers. It has a similar appearance to the Silver Play Button, but is slightly larger and is instead made of gold-plated brass. It has the YouTuber's name embossed on it, along with the message, "For passing 1,000,000 subscribers.". It also comes with a YouTube letter, congratulating the YouTuber for their Youtube achievement.
Old Design
The older design of the Golden Play Button consisted of the black steel backdrop inside a window box with a golden, three-dimensional YouTube logo screwed onto it. Underneath, it read the creator's name and the message, "CONGRATULATIONS For Surpassing One Million Subscribers," embossed.
New Design
The new design is exceptionally different from the older design: the steel background is now sleek and golden in color, and no longer has the glass case. This was because of the amount of channels hitting 1 million subscribers, increasing the amount of play buttons being produced, which was expensive for the awards company, so they had to make a cheaper version. Unlike the previous design, the Button itself is no longer a 3-dimensional object but is now carved into the steel. The text below reads: "Presented to [creator's name] For passing 1,000,000 subscribers."
Gallery