Michael West (born: December 29, 2002 (2002-12-29) [age 17]),[1] better known online as InScane, is an American YouTuber[2], Talk Show Host[3], and Actor[4]. He is mostly popular for his Roblox and Minecraft Let's Plays and gaming videos and streams. InScane first started uploading videos back on March 29, 2018 on his YouTube channel.
History
The Beginning
In the beginning, InScane wanted to make a difference within the Social Media Community as in Raise money for the people that need it like Family and Children hospitals and helping other creators grow their channels and gain the attention they need. From the start of the channel (29 March 2018)[5] InScane has been helping other creators grow and giving helpful tips/information that people can use to express and to show off there personal and comedic personalities.
Not many people know this about InScane, but he has had other channels besides InScane at the start, but he deleted those channels to keep starting fresh. InScane has started this channel and he did state this will be the last one he will be (re-starting) as he loves the community that he has, and he does not want to leave/ditch his current fan-base.
InScane was only known for his Community Live Streams of ROBLOX until he started to upload videos and expand his channel further than just ROBLOX like Minecraft and much more. InScane stated he wanted to expand his channel away from ROBLOX, but still play the children game with his viewers so he decided to create a 2nd Channel called MoreScane but to this day the channel has been inactive.
Going back November 30, 2018 InScane was playing ROBLOX Bubble Gum Simulator. During this stream he was raided by one of the biggest "YouTube Verified Raid" were a bunch of ROBLOX content creators that have the YouTube Verified Mark went into his stream and suprise/shock a InScane. After two of the YouTubers uploaded a video (Nathorix & MyUserNamesThis)[6] InScane became one of the biggest ROBLOX Thanos memes because his camera made him look purple just like Thanos. Which this did bring an of attention to his channel.
Around the year 2018, InScane did a Live Stream hosting one of the Major fights on Twitch with over 22,000+ Viewers Live. The fight was considered the biggest YouTuber fight against Logan Paul & KSI and another fight as the Under-Card Jake Paul & Deji[7]. Back in April, InScane made an announcement video stated he was "Temp Quitting ROBLOX" which took off in views with the video making fans/viewers upset as it was a game that grew the community for the past 2 years, but InScane did state he would return to the game around late May or Early June to hype up InScane's favorite games again.
Personal life
InScane Born December 29, 2002 was born in Melrose Massachusets[8], and moved to a small town in New Hampshire were he lives now. As of now, InScane is a YouTuber that entertains the internet. As a child, InScane always wanted to be a Social Media Influencer to either bring fun and entertainment, or just help other peolple around the world.
Career
As a child, InScane mainly wanted to be a YouTube entertainer because of his inspiration for Jelly and Kwebbelkop. It all changed when he started his first channel. He gained around 100+ Subscribers on his very first channel, but then deleted that channel because he wanted to start fresh. Around his 3rd youtube channel, he gained over 1,000+ Subscribers within the span of 2 years with hard work, and funny videos. but that was not good enough for InScane, he wanted to entertain more people. So he started again and fresh without promotion. This is when the InScane channel came to life and was it is now. As of 2018-2019, InScane's inspiration comes from KreekCraft, MyUserNamesThis, and HelloItsVG.
During InScane's YouTube adventure for the past 2 years, he met some amazing creators, YouTubers, and other streamers on all different platforms. Many people InScane met during this adventure, those people helped him with struggles, attraction, and just been great friends to him. For example, KreekCraft and HelloItsVG always communicate, talk, and maybe chill and play games with InScane even though they're all busy playing, streaming, or maybe even recording videos for their own channels.
InScane is mainly a ROBLOX YouTuber, and he is Family Friendly which means people of all ages can watch his content. He loves to entertain and bring videos for the people, and he really loves creating videos because he loves filming and being behind a camera. And being a YouTuber allowed me to interact with my Viewers, and Fans! InScane unlocked his Monetization feature when he unlocked the requirements of 1,000 Subscribers and 4,000 of watch-Hours 5 months into doing YouTube, but he received the monetization rewards 3-4 months later. So he has rewarded the perks at around 3,000+ Subscribers, and 7,000 Watch hours.
As InScane was known to be a Thanos meme because of Nathorix and MyUserNamesThis, he kept with the meme and started coming up with new and funny ideas to make the youtube community laugh and alive. InScane released a photo on his discord server that looked like Thanos Snapped him away just like what happened in Avengers Infinity War when Thanos snapped his fingers. Not many people know this about InScane, but he has had other channels besides InScane at the start, but he deleted those channels to keep starting fresh. InScane has started this channel and he did state this will be the last one he will be (re-starting) as he loves the community that he has, and he does not want to leave/ditch his current fan-base.
Going back November 30, 2018, InScane was playing ROBLOX Bubble Gum Simulator. During this stream he was raided by one of the biggest "YouTube Verified Raid" was a bunch of ROBLOX content creators that are verified on YouTube goes into a stream and surprise/shock a streamer. In this case, InScane came out to be one of the biggest memes out of the whole thing. After two of the YouTubers uploaded a video (Nathorix & MyUserNamesThis) InScane became one of the biggest ROBLOX Thanos memes because his camera made him look purple just like Thanos. Which this did bring an of attention to his channel.
InScane also gained most of his attraction from the PewDiePie Sub-Reddit because InScane did a Live Stream of listening to Congratulations by PewDiePie, RoomieOfficial, and Boy in a Band for 10+ Hours.[9] He mainly wanted to do this as a Challenge as in replicating what MrBeast does within his channel but put a twist with his stuff. But after all this, he gained most of his attraction from the start within the PewDiePie Subreddit and the search results within YouTube.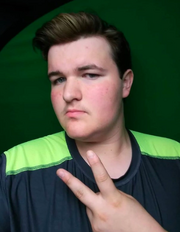 As InScane continues YouTube, he wanted to expand his career with his very own company, and he noticed the main way to do so is to start his own company with a friend. InScane and three other people started a company called Splashcord, which makes InScane the current CEO (Chief Executive Officer) of the company, and his friends being the Chief Operations Officer, and Chief Financial Officer as well as leading the entire development team of the company.
On (August 19, 2019) InScane wanted to change up his appearance a little bit. InScane stated that when he was younger he had blond hair, but as he got older his chair started to get really dark till the point his hair turned fully black. He wanted to change the color of his hair back to blond but came with one of the best ideas that stuck with him for about a year. InScane dyed his hair blond in the center of his hair from back to front to get a nice blond color theme going.
As of 6/20/2020 InScane announced during a live stream that he is officially quitting YouTube streaming and moving back to Twitch. He also did state he is not quitting YouTube entirely. The videos InScane will be uploading during the time will be broken down clips from his live streams into short-video formed videos.
On 7/31/2020, InScane did a return to YouTube Streaming when MrBeast Riddle went live on his Channel Mr.Beast. During his stream he announced he will be live streaming to YouTube exclusively unless something changes. As of now there has not been reported a deal/contract within his return, but we do know his fans are happy he is back. When InScane was solving the Riddle, he opened his screen to the public to help him which he offered part of the 100,000$ Prize Money to his viewers for helping. Sad part is, he was close to the win, but not close enough has he had trouble completing the Flappy Carl part of the riddle.
American Actor
InScane is an American Actor[10] that is known for his featured film Downtown[11] as his first acting film. InScane then started appearing as the Host of a TV Series Show called TheMorninShow as the Producer, Director, Writer, and Show host.[12] The Film Downtown was produced by InScane's Production Company InScane Media[13] which is one of InScane's most known Company within his Social Media, and Production Team. In 2018, InScane was offered a part in an Online Video game taking place in ROBLOX as a dedicated Voice Actor for a video game that he truely loved to as it was one of his dreams to participate in.

TheMorninShow started to grab the attention of people after the Exclusive Interview of KreekCraft on Episode 2 of the Show.[14] But ever sense the Interview aired live, there has not been a release of episode 3, but there has been an announcement by the Shows Team on there Twitter stating that the next Episode will include all kinds of different youtubers with statements on a YouTube Issue.
TheMorninShow
On May 18, 2020, InScane announced his new program he started called TheMorninShow[15] [16]. This show will take place on YouTube . InScane been wanting to start his own TV Show within the Talk Show type TV-Series when he started watching a ton of other shows. During the past few years, InScane wanted to do this for awhile, but had no idea where to start as he had no funds, no contacts to TV-Networks to get it on the air, so he thought what about just making a YouTube Channel to start it off and maybe earn the funds/publicity to maybe move it to the next stage in the future within an actual "On Air" TV-Series?
On May 22, 2020 InScane Announced that TheMorninShow will be accessible on Amazon Prime Video as a source for the show to be featured and shown to more of the public eyes.
May 23, 2020 TheMorninShow was releasing a Suprise Guest on Monday 25, 2020 on its new show for Episode 2. The Celebrity Guest was leaked out to the public, and shows team tweeted on twitter stating that the Official Special Guest is KreekCraft and the shows host InScane did an exclusive interview with KreekCraft for the show.[17]
Charity Work
Supporting the Children
Boston Children's Hospital
As InScane wanted to expand his support and creativity, he started to do charity live streams & videos to help the people that need it the most. As of today (December 11, 2019) InScane has raised almost $1,000 for Boston Children's Hospital to support the children heal and to get get the stuff that they need the most.
[18]

On Twitter, InScane tweeted at Boston Children's Hospital to attempt to go to one of there to play some video games with some of the kids and maybe some teenagers there, but as of today, no response from the children's hospital has been given or sent to inscane. [19]
American Red Cross
Every month, InScane did a monthly charity live stream even as a small creator he wanted to make a difference and he did so by doing these streams to help the children in need. Even though inscane did not have the features needed to host fundraisers at the time, he did run these charities through a charity donation service called Tiltify. As he did not raise much as he wanted to as a creator, he did donate his own personal money to the charity himself to attempt to get others to do as well.[20]
Natural Disaster Support
During the 2018 Hurricane Disasters, InScane hosted one of his monthly charity streams early to support the American Red Cross with funds to help with giving water, medical help, and even food to the victims of the hurricanes, or any type of disasters.[21]
Team Trees
Fellow YouTubers and Charity Organizers MrBeast, Mark Rober, and Arbor Day Foundation started an event called Team Trees. On October 28, 2019, InScane joined in the event in a fun way to interact with his viewers and friends by planting over 20 Million trees in a Fortnite Custom Lobby. During the stream, InScane configured the stream to be a "Fundraiser" and started to help out in the donations towards #TeamTree event. People from InScane's community came in and chipped in and donated $10+ to the team tree charity.
How InScane supports the Community
InScane loves to help the YouTube community to help give other YouTubers the chance to grow and get there name out. So InScane started a YouTube Community server to help give creators the information, and up-to-date features and more in just one place.[22] But that's not it, during every live stream InScane does, in the end, he would always select one channel to raid to send his community to subscribe and enjoy there content.
On April 4, 2019, InScane uploaded a video called "DONATING OVER $100 TO A STREAMER!!!" which he really gave away over $100 to this streamer. Mainly inscane stated it was real money donated, but it was mainly a joke video as every $10 donated to this streamer, he will spin a wheel, and do whatever the wheel says like, eat a sour candy, friend you on roblox, follow you on roblox, or do a Fortnite emote dance. Which because InScane donated over $100, the streamer had to spin the wheel 10+ times. In this case, inscane also stated that it was mainly for entertainment, and support purposes.[23]
On September 24, 2019, InScane received a sponsorship email with a company known as Fruitlab. Fruitlab is a video sharing company dedicated to helping creators gain attention, and for people to upload funny/trick shot clips for people to enjoy on their platform. When inscane received the sponsorship revenue, he kept it in his account and did not touch any of till November 11, 2019. But yet he did not give the money to himself, he bought Google Play and iTunes cards with them, and gave all the revenue away to his viewers as a reward of saying thank you for sticking around the channel and just being there for him. His viewers appreciated it. On top of that, InScane had $10 left in the sponsorship balance, so he just gave them the $10 to his friend to help them get a few games or music of there choice.[24]
Coding
May 18, 2020 InScane announced on Discord one of his new projects he started a awhile ago. InScane announced he released his personal/team bot called "Code Four " which is a Discord Moderation / Music Bot that anyone can use in there discord! As of June 1, 2020, few days after the BOT's Released, InScane came out on Discord and Twitter Stating the BOT Just surpassed/overseeing 80+ Servers as well as over 107,000 People apon those servers.[25] As of today, the bot is a Huge Success.
Network
InScane has signed with a YouTube MCN (YouTube Network) of the name Blackshore [26] and Inscane joined this network in March 11, 2019, and this network helped with thumbnail support of how to, or what to do to attract more people into watching his content as well as channel layout, and idea support of how to layout his content on his channel page. His Content manager also supports him with sponsorships (aka Brand-Deals) and much more. This MCN/Network also helps inscane fight copyright issues that he can't solve himself due to YouTubes issues.
In the past, InScane used to be in ScaleLabs and Freedom's Multi-Channel Network (MCN) but left these networks due to past issues between them. InScane stated he wanted to be part of an MCN that would support, and help the future of his channel which this MCN is Blackshore. InScane has been in Blackshore for about a year as of (December 13, 2019) and still remains to be in the network.
The Blackshore MCN is involved with a lot of ROBLOX YouTubers, Minecraft YouTubers, but mainly is open to anyone. The Support team of Blackshore is very helpful, and the resources they offer to creators are extremely useful to smaller creators like InScane himself.
Games
Gaming Content
As of December 15, 2019, InScane posted on his community tab on YouTube that he will be posting a variety of games from free to what he owns as content on his YouTube channel. He stated he did not want to do ROBLOX and Minecraft for the rest of his life within entertainment, that he wanted to release and post content for all games that everyone can enjoy, and that he can entertain more people around the world.
ROBLOX
InScane started his YouTube channel based on the ROBLOX content he currently does on his channel. ROBLOX has been a huge success on InScane's Channel as when he does giveaways in Pet Simulator, or basically any game. InScane is known for doing giveaways on ROBLOX to support the community and he expanded from simulators to games like Jailbreak, Mad City, and much more! His ROBLOX username is InScaneYT. Development As InScane loves to play ROBLOX games for his viewers, he also found a passion for developing games. He made a few simulators, city-based games, and much more for the public to play. But one of the games he made he teamed up with another YouTuber of the name RazorFishGaming and they both made a game called "Camera Simulator" which has close to 200,000+ visits. As of July 18, 2020 the Game has over 230,000 Visits, and the group BlackTangent Studio's has over 2,000 Group members.
Back in 2018, Roblox released an Official Video Stars group named "ROBLOX Star Program" InScane first wanted to be apart of the group as he does upload and stream ROBLOX content, as the requirements do not match his channel results, he decided it would be a funny joke to start a (change.org) petition to attempt to get into the group, and yes it was not a success but it was a harmless, and funny joke. InScane entered a ROBLOX tournament for a prize pool of 5,000 Robuxs. During the Event, 32 YouTubers battled to the top of a game called "Tower of Hell" and during the event, InScane lost, but came in a place of top 10. InScane stated, "He was shocked he made it that far, I never played that game ever, and I am really bad at obbies so coming in at top 10 out of 32, was really a challenge, and a win itself." And InScane did not really care bout winning the competition as it was just for fun, and its just a game.
On May 1, 2020 InScane Uploaded a video to his YouTube channel named "im quitting roblox..." Were he was talking about reasons why, and what he really been wanting to do. InScane stated "Ive been playing roblox sense I was like 6-7 Years old [10-11 Years Ago] and ive been losing Interest in the roblox platform within games as a Content Creator, I want to entertain the people with the best of content and to do so, I must have the option to switch games to entertain in the best way possible"[27]
When InScane started his YouTube Channel, he started off as a Jailbreak Streamer and Content Creator, but early 2020, InScane came across a newer Jailbreak Type game called Prison Showdown and ever sense been playing the game once in awhile checking it out. As of June 2020, InScane has been playing the game a lot more and getting a ton of attraction from the Prison Showdown Community, and the games Developers watching and spoiling him in the game itself by giving him free stuff like Money, Knifes, and a teleportation tool to try out on stream.
Minecraft
Minecraft has put a huge success on the InScane channel as well right behind Roblox because its a community loved the game, and people just love to play with InScane and create things that they have never seen before.
Fortnite
Fortnite is not really a popular game on InScane's Channel. Its mostly known as 1-2 times every other week on the channel because the viewers don't really enjoy watching the game they rather ROBLOX or Minecraft, but having this game as an option also really expanded InScanes channel. At the very start of 2019, InScane has become a Partner with Epic Games (Aka Creators of Fortnite) and he was given a Support a Creator Code ("InScane") that his viewers/fans can use to support him.
Payday 2
InScane played Payday 2 on Twitch a few times for the public to enjoy his content of the game. InScane is one of the few Payday 2 Pro Players that play Payday 2 as he plays it every day for hours. InScane maxed out his profile, completed almost every mission without dying, and helped others grow there ranks in the game to be supportive to the payday community. One of InScane's favorite missions in Payday is the Santa's Village cause he would go non-stop collecting bags and earning as much money as he possibly can.
UNO
UNO is a classic game to play with friends and family like a card game. Recently (December 5, 2019) InScane bought the Online version of UNO and started to play with his friend Catlover159 in videos and live streams. InScane's First UNO video was almost 2 hours long but was very funny and fun to watch as a viewer.
Grand Theft Auto
InScane loved to play GTA on Twitch. He played a lot of the Story Mode to beat the campaign in all different ways possible. He also loves playing GTA Online with friends to beat all kinds of Online Modes, and Races. Also, InScane first wanted to start his channel off with GTA Gameplay, but he fell in love with ROBLOX instead.
LSPDFR
When InScane joined a Team called Team Echo, he loved playing LSPDFR which is a Real Life Based Police Mod (aka) Los Santos Police Department: First Responder. He mainly loved playing Bad Cop rather than Good cop because he would just pull over absolutely everyone for no reason, but somehow come up with a reason to arrest someone, or give them a mega fine (ticket).
FiveM
Roleplay
InScane LOVES playing FiveM as it is a REAL Life Modded Application fully separate from the GTA World. In FiveM there are millions of public servers, but InScane has his top 5 favorite servers to jump in and start having as much fun as possible. Within the FiveM Community, servers can max out at 120+ Players per server, and have fun with all different type of real-life look like cars & buildings.
Development
As InScane loves to roleplay in FiveM Servers, he found a passion for making his own server as well. He once owned a FiveM server with a community of almost 1,000+ and always making out his servers with 45+ people in three or more servers.
As of (December 11, 2019) InScane started a fresh server with only fifteen people to roleplay on the server. He plans to promote and develop this server the same way he did with the previous servers to attempt to attract the same amount of people. During this development, InScane hired two other Dev Team members to support him in this server creation to help boost the development speed to release the server to the FiveM community faster.

From InScane's Recent Video "im quitting roblox.." InScane stated he will be playing FiveM on his YouTube Channel instead of ROBLOX. [28] On May 4, 2020 InScane will upload his first FiveM Video for his viewers and the world to see the new content and his viewers are a bit worried, but stated they will still support him no matter what. But most of his viewers also play FiveM and stated they will stick around no matter what and support the channel from any day forward.
Social Media
When it comes to Social Media, InSane mainly active on YouTube and Twitter. When it comes to Instagram and twitch, hes not really active on those anymore. InScane's Social Media information & Results came from his Knowledge Panel on google.[29]
YouTube
At the very start of YouTube, March 29th of 2018 [30] InScane uploaded his first ROBLOX jailbreak live stream and it got over 100+ views and InScane was so happy and he wanted to continue it with a passion, and a dream to be bigger and successful on youtube. As of (January 8th of 2020) inscane has surpassed 4,000 Subscribers, and 158,000+ Video views on YouTube and still having a passion to help, and to serve the ROBLOX and youtube community with respect, and care to help the people in need.
YouTube Milestones
Subscriber Milestones
Note: The following dates are according to SocialBlade. Dates may vary by ~1 day (2 days if you live outside of North America) due to differences in time zones.

1,000 Subscribers ~ October 2, 2018
2,000 Subscribers ~ November 10. 2018
3,000 Subscribers ~ (Unknown ~ 2019)
4,000 Subscribers ~ January 8, 2020
Views Milestones
Note: The following dates are according to SocialBlade. Dates may vary by ~1 day (2 days if you live outside of North America) due to differences in time zones.

100,000 Views ~ June 22, 2019
150,000 Views ~ December 16, 2019
200,000 Views ~ May 15, 2020
235,000 Views ~ August 14, 2020
240,000 Views ~ Auguest 31, 2020
Twitch
Before InScane started his YouTube Channel, he was a streamer on this platform Twitch. After he reached 100+ Followers, he decided to start a YouTube channel, so he quit twitch and moved over. After a few months InScane has gained over 2,500+ Subscribers on YouTube, he then moved to stream on both YouTube and Twitch and provide content for both platforms. After InScane returned to twitch, he gained way over 400+ Followers, and 3,000+ Views on the platform and he also became an affiliate within the Twitch Monetization so people can support him by becoming a Subscriber or donating Bits.
DLive
Going beyond YouTube & Twitch, InScane joined DLive for 2 weeks exclusively after he heard the announcement of the PewDiePie event on the platform. A few months later, InScane was Multi-Streaming on the platform and did a few exclusive streams just on the DLive Platform. During his time on DLive, he made friends with most of the DLive Staff and its Community. Few months after the PewDiePie event, InScane has gained over 470+ Followers on DLive, and became a Verified Partner on the Platform which gave him access to a lot of perks that he could use on his stream, and on top of that, a Verified Check Mark beside his Social Media name. During his time on the platform, he gained over 12,000+ PIPS/LINO which is ($170 USD) which he just gave-away to the public.
Mixer
Going off the same thing with Twitch, InScane wanted to test mixer and the attention he will be able to bring to that platform. After 1 month of doing Mixer, he only gained 100+ Followers and around 1,000+ Views. So as of now InScane no longer really streams on Mixer.
Twitter
Out of all Social Media accounts that InScane has, he is most active on Twitter with the Daily tweets he sends out to the public. He keeps people up to date, liking, and retweet posts on twitter to inform or just to communicate with you guys.
Instagram

InScane is not really active on his Instagram account, he mainly posts photos like 1-2 times a month or not even at all. The only time he really posts something on there is if he is on his story, or chatting with friends in "DMs" other than that he does not really post on his Instagram. On Instagram, InScane shared a photo of him wearing his Purple "InScane Rainbow Hoodie" wearing sun-glasses which quickly become a big meme in the InScane community for about 2 months.
Spotify
When InScane was granted his own Spotify page for music, he was so exited that his music was pushed over to spotify as a music service. InScane knew his music would expand, and his music career will be started from that day.

On March 23, 2020, InScane was given the "Verified Artist" badge next to his name on spotify, which showed he was the real and authentic person. He was so happy he brought his first comment apon it on Twitter saying "Its Official!! We are OFFICIALLY VERIFIED ON SPOTIFY!! I would like to thank all my daily supporters for your support, and amazing ideas! Without you, idk were I would be!" [31] and this moment brought more hope to InScane for the future of his entertainment career! InScane's First Spotify Release was apart of his new and first Album "Infinite Hype" were he released his first song "Infinite Trap" to represent the first song of the new Album. Infinite Trap was the first song to release in March 19, 2020 with more songs and albums to come for the public to see and listen too!
Gaming/Streaming PC Specs
Gaming PC Specs
Case: Mid Tower
CPU: Intel i7 3770 Quad Core
GPU: GTX 1060 Nvidia Geforce
Operating System: Windows 10 Professional
Storage: 2TB HDD 
Power Supply: 600 Watts
Memory: 8gb of DDR3
2nd PC Specs
Motherboard: Asus M5A78L-M PLUS
CPU: AMD FX-4100 Quad Core
Operating System: Windows 10 Home
Video Editing/GFX
As being a YouTuber, you have two options, Hire an Editing/GFX Designer or editing and design your own GFX. But with InScane, he likes to do all his video editing himself. People have offered to edit his videos for him for the price of nothing ($0) but inscane refuses to let others edit his own. He claims he justs loves editing videos, and he's like a job that he just can't back away from.
InScane even stated himself, he loves graphic design, and video editing as well as being able to create his own apparel, thumbnails, channel art, and much more. InScane use to work for a smaller youtuber in the past working on his thumbnails, but then quit to achieve his dreams and complete his own work.
Music
InScane started working on music late 2019 in December. InScane released his first Album "Infinite Hype" [32] and his first song "Infinite Trap" [33] that was Released apon all main music media streams! 
Record Label
InScane started his own Record Label Company "InScane Media" to help other music artists and creators expand their music careers and share their music with the world within many different platforms like Amazon, Deezer, YouTube Music, Pandora, Spotify, and much more. The shocking thing to the public apon the InScane Media Music Department is that the revenue share per creator is 100% to the actual artist, as well there is NO lock-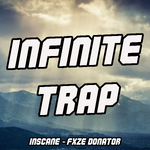 in contracts within the industry. The InScane Media Founder & CEO stated himself "He wanted to help upcoming music artist expand their music career without having to worry about revenue issues, and having to deal with distributing management." Wich people in the InScane Media Record Label love that they don't have to manage anything besides taking in there pay when their distributors receive the money from the specific music sources like Google Play, iTunes, and more.
Splashcord
InScane started his own company with two of his friends called Splashcord.[34] Splashcord is a WorldWide Streaming & Video Sharing Company. The idea of the company is to have the ability to live stream and upload content for people to enjoy/watch to support you as a creator. For all information, future updates, and more will be featured on the Official Splashcord YouTube channel.
Trivia
InScane came up with his name one day by trying to spell "InSane" and noticed no-one had the channel name, but once he noticed he spelled "InScane" the name just stuck and has been a journey from the start.
InScane was born December 29, 2002
 in Melrose Massachusets.
InScane's Favorite Animal is Mostly Dogs of all types. To InScane, Dogs bring light, and happiness to people.
InScanes Height is 6`0"
InScane started his second channel to expand his content but ended up not really using it.
InScane met and became friends with a fellow YouTuber KreekCraft by saying "ROBLOX Jailbreak 10,000 Times " in one Live Stream on YouTube.
InScane wants to push his channel to be able to play a lot more games then just ROBLOX & Minecraft, but his viewers won't let him.
InScane started doing YouTube videos back in 2012 on his very first channel, but then quit to start fresh.
As InScane is well known for his ROBLOX Videos/Streams, he really started playing ROBLOX as a kid back in 2009.
InScane's biggest youtube goal is to surpass 100,000 Subscribers and 1,000,000 Video Views.
FAQ
What is InScanes Real Name?
When is InScanes Birthday?
When did InScane Start his YouTube Channel?
InScane started/created his channel on March 29, 2020.
What did InScane do before he started his YouTube Channel?
InScane started as a Twitch Streamer before he created his YouTube Channel.
Does InScane Play any other games besides ROBLOX?
InScane played ROBLOX sense he was a kid, but yes he does play other Mature Type games like Call of Duty and Grand Theft Auto.
What is InScane's Fortnite Creator Code?
InScanes Fortnite and Epic Games Creator code is "InScane".
Is InScane in the ROBLOX Star Program?
InScane is not yet in the ROBLOX Star Program, but is a dream of his.
Does InScane own his own Record Label?
Yes, InScane started his Record label back in April of 2020 to make it eaiser for new and upcoming music artist to get discovered.
What is InScanes ROBLOX Name?
InScanes ROBLOX name is InScaneYT.
Does InScane have a Girlfriend?
InScane does not have a Girlfriend.
How did InScane Meet KreekCraft?
InScane met KreekCraft back in 2018 when Kreek made a Challenge to anyone willing to say ROBLOX Jailbreak 10,000 Times and InScane took the offer and made a stream with a special apperance by KreekCraft himself.
Does InScane make Music?
As of 2020, InScane has been releasing music all over music stream platforms for the world to listen too!
Quotes
2018 Quotes
"
Nothing can be different if you don't challenge yourself
"

―InScane
2019 Quotes
"
Just some Irrelevent YouTuber with a Dream
"

―InScane
2020 Quotes
"
Can't have a Normal Day of Jailbreak without Trolls
"

―InScane
"
Let the New Music be our future
"

―InScane
Goals
2020 Goals
Reach 5,000 Subscribers
Reach 250,000 Video Views
Maintain 100-250 Views a Video
Maintain 15-30+ Concurrent Viewers a Stream
2021 Goals
Reach 10,000 Subscribers
Reach 500,000 Video Views
Maintain 150-500 Views Per Video
Maintain 50-100 Concurrent Viewers a Stream
Future Goals
Reach 100,000 Subscribers
Get Verified on YouTube
Reach 1,000,000 Video Views
Maintain 1,000+ Views Per Video
Maintain 250 Concurrent Viewers a Stream
References
Other Wikis & Sites
]
Community content is available under
CC-BY-SA
unless otherwise noted.