Cobra Kai Season 4 - The Loop
Play Sound
Jaclyn Noel Frank (née Glenn) (born March 25, 1988 (1988-03-25) [age 33]), is a commentator who discusses topics such as religion, atheism, animal rights, politics, sexuality, and many other issues in a serious yet comical fashion. She is known for being an atheist and skeptic.
Background
Jaclyn Glenn was born in 1988 to Alida Bostick Glenn and Steve Hornbeak. She grew up as a Catholic, and a very devout one at that. She began to question the faith because of the way it treated divorce, specifically her mother, who was barred from receiving communion. Nevertheless, she stuck with it even until her first YouTube videos, where her opinions greatly differentiated from her current views. She is and has been a liberal even while she was Catholic. She became a vegetarian in 2010 and is rumored to currently be a pescatarian (however recent videos on her vlog channel she is seen eating meat). She started her YouTube channel in 2011. Her first videos were mainly about why she adopted the vegetarian diet and reasons why others should as well. She made a video in 2012 where she told her fans that she was an agnostic, and she is now an atheist.
She graduated from the University of South Florida with a degree in biomedical sciences. She then went to medical school to become a primary care physician, but dropped out when her YouTube career started to gain success and she found herself unhappy working as a doctor. She was briefly married to a high school teacher (2010-2013) whom she divorced due to him cheating and being unsupportive of her YouTube videos. 
After moving to LA in 2013 she dated DaveDays on and off for a total of 2 years (2013-2015), and Toby Turner for under a year (2015). She began a relationship with Richie Giese from the channel Social Repose in August 2016. On November 3, 2017, she announced that she and Richie had broken up due to Richie cheating on her.
Jaclyn has ran a second Youtube channel since 2012, called Jaclyn Vlogs.
She started dating David Michael Frank in of the band Future Sunsets in 2018. In Spring 2019, she let David co-own her vlog channel, changing it to "Jaclyn & David" and starting the "Unfiltered Love Podcast" in April 2019, which last episode was in January 2020 with 19 episodes. The podcast is on hiatus currently. From August to October 2019, the two went on their "Imperfectly Human" Tour. They got engaged in Rome on October 13, 2019, then married on October 18, 2020.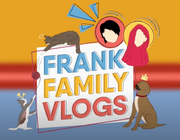 After Jaclyn and David's marriage, they changed the name of the channel to "Frank Family Vlogs" She changed her name legally to Jaclyn Frank but her channel and social media handles remain with the name Jaclyn Glenn and they bought a house in Tennessee. Jaclyn announced to the internet that David and her were having a baby on May 3, 2021, revealing she had been pregnant since her honeymoon in November 2020. The gender was revealed to be a boy on June 4th. Jaclyn and David's son, Asher was born on August 25, 2021. Soon after he was born, Jaclyn launched an Instagram account for him.
Controversies
Plagiarism
Glenn came under fire in 2015 for allegations of plagiarism. The controversy began when she was called on a video she made about Kim Davis, in which she plagiarized the words of a video by Theoretical Bullshit. She was then caught also reading word for word comments from her fans on Facebook without giving credit. Many other YouTubers condemned her actions. She has since given an apology admitting she did some wrong doing, and has not plagiarized since.
False accusations and gaslighting
She became in a short-lived feud with Morgan Olliges, after she accused her husband of manipulating her. Morgan responded in a video saying that she is not abused, but the video was mass disliked. Jaclyn responded, saying that she was more worried about Morgan after the video. However, they met in 2021 and are now friends.
Mrs. Midwest
Jaclyn criticized Caitlin Huber aka Mrs. Midwest, for promoting a traditional lifestyle. Caitlin did not respond, but her friend YogiOabs did.
Eugenia Cooney
Due to concerns surrounding Eugenia's health and after talking with Kati Morton, Jaclyn tricked her into getting put into a psych ward under the impression that she was going to an escape room with her. After receiving criticism, Jaclyn uploaded a video explaining her perspective.
Trivia
Jaclyn has two cats, Tippi, and Angel. She adopted Angel in 2016 after finding her on the street. She has a dog named Nala who was originally just her husband's dog.
Jaclyn has made many response videos to Christian channels, the main ones including Girl Defined,

Paul and Morgan

, Mrs. Midwest, Jesse Lee Peterson.
She also had a feud with Onision after she began dating Social Repose in 2016, causing several response videos and drama between the three.
She has had sponsorships from NordVPN, Adam and Eve, and Skillshare.
Jaclyn formerly posed for Playboy.
Despite being an atheist, she celebrates Hannukah with her Jewish husband.