Jacob Cavin (born January 23, 2002 (2002-01-23) [age 18]),[1] is an American YouTuber known for his vlogs and tech videos, especially his videos on smart home like the Amazon Echo.
About
Jacob Cavin is 18 years old and he runs a YouTube channel. He says that his channel is about himself. He does videos on what he loves. Jacob is a big lover of technology and that's basically what started his YouTube life. As soon as he discovered technology, Jacob knew that would be the way he would create stuff for the world to see. As a pre-teen, his cousin, his sister, and himself would create series of videos that they would watch themselves. This made him enjoy making videos and being a content creator.
Jacob created his YouTube channel on May 19, 2015, but it was not until about December 9, 2015, that he started posting videos regularly. Jacob started his YouTube channel as a sort of business. It was just a channel to have promos for his apps he was making. He says the videos were horrible and he hopes no one ever sees them. 
Jacob started off having his channel named LRCCAC (the reasoning behind this name is unknown), on January 29, 2016, he rebranded to iFunnyVlogger, and on December 11, 2018, he rebranded as Jacob Cavin. The rest is in the future!
Interests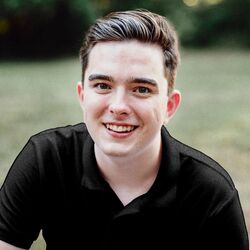 Jacob is very passionate about anything to do with technology. He, of course, loves videography and he hopes to do that as his job. But, in addition to that, he loves a lot of other things. He loves to code, specifically, iOS apps with Swift. He has created his own app for iFunnyVlogger and it was available on the App Store but, with his rebranding as Jacob Cavin, it was temporarily removed. Jacob also loves graphic design and you'll see a lot of that in some of his videos. He also enjoys stuff outside of technology, such as music, reading, hanging out with his friends, and being outside. 
References
This page was created on October 17, 2016 by IFunnyVlogger
Community content is available under
CC-BY-SA
unless otherwise noted.