Wiki Targeted (Entertainment)
Play Sound
"
What's goin' on fellow Crafters and Craftettes, welcome back to another video, my name is Kreek, and today guys, today…
"

―KreekCraft's Old Intro
Forrest Waldron[1] (born: January 28, 1997 (1997-01-28) [age 24]), better known online as KreekCraft, is an American gaming YouTuber known for playing the Roblox games Jailbreak and Piggy. He is also well known for his friendly rivalry on MyUsernamesThis and TanqR.
History & Content
Personal Life
Forrest Waldron was born on January 28, 1997 in Macclenny, Florida. He was born with a cataract in his left eye. He is 5'8" (173 centimeters) tall.[2] He is currently engaged with his girlfriend Kayla.
Second Channel
Forrest has an active Roblox skit and meme channel called Kreeky, which posts videos filmed in Roblox Studio that feature him and an 8-year-old boy named Timmeh. He also uses the Brookhaven RP Game for other scenes like walking, etc. He rarely makes videos related to Dhar Mann.
Minecraft, Team Fortress 2, and Garry's Mod
KreekCraft, at first, played Minecraft and many Minecraft mods. He would also play other games like Team Fortress 2 too. He later began playing more variety games like Garry's Mod, and did ask-me-anything vlogs. For a while, KreekCraft mainly played Minecraft mods and did "Let's Play!"s. He later livestreamed Minecraft and any other game he played. In March 2016, he began doing a Fan Mail series, in which he opened fan mail he received.
Roblox
Later in 2016, Kreek discovered the game "Roblox" when his fans told him about Roblox, since it became popular at the time.. On Roblox, he first played Phantom Forces, the starter games for many youtubers. Later, he began streaming Roblox almost daily. Around that same time, his Fan Mail series ended. Like NapkinNate, in Apr l 2017, Jailbreak was released, and Kreek hasn't stopped playing it since. He has also claimed that the Roblox Ready Player One Event made him popular, whenever he live-streamed it. In 2020, he began playing the game Piggy as it rose in popularity. An important fact about Forest (KreekCraft) is in Late 2019, KreekCraft saved Roblox YouTube by meeting with COPPA members to discuss about YouTube and COPPA's plans. Forest appeared on C-SPAN for the live meeting.
Fortnite
Sometime in 2018, he announced a second channel called "Kreek - Fortnite". The channel uploaded Fortnite gameplay videos and tips on how to obtain V-Bucks, Fortnite's' in-game currency. It is now the Kreeky channel and no longer posts Fortnite content on there. He made a big return on Fortnite by streaming the Ariana Grande Live Event and also stated on there why he doesn't posts Fortnite anymore. He no longer posts anymore Fortnite because he sucked at playing the game. This is a possible chance of him bringing it back but rarely.
On August 21, 2021, he announced his partnership with Wonder Works Studio together with its founders, MeganPlays and AviatorGaming to make a story centered horror game on Roblox called TIMMEH. He is the Head Game Producer and Voice Actor for Timmeh and Himself in the Game. The Game was released under Beta at September 3, 2021 which was caused 25 Robux, similarly to Overlook Bay and was fully released for Free on September 24, 2021 at 5:30pm EST.
Hair
Prior to his win on 8th Annual Bloxys, he has promised to dye his hair if he wins and his fans has decided to make his hair color Pink.
Brown
His natural hair color, Kreek is known for his brown hair since the very start of his Channel and on his Roblox Avatar.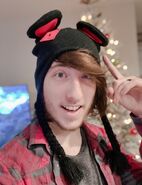 Brown to blonde
He dyed his hair blonde on April 10, 2021, It only lasted a few hours then he has to color his hair Pink.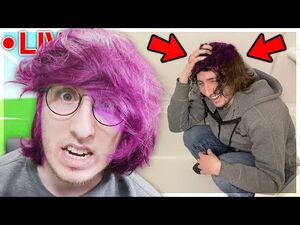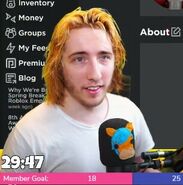 Blonde to orange
Few hours after he dyed his hair blonde, he has to dye it Pink. However, due to something wrong dying on his hair, it turned into orange instead.
Interview
On May 23, 2020 TheMorninShow announced on Twitter[3] and IMDB[4] stating that KreekCraft participated in an exclusive interview with the shows host InScane [5].
Minecraft Championship
Minecraft Championship is a Minecraft Tournament for YouTubers and streamers run by the Noxcrew, in which 10 teams of four compete in a series of 8 minigames decided by the participants. A point multiplier makes each game worth more as each round passes, incentivizing teams to vote for games they might be bad at early on in the event. In the end, the two teams with the most points face off in a round of 'Dodgebolt' to decide the winner of the tournament. This makes it possible for a team to win despite potentially having fewer points than the runner-up.
MC Championships 1-14: Did not participate.
(non-canon) MC Championships Pride 2021: Team Aqua Axolotls. Teamed with IlluminaHD, Gizzy Gazza Cartoons and Ryguyrocky. Placed 4th individual and his team placed 1st overall.

Before the event, He played a couple of Pranks to Dream SMP Members Tubbo, Ranboo and Technoblade in the MCC Practice Server on stream. He poked Technoblade when Techno wasnt looking while, he was spinning around Tubbo's Stream with Ranboo.
He also talked to Dream and Tubbo in-game before the event.

He fighted both of them in a row.
He also talked to Dream in VC.

He has the 4th highest debut in the tournament on 4th Place, despite being on MCC P21.
He confirmed that he will be back in MCC20 or sometime in the end of 2021 at a post on the MCC Reddit. [6]

MC Championships 15-17: Did not participate.
(non-canon) MC Championships Rising: Did not participate.

However, he applied for the Tournament with his Minecraft friends KiraBerry, DefildPlays and Astersia even through he had to say that he will have to wait for Smajor's Signal to compete in canon MCCs. Leading for their team to be a Roblox YouTuber + Minecraft Twitch Streamer Team. KiraBerry also got permission from Smajor so Kreek can compete.

MC Championships 18-19: Did not participate.
Controversies
Conflict with Scrimzox
On April 30, 2021, Someone made a tweet and a image of Scrimzox's channel and a video "Why Shooting of 16-Year-Old Ma'Khia Bryant was justified and why Lebron James deleted". This person was hating on Scrimzox on why he made the video about it. Scrimzox and his fans later on said "she was holding the knife trying to stab the cop". However Forrest called Scrimzox a "right-wing dollar store of hasanthehun" and saying like "Systematic Racism has always been a problem and continues to be one". This caused alot of backlash from Forrest and his fans justifying his actions from a small youtuber. Scrimzox later on made a video called "Kreekcraft Moment" screenshotting the tweets from KreekCraft and others hating him. There was still no apology video from Forrest refraining from saying "right wing" or "false accusations".
Doxxed
On June 4, 2021, KreekCraft was attacked by Dream and MCYT stans. It started when Kreek tweeted that he has a suspicion that he may have met Dream at High School back in Florida and they might have the same Computer Science Teacher and same class. Few hours later after he tweeted it, Dream Stans and MCYT stans have started to attacked him. The stans from his place also attacked. they are dallying on Kreek and just doxxed him or getting their battle tanks on humorous reactions and the stans who attacked him on Twitter has been giving him "/srs warnings" (slang of Seriously in gen z generation) onto him. After on that Attack, Kreek deleted the Tweets and made a response video on Twitter regarding this.[7] Here is his statement regarding the situation "Hmmm... I think uhmm... meeting Minecraft YouTube Twitter is one of my scariest moments of my life. Dude, I got excited because Dream and I may have been in the same class. Uhm. I think we met like 5 years ago, we actually meet up like /srs. And then I opened up Twitter, and then I see like /srs warnings. Like the Minecraft YouTube Twitter stans, the Dream stans. They are on red alert mode. They are like outside my house, they are pulling their battle tanks, calling me like stalkers and crossing boundaries and searching for private information and all of that. Like dude. I only said that we went to the same high school, Thats it."
The next day, ItzWolfyTDM made a response video immediately and was the first YouTuber to upload regarding this. The next day after ItzWolfyTDM uploaded, Topster, LoopedQ and GBCereal made response videos. [8][9][10] 4 days after the attack, he created a video on his skit channel Kreeky which involved a humorous reenactment of the situation. [11] On the same day he uploaded the reenactment video, TanookiAlex made a Response video and popularized the entire situation.
1 month of Silence on the attack, he responded to the Situation by reacting to GBCereal's response video on Kreek being on Minecraft Championship and that also regards the attack. Kreek said this: "I made a Tweet saying that Dream and I probably went to the same school, I think Dream and I probably went to the same High School and everybody took it. They completely took it in the wrong way. Like literally, all I was saying is that Dream and I went to the same high school or I think we did. I'm not gonna dox him or anything like that. Thats it, Its just cool thats all of that, there's no drama."
As of now, the topic is very searchable on YouTube and doesn't have a confirmation whenever they will attack on Roblox next.
"Betrayal" of Roblox
On June 20, 2021, Kreek became part of the MCC. One of the RTC Recap anons and Roblox players thought that Kreek had betrayed Roblox and Roblox Battles due to MCC. Minecraft players were also mad since Kreek is a Roblox YouTuber even through he used to be a Minecraft YouTuber back in 2014. but most of the RTC Members has supported Kreek including Spade, the 2nd Winner of the Timmeh Takeover since he is a supporter of the Dream SMP.
The day after the suspected betrayal, GBCereal made a response video. 4 Days before MCC, ItzWolfyTDM made a tweet on his main twitter account regarding Kreek's betrayal by using a VOD Clip from Eret betraying L'Manberg but 3 weeks after he tweeted it, he finally said on a another tweet that the tweet is only a joke. on June 25, 2021, LoopedQ made a response video. A few hours before MCC, Topster made a response video. Most of the Minecraft Players thought that Kreek will lose since he is only a Roblox YouTuber and a Loser but they were wrong and coudnt accept Pink Parrots' Lost due for 2 points getting jinxed by Technoblade.
Trivia
He joined Roblox on July 3, 2016.
He often wears a Deadmau5 beanie.
Kool-Aid sponsored KreekCraft. He said "OH YEAH" every now and then.
The insult "you're an L" was a meme meaning "You're a loser". Sometimes the meme is said to as "Take the L". KreekCraft has often been teased by people who say "Kreek is an L". MyUsernamesThis, a YouTuber, is the main starter of this meme being used against KreekCraft.

Every time MyUsernamesThis kills or arrests Kreek in Jailbreak when doing 1v1 or joining in the game in Kreek's live streams, he spams "L" and makes Kreek salty.
However, they are both friends, despite fighting of both fans. This has been confirmed by KreekCraft when he plays his Diss Track made by MyUsernamesThis in his live stream when someone gives a donation using the "Take the L" GIF.

His favorite snack is Pop-Tarts, and he wished someday sponsored him Pop-Tarts on his live stream when his channel hit 1 million subscribers.
His favorite animal is a horse, which is his YouTube mascot (dubbed Trevor).
He has his own Easter egg in the Roblox game Jailbreak.
His last name is speculated to be Starling (on C-SPAN) and Stevenson (on TheMorninShow). However, he has claimed this to be a placeholder.
He once forgot to give a fan some Robux while he was playing on Jailbreak which lead to the running joke by the Roblox community.
"
You promised my son that you are going to give him free Robux!
"

―Angry Indian dad to KreekCraft
His favorite color is blue.
He is the RB Battles Championship winner in the 1st season, and finalist in the 2nd season.
He won the Best Video Content Creator in the 8th Annual Bloxy Awards.
He got verified on October 1, 2021.[12]
Quotes
"Alright Dream, you are going Dream?!?! Ok Dream, Lets go!!!"
"Back, Back demon! Back demon. Ah get back, get back!!!" (him when he was about to be beaten up by Dream)
"Shoutout to Roblox lol. Illumina: ROBLOX! Ryguy: ROBLOX!!!!!!!!!!!!" (him, Ryguy and Illumina chanting Roblox for their victory on MCC Pride 2021)
Subscriber milestones
KreekCraft
Note: The following dates are according to Social Blade. Dates may vary by one or two days due to differences in time zones.

100,000 subscribers: May 21, 2017
500,000 subscribers: August 13, 2018
1 million subscribers: March 31, 2020
2 million subscribers: July 1, 2020
3 million subscribers: March 22, 2021
Kreeky
100,000 subscribers: September 4, 2020
200,000 subscribers: December 22, 2020
300,000 subscribers: January 8, 2021
400,000 subscribers: March 6, 2021
500,000 subscribers: September 13, 2021
References