House of the Dragon Trailer - The Loop
Play Sound
"
I will give you $10,000!
"

―MrBeast
Jimmy Donaldson[1] (born: May 7, 1998 (1998-05-07) [age 23]), better known online as MrBeast (formerly known as MrBeast6000 and Beast), is an American YouTuber and philanthropist known for his videos that often consist of him doing arduous tasks for an extended amount of time, doing or saying something thousands of times, challenges and donations that involve millions of dollars, and more. With unrelenting passion and devotion to finishing arduous, yet creative, challenges, Jimmy has become an extremely popular YouTuber in recent years. He is known for giving away lots of money, making people do challenges and tasks for money and buying large objects.
The channel is mostly run by Jimmy, his friend Chris Tyson and several other affiliates, who makes outrageous experiments, challenges, or donations that usually involve incredible amounts of money. Currently, his main channel is the 11th most subscribed channel with 72 million subscribers, as of October 26, 2021. He started this YouTube channel on February 19, 2012 at the age of 13.
He also has a second channel called Beast Reacts (formerly BeastHacks, Mr.Beast and Mr.Beast CSGO) where Jimmy and his friends react and review things like compilations, and roast them if they are disgusting or bad. In May 2020, he started a gaming channel named MrBeast Gaming, which has over 21 million subscribers, releasing 3 gaming videos every week. He also has the channel MrBeast Shorts where he uploads around 10-60 second clips of him and his friends doing random things, and some of those videos are posted on his TikTok. Along with a Playbutton-focused English YouTuber JackSucksAtLife, he created the channel Don't Subscribe, and he gives ten cents to Jack for every subscriber. As of August 20th, 2021, the channel has 1 Million subscribers, meaning Jack has made $100,000. This is the limit to the amount of money he can make. Surprisingly, Jack doesn't have access to the channel. Also, Jack says in some of his videos "Subscribe to Don't Subscribe".
His brother, CJ Donaldson, also has a channel inspired by his brother, called MrBro. He started his channel in 2017 but only started posting in August of 2019. He also makes challenge videos, like his brother.
Jimmy is also known for making fun of Minecraft, a game developed by Mojang. He made a two-episode series playing it and was finished playing the game for good after his house got blown up by a creeper. Due to that incident, he has since deleted the game. Since then, Jimmy has made a sudden return to Minecraft, collaborating with fellow YouTuber Dream in the video titled "3 Minecraft Speedrunners VS Hunter ft. MrBeast" featured on Dream's YouTube channel. It seems like Jimmy is starting to like Minecraft more than he did a few years back. He has since made a channel called MrBeast Gaming, where he does challenges with his viewers and friends for money. The challenges are usually in Minecraft and involve parkour, building or fighting, usually for money, gift cards, food, and for no reason. One of the stranger prizes was a free supply of yogurt for 10 years.
One of the most craziest challenges done on the gaming channel was the $100,000 gift card hunt on the Dream SMP. The prize was $100,000 worth of gift cards from different stores. The challenge was ultimately won by Tubbo, who decided to selflessly give away all of his earnings on one of his livestreams.
PewDiePie vs T-Series
Advertising PewDiePie
On October 24, 2018, Jimmy made a video called, I Bought Every Billboard in my City to do this.[2] In the video, Jimmy used multiple billboards around his city to advertise PewDiePie and to prevent an entertainment company, T-Series, from surpassing PewDiePie in subscribers. Additionally, Jimmy created online ads to advertise PewDiePie that, when clicked, redirected to PewDiePie's channel.
Jimmy also advertised PewDiePie on public posts, newspapers, and the radio, the PewDiePie advertisements have garnered significant attention locally and globally, causing PewDiePie's channel to grow at a faster rate than T-Series. T-Series was approximately less than 100,000 subscribers away from becoming the most subscribed channel up until the release of Jimmy's video, which temporarily halted the channel's growth. Likewise, Jimmy's channel had also gained exponential growth off of the video and the advertisement, which he had mentioned himself on multiple occasions.
Saying PewDiePie 100,000 Times
Even after Jimmy advertised PewDiePie with billboards, it did not stop T-Series from slowing down from PewDiePie longer. T-Series was approximately 90,000 subscribers away from surpassing PewDiePie before Jimmy made another video to keep PewDiePie #1 most subscribed. On November 25, 2018, Jimmy says PewDiePie 100,000 times. At the start of the video, Jimmy tells his fans and new-comers to subscribe to PewDiePie and to help him win the war. The subscriber growth was given to PewDiePie once again, gaining 244,000 subscribers the day of Jimmy's upload, and 247,000 subscribers the next day.
Jimmy also gained major exposure from the video and gained 181,000 subscribers on the day of its upload, which is Jimmy's fastest growth in terms of subscribers in the past 24 hours. Jimmy also gained 151,000 subscribers the next day.
Surrender
Even after Jimmy helped out PewDiePie, PewDiePie made a tweet, It looks like this is it boys.[3] with a picture of a text saying Dawn of The Final Day 24 Hours Remain, in which PewDiePie now surrenders his #1 most subscribed title, as T-Series growth had not stopped. Jimmy also made a tweet responding to PewDiePie saying It was an honour fighting by your side, in which Jimmy gives up and can no longer help PewDiePie further, possibly to prevent lack of PewDiePie videos from Jimmy, as it can get weaker along the way.[4]
Advertising PewDiePie at the Super Bowl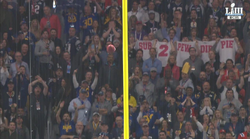 On February 3, Jimmy and his affiliates Chris, Chandler, Garrett, and Jake made plans to try and advertise fellow YouTuber PewDiePie's channel while attending Super Bowl LIII (53). To do so, Jimmy bought seats next to one of the end zones, with him and his affiliates wearing shirts ultimately spelling out "SUB 2 PEWDIEPIE" to be seen during one of the field goals. The attempt was broadcasted on live television, with approximately 110 million viewers watching the game. ESPN later tweeted a picture of one of the field goals, subsequently featuring Jimmy's ad.[5] Afterwards, PewDiePie's growth grew from 50,000 subscribers to 277,000 subscribers in a single day.
​​​​Controversies
Clickbait
Some people proved MrBeast for his usage of clickbait to make money and obtain subscribers.
MrBeast "Faking" His Videos
On April 4, 2018, a YouTuber known as FlyyDoesYT posted a video claiming that Jimmy's videos are fake, and only stars in the beginning (such as in I Tipped Waitresses $20,000) and that he has multiple employees who are miserable working for him, the next day, DramaAlert had an interview with Jimmy about the situation. In response, Jimmy stated that his videos are not fake, his employees love working for him, and he has spent at least $500,000 donating and giving out to people in his videos. He has also confirmed that he has Crohn's disease, stating that it's the reason why he was not in the entire "I Tipped Waitresses $20,000" video. He even mentions that none of his videos are fake. Fans have since defended Jimmy, and FlyyDoesYT has gotten negative responses over his video because of it.
Controversial Thumbnail
Ever since Jimmy released his viral video, "Can 20,000 Magnets Stop a Bullet Mid Air?", which quickly became Jimmy's most viewed video of his in 3 days, the video became pretty controversial due to the thumbnail. The thumbnail does show Jimmy firing an AK weapon towards another person (Chris, Jimmy's roommate), while it did not happen in the video. YouTube has made its Guidelines more strict about guns in videos and thumbnails, especially with it affecting Gun Channels.
People say Jimmy's thumbnail is breaking YouTube's Community Guidelines because of what the thumbnail contains. People say it's misleading and harmful. Due to the criticism that followed, the thumbnail had been changed to not include the person on the opposite side. At the time before the video was removed, it had received the most amount of dislikes ever recorded on Jimmy's YouTube channel at the time, at least a 25% dislike ratio, and a 75% like ratio. The controversial video (although it was removed or set to private by Jimmy at an unspecified time) was reuploaded on June 31, 2019, by a fan posing as MrBeast's YouTube Channel, only with Chris being excluded from its thumbnail. Still, the video continued to remain available online.
Giving Away Fake Money?
In Jimmy's video titled "I Opened A FREE BANK", people started to claim that Jimmy never actually gave away the money as he shows in his videos. Their evidence was that in one frame of the video, you could see that the money he had given to someone was "prop money" that would have been used in films. This criticism also appeared on DramaAlert, where Keemstar defended him using the disclaimer Jimmy had put in the video description. The statement said:
"We used motion picture money when making this video. Everyone who received the money in the video was paid by check after they left for security purposes (I can't just carry 6 figures in cash lol). Everyone received 100% of the money they were given."
After this was shown on DramaAlert, people started to believe Jimmy.
Expensive challenges
MrBeast is known for doing a wide variety of expensive challenges, all of them being uploaded to the main MrBeast channel (these do not include the gaming challenges or his try not to laugh challenges). An expensive challenge in this case is a type of challenge video by MrBeast where a limited number of known contestants compete for a large prize like $100,000. These known contestants are usually MrBeast's main crew members like Chris, Chandler, and/or Karl, but they could also be his other friends like Nolan or Tareq. Sometimes, they could make small video series with at least one expensive challenge like the Private Island series, and have contestants which would appear in the entire series but would otherwise likely never appear again, like Blakely or Lincoln from Last to Leave Circle Wins $500,000 and its sequel.
Jimmy had planned a video for multiple YouTubers to win a 100 grand for a long time. It had finally been released on December 12, 2018, on the Jimmy channel. 12 YouTubers decided to join the challenge to win $100,000.
The rules were as stated: you cannot lay down, you cannot sit down, you can't leave the circle (regardless if you have 1 foot out), and you will be wearing a vest and having 2 lbs added onto the vest every hour to make it more challenging and tiring for the competitors.
If you want to see the results of this challenge, see the results section in the "Last Youtuber To Leave Wins $100,000 - Challenge" page on the MrBeast Wiki.
On February 15, 2019, Jimmy announced he will be doing a real-life YouTuber battle royale on March 6; the winning teams would get $100,000. It was an inspiration to Dude Perfect's Airsoft Battle Royale. Team Green (Odd1sOut, Jaiden Animations, and Anthony Padilla) won the first round, while Team White (Preston, Unspeakable, and Typical Gamer) won the second. The video was released on March 12, 2019, at 6 PM EST.
If you want to see the teams and results of this challenge, see the teams and results section in the "$200,000 Youtuber Battle Royale" page on the MrBeast Wiki.
Other Challenges
Projects
TeamTrees – Planting 20 Million Trees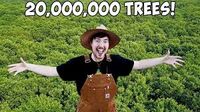 Main article: TeamTrees.org
On October 13, 2019, Jimmy stated that October 25 is going to be the largest YouTube collaboration of all time, with many creators replying to join the collaboration.[6] On October 25, Jimmy alongside fellow YouTuber and former NASA engineer Mark Rober announced that they will start a campaign to plant 20 million trees by January 1, 2020.[7] Jimmy had this idea after reaching 20 million subscribers when his fans began requesting him to plant 20 million trees to celebrate the milestone, and to help restore forests lost due to recent forest fires. The campaign is conducted through the charity Arbor Day Foundation, and the campaign is spread through #TeamTrees, where every dollar donated is equal to one new tree being planted. Thousands of creators and artists, including PewDiePie, Alan Walker, Jeffree Star, Ninja, Jacksepticeye, DanTDM, TheOdd1sOut, and many more have donated and made videos supporting the campaign. On October 29, Elon Musk donated $1,000,000 towards the campaign, followed closely by Tobi Lutke donating $1,000,001 the next day. The goal was reached on December 20, 2019, but still allowed to keep increasing the numbers.[8] Right now as of September 1st, 2021, they have raised over 23,184,021 dollars to plant that many trees.
MrBeast Burger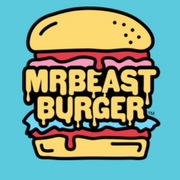 Main article: MrBeast Burger on the MrBeast Wiki
MrBeast Burger is an online delivery only fast-food chain and restaurant brand created by MrBeast. This restaurant, temporarily opened physically in only one location, is the key setting and location for the video "I Opened A Restaurant That Pays You To Eat At It".
In a November 2020 article with The Wake Weekly, Will Hyde, a producer of the MrBeast channel, announced that Jimmy would launch a virtual restaurant called "MrBeast Burger" in December 2020. Hyde said his team worked with the company "Virtual Dining Concepts" during the development of the virtual restaurant concept. MrBeast Burger then serves the burgers to restaurants across the United States and customers will be able to order the burgers via online delivery services.
On December 19, 2020, the MrBeast Burger application for Android and iOS devices was developed for ordering food from there only by delivery. For now, the MrBeast Burger deliveries are only available in 300 locations in the United States and not internationally, but there are plans to allow these deliveries to happen internationally in the future.
Series
Current Series
Real life Videos
Jimmy currently makes random "real-life" videos that he considers "dumb", but nobody has ever seen or done before. He would mostly do outdoor experiments to see what would happen if he were to do a certain thing to certain objects. In addition, he creates "world record videos" where he attempts to break world records (among other forms). The style of these random real-life videos is "Creative Videos" (ex: Destroying My Friend's Car And Surprising Him With A New One), "Experiment Videos" (ex: Can 20,000 Magnets Catch A Bullet Mid Air?), "World Record Videos" (ex: 2,256 Miles In One Uber Ride), and "Challenge Videos" (ex: Breaking Into The World's Toughest Safe).
Donations
Jimmy donates large amounts of money to small Twitch creators, such as his donation of $50,000 to Fortnite Twitch Streamer, Ninja to help St. Judes Cancer Research Charity. He had also donated $30,000 to Ninja to help the Suicide Prevention Center. Jimmy also donated the same amount ($30,000) to another Fortnite Twitch streamer, known as SpaceLyon. In addition to that, he has donated money to "Attractive Twitch Streamers."
Apart from Twitch, he has given thousands of dollars to homeless people. This includes giving $10,000 tips to pizza delivery guys, and multiple videos of a similar fashion.
Retired Series
Worst Intros On YouTube
Jimmy's series, the Worst Intros On YouTube, was one of the reasons his channel gained popularity. The series had about 70+ videos and is arguably considered to be the biggest reason that he is popular on YouTube in the first place. In these videos, Jimmy showcases and rants on horrible YouTube intros, usually made by young people. Throughout the series, he repeats the same jokes involving Asian people, bleach, leaving a child home alone with a phone, and explosions, which he claims can be used "to cure brain cells of cancer". Most of the intros were recorded on smartphones, with the YouTuber dancing in front of the camera with music that they make with their voice in the background, holding a sign that says their username usually on pieces of paper. To add more insult to injury, the signs portrayed were typically unintelligible. He occasionally also stumbles upon "troll intros" made solely to become a part of his series. He also included Minecraft intros and Club Penguin intros in his series. On March 28, 2018, Jimmy private all his Worst Intros videos. A variety of people believed that the reasoning to why he did so was because the series has died down and that Jimmy wanted to stick with real-life videos full-time. He first private one of his most popular Worst Intros videos and then did the same to the rest about a week later. On August 1, 2018, Jimmy private his last public Worst Intro video titled "WORST INTROS EVER", which had 20 million views and was once his most popular video before the growth of his real-life videos. However, some of it has been re-uploaded by other people.
Fan Videos
Jimmy's influence on YouTube has caused many of his fans to do some "questionable" things in the name of him. This includes fans running down their local street screaming his name, to going to public areas screaming his name. These instances have successfully caught Jimmy's attention, leading him to feature such videos in his own videos on occasion.
Long Videos & Streams
Jimmy used to stream and record videos of himself doing challenges that took nonsensical amounts of time. This includes spinning a fidget spinner for 24 hours, reading the entire Dictionary, even counting to 200,000 (in two day-long halves so far; in a series that focuses on counting to a million), and reading the entire bible in one video. Ironically, Jimmy started playing this game back in 2012.
Subscriber Specials
Since hitting 3 million subscribers, Jimmy has flown out to people's residences who were his channel's millionth subscriber to give the subscriber a challenge. If they completed the challenge, they are given several items that correspond to how many subscribers his channel has (ex: 3 million pennies for 3 million subscribers). His most recent Subscriber Special video was where MrBeast gave his 40th million subscriber 24 hours to give away 40 cars. If he did, he got a custom MrBeast Tesla.
Best Intros
Best Intros is a spin-off series based on his previous series Worst Intros. Unlike the Worst Intros series, Jimmy and his friends are featured ranting and critiquing some of the "best" intros they have found online. However, the series primarily features poorly created and sometimes blatantly low-quality intros, similar to the Worst Intros series. It can be said that the series was mainly created in the means of satire and comedic purposes.
MrBeast's 2020 YouTube Rewind
On November 17, 2020, MrBeast announced that he was going to make his own YouTube Rewind due to YouTube cancelling their annual Rewind that year. MrBeast also said that if other YouTubers wanted to come and help, they could reply to him on Twitter. After 1 month, MrBeast released his own YouTube Rewind on January 1, 2021, titled "Youtube Rewind 2020, Thank God It's Over".
It featured many notable YouTubers giving their thoughts about what should be in MrBeast's Rewind, and their thoughts about the worst events of 2020. In addition, there were tributes to some celebrities who passed away in 2020, such as Kobe Bryant, Chadwick Boseman, Ruth Bader Ginsburg, and Alex Trebek. There was also a so-called "face reveal" which had been teased by Dream on his Twitter prior to the release of the Rewind, though his face was not shown, instead being hidden under a mask.
Creators featured in the Rewind
MrBeast
Chris Tyson
Chandler Hallow
Sponsors
Quidd
Quidd has often sponsored Jimmy for him to do his quite costly videos, which often helped him gain a majority of his growth. Because of Quidd, Jimmy made the longest Uber Ride (which was 2,256 miles from North Carolina to California) and 'Tipping Pizza Delivery Guys $10,000'. All of the money Jimmy had used in making those videos was from Quidd. Quidd also helped him make 'Donating $10,000 to random Twitch Streamers', 'Giving Homeless People $1,000', and 'Giving A Random Homeless Man $10,000', all gaining astonishing amounts of views.
Honey
Honey is a browser extension that automatically finds and applies coupon codes at checkout. Jimmy frequently advertises Honey in his videos and has also become an active advertiser for Honey on YouTube videos for monetized content creators. Honey has helped Jimmy with many videos for example when he did last to take hand off $1,000,000. joinhoney.com/mrbeast
Apex Legends
Apex Legends is a battle royale game that Sponsored Jimmy for $200,000 to make "$200,000 Youtuber Battle Royale". They also sponsored the video were he and shroud played apex and set crazy amounts of money to donate for every kill they got, and the MrBeast Riddle.
Dragon City
Dragon City is a game where you collect, battle, and level up dragons. For a promotion with the game, Jimmy made the videos, "Giving $100,000 To A Homeless Person " and "$70,000 Extreme Hide And Seek - Challenge ". Because of these sponsorships, Dragon City created two MrBeast-styled dragons for players to use in-game. The dragons are modeled after his current YouTube logo.
Trivia
His brother, CJ Donaldson, owns a channel called MrBro.
His video Make This Video The Most Liked Video On YouTube is the most liked non-music video on YouTube, and one of the two non-music videos in the top 50 most liked videos on YouTube.

It is also the second most rated (likes and dislikes combined) non-music video, behind YouTube Rewind 2018: Everyone Controls Rewind (the most disliked video on the platform).
In the video, he said his goal was to make it the second most liked non-music video, which was a spot the video held for four months before overtaking YouTube Rewind 2018 but it's actually good.
After his video became the most liked video, Jimmy made a tweet telling people to change their like to a dislike since he didn't want to take the title from PewDiePie. Grandayy did that favor as a "sacrifice."

Jimmy is currently dating Maddy Spidell.[10] They have been dating since June 2019 and met through Twitter.[11] She has so far appeared in only a few of Jimmy's videos, such as Surprising My Girlfriend With 100,000 Roses For Valentines Day and I Adopted EVERY Dog In A Dog Shelter.
MrBeast made a second channel for watching and reviewing lifehacks called BeastHacks. This channel mostly stars his friends, but he has appeared on it multiple times.
The BeastHacks channel was originally called Mr.Beast. He later changed it to its current name so it could be searched for easier.
MrBeast is 6'4" (194 cm).
MrBeast has a fear of riding in helicopters.
He bought a private island for about $730,000. It is confirmed to be Golding Cay Island in The Bahamas, but Chandler has unofficially named the island as "Jeff". Chandler won the island but eventually sold it due to taxes.[14]
He called YouTuber EthosLab's Minecraft Lets Play series the "Best series on YouTube" in a comment on this Etho video.
He likes Anime like Naruto and Konosuba according to some of his videos.
He's filmed videos at the defunct NASCAR track, East Carolina Speedway.
He went to a college for 2 weeks but hated it. He thought his YouTube career was a viable career option.
He was nominated for the 2020 Streamy Awards in the Creator of the Year, Live Special, Creator (for his Feeding America Food Drive), and Non-profit/NGO categories (for Arbor Day Foundation's TeamTrees), where he won all 4 awards.
He hit 1 million subscribers a day before his birthday in 2017.
He is agnostic.[15]
He and Maddy adopted a dog named Pinkie during the video I Adopted EVERY Dog In A Dog Shelter, Jimmy and Maddy adopted her because Pinkie was the only remaining dog at the shelter, and Maddy was seen giving her a lot of affection throughout the video.
His favorite color is blue.[1]
Affiliates
Subscriber milestones
MrBeast
300 subscribers: August 2, 2013
1,000 subscribers: April 14, 2014
1,500 subscribers: August 9, 2014
2,000 subscribers: April 19, 2015
3,000 subscribers: July 19, 2015
4,000 subscribers: July 29, 2015
5,000 subscribers: August 11, 2015
6,000 subscribers: August 23, 2015
7,000 subscribers: September 9, 2015
9,000 subscribers: October 11, 2015
10,000 subscribers: October 28, 2015
15,000 subscribers: December 25, 2015
20,000 subscribers: March 7, 2016
50,000 subscribers: June 11, 2016
100,000 subscribers: July 8, 2016
200,000 subscribers: September 26, 2016
300,000 subscribers: November 6, 2016
400,000 subscribers: November 30, 2016
500,000 subscribers: January 8, 2017
600,000 subscribers: January 15, 2017
700,000 subscribers: February 21, 2017
800,000 subscribers: March 18, 2017
900,000 subscribers: April 9, 2017
1 million subscribers: May 6, 2017
2 million subscribers: December 29, 2017
9 million subscribers: October 25, 2018
11 million subscribers: November 25, 2018
12 million subscribers: December 8, 2018
13 million subscribers: December 22, 2018
14 million subscribers: January 19, 2019
15 million subscribers: February 15, 2019
16 million subscribers: March 16, 2019
17 million subscribers: April 13, 2019
18 million subscribers: May 4, 2019
19 million subscribers: May 21, 2019
20 million subscribers: June 8, 2019
21 million subscribers: June 23, 2019
22 million subscribers: July 27, 2019
23 million subscribers: August 22, 2019
24 million subscribers: September 6, 2019
25 million subscribers: October 25, 2019
26 million subscribers: November 15, 2019
27 million subscribers: December 11, 2019
28 million subscribers: December 25, 2019
29 million subscribers: January 25, 2020
30 million subscribers: February 14, 2020
31 million subscribers: February 28, 2020
32 million subscribers: March 12, 2020
33 million subscribers: March 24, 2020
34 million subscribers: April 14, 2020
35 million subscribers: May 18, 2020
36 million subscribers: June 4, 2020
37 million subscribers: June 15, 2020
38 million subscribers: July 5, 2020
39 million subscribers: July 23, 2020
41 million subscribers: August 15, 2020
42 million subscribers: August 23, 2020
43 million subscribers: September 14, 2020
44 million subscribers: September 28, 2020
45 million subscribers: October 17, 2020
46 million subscribers: November 6, 2020
47 million subscribers: December 2, 2020
48 million subscribers: December 18, 2020
49 million subscribers: December 26, 2020
50 million subscribers: January 3, 2021
51 million subscribers: January 13, 2021
52 million subscribers: January 24, 2021
53 million subscribers: February 12, 2021
54 million subscribers: February 22, 2021
55 million subscribers: March 12, 2021
56 million subscribers: March 27, 2021
57 million subscribers: March 30, 2021
58 million subscribers: April 3, 2021
59 million subscribers: April 8, 2021
60 million subscribers: April 18, 2021
61 million subscribers: April 27, 2021
62 million subscribers: May 12, 2021
63 million subscribers: June 4, 2021
64 million subscribers: June 25, 2021
65 million subscribers: July 15, 2021
66 million subscribers: August 4, 2021
67 million subscribers: August 21, 2021
68 million subscribers: September 4, 2021
69 million subscribers: September 11, 2021
70 million subscribers: September 25, 2021
71 million subscribers: October 11, 2021
72 million subscribers: October 25, 2021
MrBeast Gaming
1 million subscribers: May 24, 2020
2 million subscribers: June 19, 2020
3 million subscribers: July 5, 2020
4 million subscribers: July 16, 2020
5 million subscribers: August 7, 2020
6 million subscribers: August 16, 2020
7 million subscribers: August 26, 2020
8 million subscribers: September 22, 2020
9 million subscribers: October 9, 2020
10 million subscribers: October 31, 2020
11 million subscribers: December 7, 2020
12 million subscribers: December 30, 2020
13 million subscribers: January 7, 2021
14 million subscribers: January 29, 2021
15 million subscribers: February 28, 2021
16 million subscribers: March 31, 2021
17 million subscribers: April 18, 2021
18 million subscribers: May 4, 2021
19 million subscribers: June 15, 2021
20 million subscribers: July 30, 2021
21 million subscribers: August 29, 2021
22 million subscribers: October 4, 2021
Beast Reacts
1 million subscribers: February 10, 2019
2 million subscribers: August 15, 2019
3 million subscribers: August 5, 2020
4 million subscribers: January 12, 2021
5 million subscribers: March 29, 2021
6 million subscribers: April 22, 2021
7 million subscribers: May 11, 2021
8 million subscribers: June 6, 2021
9 million subscribers: July 6, 2021
10 million subscribers: August 6, 2021
11 million subscribers: September 11, 2021
MrBeast Shorts
1 million subscribers: September 19, 2020
2 million subscribers: November 8, 2020
3 million subscribers: January 8, 2021
5 million subscribers: March 3, 2021
6 million subscribers: April 13, 2021
7 million subscribers: May 3, 2021
8 million subscribers: July 5, 2021
9 million subscribers: August 30, 2021
MrBeast en español
1 million subscribers: August 10, 2021
2 million subscribers: August 26, 2021
3 million subscribers: September 11, 2021
4 million subscribers: September 20, 2021
5 million subscribers: October 2, 2021
6 million subscribers: October 17, 2021
Beast Philanthropy
1 million subscribers: January 10, 2021
2 million subscribers: March 28, 2021
3 million subscribers: April 17, 2021
4 million subscribers: June 2, 2021
5 million subscribers: August 1, 2021
6 million subscribers: October 22, 2021
MrBeast 2
1 million subscribers: September 17, 2020
2 million subscribers: March 10, 2021
3 million subscribers: June 18, 2021
4 million subscribers: October 3, 2021
Beast Reacts en español
1,000 subscribers: July 22, 2021
10,000 subscribers: July 26, 2021
50,000 subscribers: August 6, 2021
100,000 subscribers: August 14, 2021
500,000 subscribers: August 30, 2021
1 million subscribers: September 22, 2021
Video view milestones
MrBeast
100 million views: April 3, 2017
200 million views: August 31, 2017
300 million views: January 20, 2018
400 million views: February 28, 2018
500 million views: May 12, 2018
600 million views: July 1, 2018
700 million views: July 20, 2018
800 million views: August 7, 2018
900 million views: September 10, 2018
1 billion views: October 7, 2018
2 billion views: February 28, 2019
3 billion views: August 4, 2019
4 billion views: December 2, 2019
5 billion views: March 24, 2020
6 billion views: June 24, 2020
7 billion views: September 3, 2020
8 billion views: November 30, 2020
9 billion views: February 4, 2021
10 billion views: April 10, 2021
11 billion views: June 10, 2021
12 billion views: August 12, 2021
MrBeast Gaming
100 million views: July 6, 2020
200 million views: July 29, 2020
300 million views: August 15, 2020
400 million views: August 30, 2020
500 million views: September 18, 2020
600 million views: October 1, 2020
700 million views: October 12, 2020
800 million views: October 26, 2020
900 million views: November 11, 2020
1 billion views: November 26, 2020
2 billion views: April 9, 2021
3 billion views: August 21, 2021
Beast Reacts
100 million views: March 28, 2019
200 million views: September 4, 2019
300 million views: March 23, 2020
400 million views: January 14, 2021
500 million views: April 25, 2021
600 million views: May 22, 2021
700 million views: June 25, 2021
800 million views: July 14, 2021
900 million views: August 10, 2021
1 billion views: September 6, 2021
Gallery
Quotes
Chris: I'm getting shot for just... Existing. - MrBeast Gaming
Jimmy: If you listen to the ears, you get... water..... - MrBeast
Chris: Once it gets going it'll get going. - MrBeast
Chandler: It only exists in my head. - MrBeast
Chandler: Can I throw my poop? - MrBeast
Karl: YOU NERD!! - MrBeast
Tareq: I sat down a couple of times yesterday..... - MrBeast
Jimmy: You can't lose if you break the prize! - MrBeast
Chris: To think is to know. - MrBeast
Chris: Y'all got any beans - MrBeast
Chandler: I'm a free man! Time to eat some wieners! - MrBeast
Chris: Having a girlfriend doesn't mean you can't cuddle with the boys. - MrBeast
Jimmy: WHAT IS UP, GAMERS!? - MrBeast Gaming
Jimmy: Last to leave (Various Place) wins (Various Reward)
THIS VIDEO IS EPIC
References