"
Hello everyone, this is Mumbo here, welcome back and today...
"

―Mumbo Jumbo's former intro
Oliver Brotherhood (born: December 1, 1995 (1995-12-01) [age 24]), better known online as Mumbo Jumbo, is an English Minecraft YouTuber known for showcasing his redstone builds and instructing viewers on how to create them. He is a member of the Hermitcraft server, having joined at the start of Season 2. He currently lives in Havant, Hampshire.
Before Independence
Mumbo's channel was once a collaboration channel, Oli (Mumbo) as "Viva" and Tom (Jumbo) as "DaCube." Their first appearance was on the ServerCraft Survival: Episode 5: To The Nether! video that was released on April 1, 2012. They had other videos that came before this, but they kept them private and gave the link in the description of the said video.
Hermitcraft
In June 2013, Mumbo was approached to join Hermitcraft. He accepted, with his first video on the server being titled HermitCraft: Episode 0 - Welcome Home. He has since been a continuously active member on the server. He has been on the Minecraft server since season 2 so he is considered one of the veterans. He is currently the most popular hermit as he has the most subscribers.
Minecraft Skin
Mumbo Jumbo's Minecraft skin is a civilised man in a bespoke designer tuxedo with a moustache. In Hermitcraft Season 7, he used a variation of his skin that makes it look more hobbitlike, due to his starter base being based on a hobbit hole. Other events led to his skin having a moustache-shaped bald patch in the back of his head, an open mouth with missing teeth instead of his moustache and the sleeves of his suit pushed up towards his shoulders with his trousers around his stomach. He recently recovered his moustache from Tango Tek. It was recently leaked his main skin was actually used when he searched 'moustached businessmen Minecraft skin'. In Hermitcraft Seson 7, his skin is altered so his pants go up to his chest and he is wearing a crop top. He has several "mustaches" all over his head due to Grian shaving the hair all over his head in a video. He went by the nickname "Bumbo Baggins" at the begining of the Seson but has since seized to.
Trivia
He has a strong interest in cars, surfing, filming, and photography.
He has a Bengal cat named Benji, and a Golden Doodle Dog called Kubo.
Every time he does something idiotic, he calls himself a moron or a spoon.
He used to use an excess of stone bricks. However, he has consciously tried to avoid them since Hermitcraft season three.
He has a second channel simply called "Mumbo", on which he has posted cat videos, product reviews, films, documentaries, and vlogs. It's supposed to be called "Mumbo Vlogs" but there was a YouTube glitch.
He has been accepted into Oxford University and took a gap year before pursuing a career in computer science and programming.
He is 6'5" (196cm) tall.
He is a fan of Good Mythical Morning
In May 2019, Warner Chappell claimed his content, namely his intro and outro, for copyright. He was forced to remove his intro from all of his videos, but in some videos, his outro still remains.
He has a girlfriend named Vicky who he is currently dating and living with. He shared her photograph on Valentine's Day, 2017. However, he has shown no intentions of getting engaged or married as of December 2019.
He is one of nine hermits who have over a million subscribers on YouTube and that are still active on Hermitcraft.
He is allergic to oranges. He has an orange plant, which he thought was a lemon plant until it produced an orange.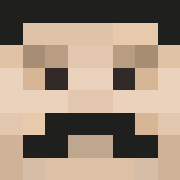 In late 2019, his Youtube profile picture disappeared due to a YouTube glitch.
Mumbo has received a silver play button for his filming channel and a golden play button for his main channel. However, he doesn't seem to have received a silver play button for his main channel.
Mumbo was mentioned by James Charles during the COVID-19 lockdown as a Youtuber that he enjoys, along with fellow Youtuber xisumavoid. James had also shown support for Mumbo for mayor in season 7 of HermitCraft.
Many YouTubers, such as PewDiePie, have been told by their fanbase that Mumbo is running for 'Mayor of the Hermitcraft server' and this has caused an outbreak of people spamming random videos/live-streams about it. Although even Mumbo doesn't think he seems fit for the job and ends up voting for GoodTimesWithScar instead.
Quotes
"Hello Everyone, this is Mumbo here."
"Due to the tragic portaloo explosion of May 2013, I have done my utmost to protect my lavatory... I apologize to my neighbours, that was not the cat, that was me."
"I have a hadron collider of a computer, but the frames are still dropping."
"I don't have a moustache". (He doesn't have a moustache in real life.)
"Then you can pick up your boats and hoes, and have a fantastic time!"
"I'm a spoon!"
"Oh, my word!"
"This is really quite simple redstone" (When its not)
"This is completely bonkers"
"Hello everyone and welcome back to another episode on the Hermitcraft Server, it is episode ______"
"All done and dusted"
"Chuffed to bits"
Hope you enjoyed, catch you in the next one, SEE YA"
Thats Pants!
Thats Mega!
References
Community content is available under
CC-BY-SA
unless otherwise noted.