Doctor Strange in The Multiverse o Madness - The Loop
Play Sound
Henry Liang (born: July 5, 1994 (1994-07-05) [age 27]), better known online as MxR Mods (or MMOxReview) is an American YouTuber, mod reviewer, vlogger, and gamer.
Personal Life
Henry is a Taiwanese-American born in Long Island, New York. Before he started doing reviews for Skyrim mods, he did reviews for MMO games such as Atlantica, MapleStory and Guild Wars, hence the name MMOxReview. Henry has attended the Boston University (in the field of Engineering) but eventually dropped out to pursue a career as a YouTuber.
He moved to Bellevue, Washington as he was tired of seeing homeless people around his house when going out, and also to enjoy lower taxes.[citation needed]
Main Channel (MxR Mods)
MxR is mostly known for reviewing mods in series called "Skyrim Mods Weekly" and "Fallout 4 Mods Weekly". Both currently have 270 and 90 episodes respectively and counting. As of early 2017, both of his well-known series will now have an alternating upload schedule.
Besides his popular series, MxR also reviewed some mods for Fallout New Vegas, Oblivion, GTA V, but they were all short lived. In the middle of June 2016, MxR started a mini-series called "Skyrim Mods Remastered" where he reviews past Skyrim Mods. They are either the ones he missed, his favorites or the utterly important mods. MxR also started another mini-series called "Skyrim Special Edition Mods Weekly", in which he or his girlfriend, Jeannie Lee (know as potasticpanda, creator of Skyrim voiced follower mod "Recorder") reviews mods for Skyrim Special Edition PC and console. This series currently has 8 episodes to date.
Most of MxR's videos that he has uploaded are well organized in his channel playlist which can be found here, including all of the Skyrim's Gaming Videos he uploaded during the early years of MxR Mods.
Second Channel (MxR Plays)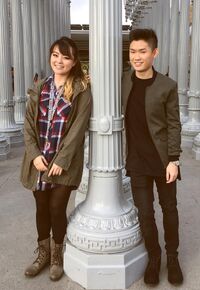 In December 2016, MxR took over what was originally Jeannie's channel and changed the name to MxR Plays where its contents are focused on Gaming and Vlogs. Here, MxR will have the freedom to post any gaming or vlog related content, some featuring potasticpanda (original channel owner). This channel has a daily upload schedule, mostly consisting of reviewing memes on Reddit.
"Mega Modded Skyrim" is their most notable series on this channel, with currently 70 episodes and counting. Besides that, they also started an Oblivion playthrough which has 13 episodes to date. They also do "Boyfriend vs Girlfriend" videos through a game of "Would You Rather" or "Totally Accurate Battle Simulator" to name a few. Besides the gaming and versus videos, they also do vlogs, such as ones where they vlog a date they went on together or opening fan mails/packages that are sent to their P.O. Box. They also do a mini-series titled "Cooking With MxR" where they cook interesting 'food' together. (It should be noted that despite his fans' pleas, he has not made any recent cooking videos on MXR Plays.)
When potasticpanda is not around, MxR records let's plays for a variety of games and uploads them to YouTube, but only a few form a series depending on his viewers' reactions and his own interests, such as Subnautica and Fallout 4 Frost Survival Simulator.
Quotes
"Raid Shadow Legends!"
"Nice. Hehe."
"Jeannie. Jeannie! Jeannie, that's not very family friendly!"
"More than just the beat bouncing, you know what I mean?" (laughs awkwardly and in perviness)
"Cup! Booga Booga! AHHH!" (slurps)
"Are you not amused, are you not entertained? At the rock!"
"Fuck Iran." (jokingly)
"You could use what that cop did at the top, sorry the black guy did at the top."
"Hold the fuck up."
"If you screwed a man's dad, you deserve to get called out, in front of all your little friends here."
"I know you're a h*e, but that's taking it too far!"
"These balls smell nice and fruity, I like them in my face."