"
Yo whats going on everybody, my name is PeteZahHutt or Brandon and...
"

―PeteZahHutt's intro
Brandon Clement (born: March 14, 1997 (1997-03-14) [age 25]), better known online as PeteZahHutt, is an American YouTuber originally from California. He is one of the 32 YouTubers to be featured in Kris Madas' YouTuber Intro Challenge. He is also one of the YouTubers to have their intro in it.
He is known for playing with members of "The Pack," a group consisting of members such as Vikkstar123, TheBajanCanadian, and more.
Pete is also known for his participation in the "How to Minecraft" series, a popular series which had many Minecraft content creators play together on one world. The series lasted six seasons.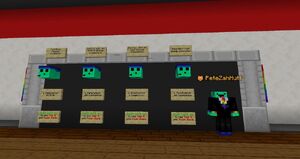 MC Championship
MC Championship is a Minecraft Tournament for YouTubers and streamers run by the Noxcrew, in which 10 teams of four compete in a series of 8 minigames decided by the participants. A point multiplier makes each game worth more as each round passes, incentivizing teams to vote for games they might be bad at early on in the event. In the end, the two teams with the most points face off in a round of 'Dodgebolt' to decide the winner of the tournament. This makes it possible for a team to win despite potentially having less points than the runner-up.
Pete was the only person to have never fallen out of the top 5 on the Individual Leaderboard up until MCC 16, where he got 12th.
References