Doctor Strange in The Multiverse o Madness - The Loop
Play Sound
Felix Arvid Ulf Kjellberg[1] (born: October 24, 1989 (1989-10-24) [age 32]), better known online as PewDiePie (or simply Pewds, formerly Pewdie), is a Swedish YouTuber, comedian, vlogger, gamer, and co-founder of Tsuki Market along with his wife, Marzia.
Originally, Felix was known for his horror playthroughs (such as Amnesia) and reactions but nowadays, he is notorious for his freestyle/skit humor, vlogs, and satirical commentary. Apart from his gaming videos, he is most popular for the series LWIAY. He is also known for numerous series including Meme Review, Pew News, Minecraft Let's Plays, and the above series Last Week I Asked You (LWIAY), a parody of jacksfilms' series Yesterday I asked you.
The name "PewDiePie" was formed by the term "Pew!" (as in a gun firing) and "Die!", which was his original channel.[2] When he supposedly forgot his password, he created another channel by adding the suffix 'Pie' due to the fact that "he loves pie", resulting in "PewDiePie". Since 2010, it has been his main YouTube channel. He earned about £20,000,000.
His channel is currently the fourth most-subscribed with 110 million subscribers. His channel was the most viewed from December 29, 2014, to February 14, 2017, and the most-subscribed from August 15, 2013, to March 27, 2019, before being surpassed by T-Series. On March 31, 2019, PewDiePie releases his "Congratulations" music video and became the most-subscribed channel again from April 1, 2019, to April 14, 2019, before T-Series surpassed him again. However, he is still the most-subscribed individual YouTuber, as the three channels with more subscribers, T-Series, Cocomelon and SET India, are owned by corporations.
History
Born in Gothenburg, Sweden, Felix joined YouTube on December 19, 2006. His earliest YouTube channel is Pewdie. In the beginning, he recorded gaming videos which usually revolved around Call of Duty on the channel. However, in 2010, he forgot the password but later remembered it in January 2012, at which point he deleted the original videos. Most content on the Pewdie channel consists of gaming, but there are vlogging videos as well. The first Fridays with PewDiePie videos were first uploaded on this channel[3]. Ever since 2013, the Pewdie channel has been inactive.
Felix started as a CoD and Minecraft YouTuber on his main PewDiePie channel in 2010 and 2011. Like many other Call of Duty YouTubers then, he played short clips of his best kills and added comedic edits while commentating the game. With an old YouTube friend, Baz, he also did Minecraft let's plays. Felix had already gained a few thousand subscribers before playing Amnesia, which skyrocketed his channel.
He also has a friend who uploads short clips from his videos under the channel SkaterOfFabulous, which he mentioned in a "Fridays with PewDiePie" Q&A episode.
Felix started to gain media attention in 2012, as he uploaded videos of his dark humor and reactions to computer games and horror games, which really boosted his subscriber growth. Kjellberg gained the title of "most-subscribed YouTube channel of all time" on August 15, 2013, after surpassing Smosh.
He gained the second most amount of subscribers in 2012, jumping from slightly under 100,000 to 3.5 million subscribers, just behind JennaMarbles, the most in 2013, jumping from 3.5 to 19.3 million subscribers that year, the most in 2014 by gaining nearly 14 million subscribers, the most again in 2015 behind by gaining over 8 million subscribers, the most once more in 2016 by gaining nearly 10 and a half million subscribers, and was ranked in the top twenty most subscriber gains in 2017, gaining nearly 8 million new subscribers that year. The war between him and T-Series resulted in almost 30 million new subscribers in the last four months of 2018, from which 6.62 million was gained only in December 2018.
He's affiliated with 4 popular games, PewDiePie's Tuber Simulator, PewDiePie: Legend of the Brofist, Poopdie, and PewDiePie's Pixelings. He also wrote a book in October 2015 called "This Book Loves You". He has transitioned more into vlogging, reviewing and other internet topics. Felix is close friends with Jacksepticeye, Markiplier, CinnamonToastKen, RoomieOfficial, Boyinaband and many others, and is known to collaborate with other YouTuber's rather frequently.
At the start of 2020, Felix has taken a hiatus from YouTube and has deactivated his Twitter account. He since then returned on February 21, 2020, with the video "I went on a break for 30 days & THIS HAPPENED".[4] He now streams exclusively on YouTube after signing a deal with them.
Personal Life
Felix was born in Gothenburg, Sweden. He graduated from Göteborgs Högre Samskola in 2008 and attended the Chalmers University of Technology to pursue a degree in Industrial Economics and Technology Management, but left in 2011 because he was bored. While it was said that he wanted to do more on YouTube to drop out from Chalmers, in 2017 Kjellberg clarified, "Why does everyone get this story wrong? [...] I dropped out of university because I didn't like it. To drop out of university to pursue YouTube, that'd just be fucking stupid."
He added that "industrial management and economics [was] boring as hell [...] I couldn't relate to fucking anyone." During his early schooling life, he was interested in art and has detailed that he would draw popular video game characters such as Mario and Sonic the Hedgehog, as well as play video games on his Super Nintendo Entertainment System. During high school, he would skip classes to play video games at an Internet café with friends.
Some of Felix's first subscribers say that he has changed a lot but still says "he's awesome".[5] Felix's first job was selling hot dogs near a beach. He currently resides in Brighton, East Sussex, England, United Kingdom.
On August 19, 2019, the 8 year anniversary of the day they first met, Felix married Italian former YouTuber Marzia Kjellberg (née Bisognin) in a private ceremony in the Temperate House and the Nash Conservatory, Kew Gardens, London, which they announced on Twitter and Instagram the next day. Most notably, the wedding was attended by some of Felix's friends like Jacksepticeye, RoomieOfficial, Boyinaband and CinnamonToastKen.[6] The wedding photographer was Jessica Kobeissi.
The Kjellberg Family
On October 24, 2014, on his 25th birthday, Felix made a video where he introduced the viewers to his family. Felix's mother's name is Lotta Kristine Johanna Kjellberg (lives in Hellstrand) who is a former CIO, was named the 2010 CIO of the Year in Sweden and his dad's name is Ulf Christian Kjellberg, who is Finnish. He is a corporate executive. He also has an older sister named Fanny Lotta Märta Sylwander (née Kjellberg) who is married and has a kid.
Pets
His pets have mostly been cats or dogs. His first pet was a cat who died of old age.
Ynk
Ynk was a Yorkie, who lived with Felix's mother in Sweden. Ynk appeared in a video published on December 28, 2016. She passed away on February 27, 2018, which was announced on Felix's Twitter.
Maya
His second dog is Maya, who was born approximately in 2006. Maya has a missing eye because she had an incident with a cat when she was a puppy. There's a Crossy Road mascot based on her, called Pew Die Pug.
Edgar
Since October 13, 2013, Felix has another dog named Edgar Allen Pug (Edgar or Edgy for short, named after the poet Edgar Allan Poe), who was born in 2012. When Felix first got Edgar, he was one year old, and when he came to his new home he was really nervous. Edgar is 6 years younger than Maya but bigger than her in size. He seems to have a lot of appearances in Felix's videos.
Billy and Clint
In late 2015, Felix and Marzia also had two axolotls, Billy and Clint, but they have been given away due to the breaking of their fish tank.
Slippy
In September 2016, Felix got a small cane toad named Slippy, who featured in many of his videos, e.g. the "BOTTLEFLIP CHALLENGE", which was filmed with another popular YouTuber, Jacksepticeye.[7] Slippy resided in a glass tank in Felix's recording studio. However, on December 13, 2017, Felix announced on his Twitter that Slippy had suddenly passed away earlier that day.
Dogy
On July 30, 2017, Felix and Marzia got a small white hedgehog who they named Dogy. Dogy is very rarely featured in Felix's videos, but has starred in some, as well as several videos on Marzia's channel which featured him.
Personality
Felix has a somewhat common personality for YouTube. However, how he executes his personality is what makes him popular: he can act obnoxious, sarcastic and silly online. In his gaming videos, especially in the older ones, he would act scared, confused or angry while playing, offering viewers to enjoy something other than gameplay. In 2017, due to YouTube's Community Guidelines on the amount of swearing needed for a video to be demonetized, Felix would often swear in his videos, usually aggressively, but now he only swears occasionally, in a non-aggressive manner. Felix has a tendency to swear aggressively in Swedish (which took a hiatus in 2016 before returning in January 2017) whenever he got scared or really angry while playing a video game.
In early 2016, Felix began to showcase a different personality and move away from calling his fanbase bros, performing the brofist and doing his intro as often and began to take a new approach in becoming more satirical and aggressive, as well as his accent fading down a bit. As so this personality started fading away in late 2017 possibly due to the backlash he got from the offensive jokes he made and YouTube's Community Guidelines he began using a slightly different personality (less aggressive, uses a different tone of voice but still satirical). During PewDiePie vs T-Series, PewDiePie was desperate for subscribers as he wanted to be the most-subscribed channel forever. When PewDiePie began Minecraft again, his thumbnails for some of the parts were weird.
Current Series
You Laugh, You Lose (YLYL)
You Laugh, You Lose, abbreviated as YLYL, is a series which revolves around Felix reacting to videos on the Internet while challenging the viewers to not laugh. Felix constantly laughs while watching those videos. Since December 2017, Felix sometimes calls the series "Skrattar du, förlorar du" ("You Laugh, You Lose" in Swedish). The very first video is based on malcolm_1466's Try Not To Laugh Challenge, uploaded on March 20, 2016,[8] but the official first video of the series was titled "YOU LAUGH? YOU LOSE! CHALLENGE - YLYL #0001", uploaded on January 12, 2017. The series currently has 71 episodes.
LWIAY (Last Week I Asked You)
LWIAY, abbreviated as Last Week I Asked You, is a series of videos that started off as a parody of Jacksfilms' YIAY (Yesterday I Asked You). The series features Felix asking his subscribers to create images of topics relating to himself or other trends on his channel and post them on his subreddit.[9] LWIAY replaced "Fridays with PewDiePie" after it was discontinued in July 2017. The series started on June 22, 2017, which was considered an episode of Fridays with Felix along with the second one, but ever since the third episode, it was no longer considered Fridays with Felix, but a separate series. LWIAY follows a theme song that is supposed to resemble Jack's YIAY's outro song, following the same tune and in a similar format created by YouTuber Day by Dave. The series currently has 135 episodes.
Meme Review
Meme Review is a series where Felix reviews the most recent memes. Felix titles these videos relating to the meme or quoting the meme, and adds "[MEME REVIEW] 👏 👏#(episode number)" one day after its upload. Felix's first meme review was on November 23, 2017, called "Stolen Bike Meme". The series currently has 92 episodes.
Reddit Review
Much like Meme Review, Reddit Review, where he reviews top posts on a certain topic on Reddit. Felix often gives his opinion or rating on the post while he criticizes it. Felix's first Reddit Review was on January 3, 2018, reviewing the top posts of "r/niceguys". The series currently has 79 episodes.
Pew News
Pew News is a parody of KEEMSTAR's DramaAlert news channel. Felix, both in a serious and comedic appearance, explains and talks about the most recent trending topics happening online. Most of it contains YouTubers, while some others contain a trending topic online or known people on social media, it is hosted by Felix playing the character Poppy Harlow (who makes a "pop" noise with her mouth) or Gloria Borger when Poppy is unable to host on that particular day. It began on February 3, 2018. The first episode centered around Logan Paul's return to YouTube after the "Suicide Forest" incident. But PewDiePie has said he stopped doing Pew News, because "he felt like he was feeding into the drama". He has produced 71 episodes of Pew News.
News Anchors[10]
Minecraft: The Series (previously Minecraft Epic)
Since Minecraft's recent growth had been occurring and also surpassing Fortnite in search, Due to pressure from the rise of Minecraft over Fortnite in recent months and the popularity of the game coming back to main-stream media, Felix decided to start making a Minecraft Let's Plays series. It started off as the well-known Gaming Week series, but this turned out to be extended to Minecraft Month although he continued to play Minecraft for the rest of 2019 all the way to September 2020, with about 50 to 60+ episodes on the entire series. Because of this series, Felix has consistently been gaining 40,000 subscribers daily and ended up being the second channel that reached 100,000,000 subscribers. Alongside his single-player Minecraft let's play series, Felix has participated in a number of Minecraft live-streaming events, the most notable one being Minecraft Monday Week 2. Where as soon as it begun he was teamed up with James Charles. PewDiePie did not last long, however, and was subsequently killed by JackSucksAtLife and Skeppy.[11]
Rivalries
PewDiePie vs T-Series
Main Article: PewDiePie vs T-Series
An Indian music and home movie label company are known as T-Series had been at the time, the fastest-growing YouTube channel since late 2017. From December 2017, T-Series was gaining 100,000 subscribers daily. At this point, T-Series was growing four times faster than Felix was. When T-Series was less than 10 million subscribers behind the PewDiePie channel, Felix and multiple other YouTubers such as Pyrocynical, DramaAlert and MrBeast discussed T-Series.
On August 29, 2018, Felix made his first video on T-Series, which was featured in an episode of LWIAY. Here, Felix mentions T-Series at the start and says he was "Looking to fight back irl." while flaunting a fake sword, to prevent T-Series from surpassing him in subscribers. This was a satirical approach: Felix himself probably has nothing against the company, and nothing against Indians. The video caused many other creators on YouTube and other media to "fight back" as well, making T-Series more well-known among the English-speaking audience.
Felix later published an episode of "Pew News" called "TSERIES EXPOSED? 📰 PEW NEWS📰". Felix read a comment from his Sub-Reddit, which said that you will be automatically subscribed to T-Series once you create an account in India when connecting to their new One-Gigabit mobile phone plans. Felix then asked the Indian fans to test this. He also mentioned the company's channel had over 62 million subscribers. But had little to no views on their recent videos, which raised certain suspicion across both the YouTube and PewDiePie community.
Diss tracks
On October 5, 2018, Felix released a diss track on T-Series titled "Bitch lasagna", originally named "T-SERIES DISS TRACK". The song was made with the help of Party In Backyard and shot/edited by Brad. This music video was made during the PewDiePie vs T-Series subscriber battle. At this time T-Series was on rapid steady growth and was planned to overtake PewDiePie in roughly one to two months from when the video was posted.
When the music video was released on Felix's channel, it received more views than Eminem's song, "Venom" in an hour. It also took down T-Series' growth on that day, gaining only 90,000 subscribers, while gaining 120,000 subscribers a day that month himself.
The music video is Felix's most viewed video, surpassing "A Funny Montage", a video which was the most viewed video for 5 years.
Party In Backyard also released an instrumental of the track on November 29, 2018, which soon sparked many covers, remixes and parodies.
On March 31, 2019, Felix released his second diss track on T-Series titled "Congratulations". The song was made with the help of Party In Backyard, RoomieOfficial, Jacksepticeye, Boyinaband and shot/edited by Brad.
This song was a follow-up from the "Bitch Lasagna" music video which was uploaded on October 5, 2018. "Congratulations" is Felix's second most viewed videos on his YouTube channel. This music video was made as a response to T-Series passing 100 Million Subscribers, PewDiePie made several jabs and statements towards the T-Series YouTube channel, this diss-track also surpassed the "A Funny Montage" video, this video was the most viewed video for 5 years until "Bitch Lasagna" surpassed it.
References
"Bitch Lasagna" contains several references which can be found described in-depth on Genius' Bitch lasagna lyric page, many of them being satirical and humorous with no harmful intentions towards them.[12] For instance, the line "I'm a blue-eyes white dragon while you're just dark magician" refers to Yu-Gi-Oh cards, often seen as "nerdy" and far from the tough superior "diss" persona many rappers use. Many seem to mistake the diss towards Indians as a whole, which isn't the case. The line, "You India, You Lose" for instance, is a reference to his "You Laugh, You Lose" series, which he names "You [Country], You Lose" if the video is about memes from a specific country.
"Congratulations" was also riddled with tons of references like in the video "Bi*ch Lasagna". During the start of the video, PewDiePie was facing away from the camera and as he turned he had his middle finger extended so he could push up his green sunglasses. Many more references ensue like, "Guess to beat one swedish boy, you need a billion asians." This is in reference to the subscriber war with Indians being automatically subscribed to the T-Series YouTube channel when they sign up for their new One-Gigabit mobile phone services.
"Now you're at number one, hope you did nothing wrong like starting your business by selling pirated songs. Oops! Didn't think we'd see? It's right there on Wikipedia.", T-Series did indeed start their company by illegitimately selling songs from other artists and companies without proper licenses or permissions. "Get used to your past being held against you by the media.", PewDiePie on September 11, 2017. PewDiePie said on live stream "What a fucking Ni**er". PewDiePie was ridiculed by several news media sources including a few small TV Stations around the country/world that decided to run the story. "I'm sure right now there's nothing that you're doing that's illegal, yeah", T-Series has been accused for Tax-Evasion and fraud in the country of India. "I'm certain you haven't had collusion's with the mafia."
In 1997, Gulshan Kumar, the founder of T-Series, was murdered by the Mumbai Mafia Syndicate D-Company.[13] Although there is damning evidence showing they had connections to the D-Syndicate Mafia, Felix stated in the song "For legal reasons, that's a joke." to prevent backlash from supporters of T-Series and the news media. "'Bout to cause a genocide so you can call me hi-", This is one of the more serious references. During 2017 - 2019 PewDiePie was renowned by many hate groups in real life and online as a role model due to the nature of his videos and him saying the N-word. After the release of "Bitch Lasagna", T-Series sent a cease and desist letter to Felix's house, this letter stated that he should cease his actions against T-Series claiming them as "Defamation". Felix then said in the music video, "Had a problem with me telling them to hold their defecation." along with the following lyrics. "But let me educate you, silly, that's not defamation.", "T-Series can eat a dick". (Still not defamation) , "Suck my fucking Swedish meatballs. (Still not defamation)", "Did you know Indians are poo-poo in their brains?", "That's a blatant racist lie, yeah but still not defamation.".
CRY (Child's Rights and You) Charity Organization
Much has been brought to the YouTube community since "PewDiePie vs. T-Series" began. While most of it has been the influx of harmless interaction and jokes, there had been a reserved few who had sparked genuine racism towards Indians. Felix addressed this in his video, "This is getting out of control...", where he asked users to stop making hateful remarks about Indians as he has nothing against them, just the music label; calling the insults "really distasteful [and] unnecessary". In the video's description, he linked a charity fundraiser to support "the Indian 9-year-olds", which raised €179,192 (over the €150,000 goal) in a single day. Felix stated the reason for him doing this is that while it had been fun battling T-Series, he wanted to take the opportunity to create something positive.
MrBeast Advertising PewDiePie
At the start of the PewDiePie vs. T-Series battle, fellow YouTuber MrBeast wanted to help Felix. On October 26, 2018, he released a video called "I Bought Every Billboard In My City For This[14]", in which he used the Billboards to advertise Felix, urging people to subscribe to him and make sure he stayed the most-subscribed YouTube channel. Additionally, MrBeast used posters, national television, and the radio. T-Series was 100,000 subscribers away from surpassing Felix at this time. After the release of the video and billboards, Felix received over 180,000 subscribers and over 360,000 subscribers the next day. The 360,000 subscribers were the most subscribers Felix had ever received in a day.
Throughout the 'battle', T-Series didn't make any response. They still released music videos, lyric videos, audio of the music and BTS. The only thing T-Series mentioned is that they were "just one small step away from being the worlds largest channel" (in a tweet). The fans criticized T-Series for alleged subscriber-botting. They also retweeted a few tweets from artists that work at T-Series asking fans to subscribe to T-Series.
Indian YouTuber Saiman Says also contributed, putting up T-Series billboards jokingly around India, though he is actually a fan of Felix and set up Felix billboards across India, gaining him a shout-out from Felix.
MrBeast says PewDiePie 100,000 Times
The billboards did not stop T-Series. They were approximately 90,000 subscribers away from surpassing Felix before MrBeast made another video to keep Felix #1 most-subscribed. On November 25, 2018, MrBeast said PewDiePie 100,000 times. At the start of the video, he told his fans and new-comers to subscribe to PewDiePie "and to help him win the war". The subscriber growth was given to Felix once again, gaining 244,000 subscribers on the day of upload and 247,000 subscribers the next day.
Hacked Printers
On November 29, 2018, Twitter users posted screenshots of printouts from internet-connected printers saying that Felix needs their help. It turned out over 50,000 printers were hacked, printing a message asking people to subscribe to PewDiePie, unsubscribe from T-Series and spread awareness using the hashtag #SavePewDiePie. The middle of the printout contained an ASCII figure of a "brofist," a gesture from Felix and his logo/channel branding. The screenshots had no specific origin; users from Canada to the UK had received it.
The individual responsible, a hacker who goes by TheHackerGiraffe, claimed they found a repository of 800,000 open printers[15] on Shodan.io – a search engine to find out devices connected to the internet – and took over 50,000 of them and sent out a command to print his message, claiming that it just took him 30 minutes to learn, code, and take control of the printers, and taking it as a point of awareness for printer security.
"People underestimate how easy a malicious hacker could have used a vulnerability like this to cause major havoc," TheHackerGiraffe told The Verge. "Hackers could have stolen files, installed malware, caused physical damage to the printers and even use the printer as a foothold into the inner network."
The hack did not help Felix much, unlike MrBeast's two attempts.
Surrender
Despite MrBeast's attempts to help Felix, Felix made a tweet saying, "It looks like this is it bois.[16]" attaching a picture of text saying "Dawn of The Final Day -24 Hours Remain-", in which Felix surrenders his #1 most-subscribed title, as T-Series' growth had not stopped and Felix failed to catch up.
MrBeast also made a tweet responding to Felix saying "It was an honor fighting by your side[17]", in which MrBeast gave up and could no longer help Felix further, possibly to prevent lack of Felix videos from MrBeast, as it can get weaker along the way.
Many other well-known internet personas such as Grandayy, Sr Pelo and Pyrocynical encouraged Felix to never give up, but others, like TheSyndicateProject, Mini Ladd and CouRage, accepted his fate.
This wasn't the end, as creators of all kind joined forces, despite background or history, not only to keep Felix #1 but to save YouTube from corporate invasion.
YouTubers Do Their Part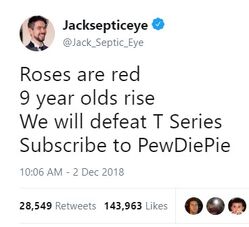 Right after Felix surrendered, creators on YouTube refused to give up. Markiplier, a long-time friend of Felix, made a one-hour live stream encouraging his subscribers to subscribe to PewDiePie where he "Literally Won't Shut Up Until You Subscribe To PewDiePie[18]", continuously telling his live viewers to subscribe to Felix, which was successful. Jacksepticeye wrote a poem, Durv challenged himself to watch Felix's "Bitch Lasagna" for 24 hours, Joe Jenkins live streamed him playing "Bitch Lasagna" at a mall[19] until someone told him to stop, even Logan Paul offered his help (with a catch), after Felix joked about calling for help, saying, "we are that desperate".
T-Series was 14,550 subscribers away before being number 1 most-subscribed, and after the help from other successful YouTubers, Felix was 320,000 subscribers above and gained 544,000 subscribers in one day, a first in Felix's YouTube history. By mid-December, the subscriber gap between Felix and T-Series was over 1.3 million.
Many parodies, covers, remixes, and variations of "Bitch Lasagna" had also come into sight since Party In Backyard released an instrumental, such as a Minecraft parody by grande1899 titled "Witch Savana[20]", a rock version[21] by Tsuko G, a metal cover[22] by pellekofficial, "Bitch Wasagna OwO", an owo cover[23] by Dottovu, an Otamatone cover[24] by TheRealSullyG, a Google Translate remix[25] by heiakim Music, amongst many others. A DJ, known as Ghastly also played Felix's "Bitch Lasagna" at one of his concerts to get his fans to subscribe to Felix.
Fans Do Their Part
Since the battle, many fans have been "doing their part" from around the globe, which started as an inside joke on the PewDiePie Reddit page. Many putting up flyers around town or contributing in other ways, such as a Bunnings Warehouse employee announcing "subscribe to PewDiePie" at an intercom at work, two kids holding up signs walking around the street in the pouring rain, and developer Gurpreet Singh Matharoo making a T-Series battle based video game (demo), which Felix played in this video[26]. Felix addressed many of these in his video "I am SO proud of this community." amongst many other LWIAY episodes.
Aftermath
Though the PewDiePie vs T-Series trend started to decrease in popularity, anytime T-Series was close to surpassing Felix, YouTubers still did their part and make sure Felix stayed the most-subscribed.
Especially after YouTubers did their part multiple times previously, Felix played and live-streamed popular franchise Fortnite for the first time on February 3, 2019 to stay ahead of T-Series. The stream had over 300,000 live viewers and successfully made him stay the most-subscribed YouTube channel. The Livestream also made it to #1 on Trending for Gaming immediately.
MrBeast advertising PewDiePie at the Super Bowl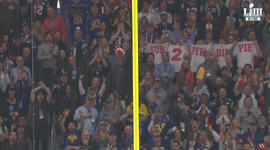 LIII (53), MrBeast bought seats by the end zone so he and his affiliates could wear shirts word by word saying "SUB 2 PEW DIE PIE" and was seen on television by around 110 million viewers. ESPN tweeted[27] a picture with MrBeast and his ad. The subscriber difference between Felix and T-Series grew from 50,000 subscribers to 277,000 subscribers in one day.
T-Series surpasses PewDiePie
In 2019, the gap started getting closer again, and the record for the lowest gap was broken multiple times in the second half of February. On February 22, T-Series overtook Felix for the first time, because of YouTube's daily subscriber audit, which is used to delete inactive and fake subscribers. The audit deleted 20 thousand subscribers. However, Felix quickly reclaimed the spot as most-subscribed 8 minutes later after Elon Musk finally hosted an episode of 'Meme Review'[28]. Occasionally, T-Series did surpass Felix thanks to the YouTube audit, which happens every day at 2:30 PM EST. T-Series gained subscribers during the audit, but Felix would go down in subscribers most of the time, giving T-Series a closer gap to passing Felix or passing for a short period of time before Felix held the title again for another 23 hours on average.
During the night time for the US and UK, T-Series started to grow faster than PewDiePie and occasionally surpassed PewDiePie. On March 21, 2019, T-Series was ahead by 34,000 subscribers and held the most-subscribed title for 11 hours.
The Race to 100 Million Subscribers
Since T-Series had surpassed Felix multiple times, Felix changed up the race and decided the finish line would be to reach 100 million subscribers first, instead of keeping the most-subscribed title. Felix claimed after he hoped to reach 100 million subscribers before T-Series, he would accept T-Series taking the spot as most-subscribed. On May 29, 2019, T-Series beat the race to 100 million subscribers against Felix.
Comeback
In the early mornings of March 27, 2019, T-Series surpassed Felix, but this time, stayed as most-subscribed. Within 2 days, T-Series was 80,000 subscribers ahead. Three days later, 100,000 subscribers ahead.
Three days after being officially surpassed by T-Series, Felix uploaded a video "We lost (not happy)"[29], another episode of LWIAY. Felix says that it was all just a troll and sub counts do not matter. One day later, Felix made a music video "Congratulations"[30], congratulating T-Series on surpassing Felix in subscribers. However, thanks to this video, he started gaining a massive amount of followers once more. For a whole week, Felix was leading before T-Series passed him again.
Defeat
Ever since Felix's music videos were blocked in India, his growth was slowing down drastically, while T-Series growth was still consistent. On April 14, 2019, T-Series surpassed PewDiePie to be the most-subscribed YouTube channel and currently is still the most-subscribed.
The End
On April 28, 2019, Felix asked his fans to stop the war and the 'Subscribe to PewDiePie' slogan, citing events like the Christchurch shooting, where a shooter yelled the slogan before opening fire on Muslims worshipping in a New Zealand mosque.
"I think it's time to end the 'subscribe to PewDiePie' movement, or meme," Felix says in the video. He goes on to say that, following the Christchurch shooting, he came to believe, "It's clear to me the 'subscribe to PewDiePie' movement should have ended then."
Originally, Felix believed the movement and the meme would only last "just a couple of days or maybe a week" and was surprised by the amount of support it received and continued to receive over the last few months that it did. However, as the meme had continued, it led to some horrendous acts. Felix mentioned an example from earlier 2019 when a World War II monument was defaced with graffiti that mentioned the slogan.
Felix states in the video he believes when you have an audience of "over 90 million people, you're bound to get a few degenerates." He hoped this graffiti incident would be the end of these more hateful acts inspired by his meme.
"Some of the media," he said in a video, have made the meme about "race or politics or nationality, and I don't agree with that at all and I want that to stop... This negative rhetoric is something I don't agree with at all. To make it perfectly clear, no I'm not racist, no I don't support any form of racist comments or hate toward anyone."
"This movement started out of love and support," he concluded, "so let's end it with that."
PewDiePie vs Cocomelon
A children's YouTube Channel called Cocomelon has been one of the fastest-growing YouTube channel as of July 2020, only rivaled by T-Series. It began to increase in popularity in 2018 after the channel's final rebrand from its former name ABCkidTV. Many had speculated that Cocomelon will surpass PewDiePie to take the spot of the second most-subscribed channel on YouTube by the end of 2020 or 2021.
On June 1, 2020, Felix made his first video on Cocomelon discussing about how they might end up being the biggest channel on YouTube. He mentioned T-Series and wanted to "team-up" with them to battle against Cocomelon. In addition, he said he might make a diss track on Cocomelon similar to the one he made on T-Series. Felix started using parodies of the Cocomelon Intro with the first one being recorded on June 1st, 2020, in a video titled CocoMelon - The New Biggest Channel on ALL YOUTUBE! According to him, he jokingly figured it would help bring in views for his videos. Many of PewDiePie's fans would contribute to this, making their own parody intros. At the time, he was gaining about 18k - 19k subs per day and Cocomelon was gaining 105-120k per day.
In October of 2020, PewDiePie would start to decrease in subscribers, from 17k - 19k to 13k - 15k every day. However, this doesn't mean Cocomelon isn't approaching, and as of November 2020, the sub gap is around 10,700,000 to 10,300,000. Currently, Cocomelon grows by 60k - 70k every day. In September, that number was 80k - 95k. By March 2021, the sub gap would shrink down to about 3,000,000.
People have said the war would start sometime in January 2021 as PewDiePie would be at 109M - 112M subscribers. On December 12, 2020, Cocomelon reached 100 million subscribers.
Disstrack
On February 14, 2021, a Cocomelon Disstrack named "Coco" (which was teased weeks before release) premiered on Felix's Channel which criticised Cocomelon and it's content as well as mentioning other people such as J.K Rowling as well as Felix's previous feuds with T-Series. However just four days after premiering, the video was taken down by YouTube because it supposedly violated the Terms of Service. In the video, he allegedly used profanity towards children, which then repeated what he said. It was implied that he committed child harassment and bullying, though he later responded, saying that they weren't actually swearing.
Defeat
On April 24/25, 2021, Cocomelon surpassed PewDiePie in subscribers. But on the 29th, PewDiePie reached 110 million subscribers, only four days after Cocomelon hit their 110 million.
YouTube Rewinds
2018
After YouTube Rewind 2018 became the most disliked video on YouTube, Felix uploaded his own YouTube Rewind in collaboration with FlyingKitty, Grandayy, Dolan Dark and Party In Backyard. The video had a lot of positive feedback towards the community as the video shares iconic moments, YouTubers and memes from 2018, as is seen as the more accurate YouTube Rewind. Felix's YouTube Rewind became the most liked YouTube video (apart from music videos) and became the most liked YouTube Rewind in history.
YouTube Channels Featured
Memes Featured
Events Featured
2019
After the success of the 2018 Rewind, Felix uploaded another Rewind with the original crew. In the introduction, Felix mocks YouTube's 2019 Rewind by saying that it is a WatchMojo list. Felix's Rewind also shares iconic events, influencers and memes from that year. 2019's Rewind got many positive comments from the YouTube community.
YouTube Channels Featured
Memes Featured
Events Featured
PewDiePie vs T-Series
PewDiePie & Marzia Marriage
PewDiePie & James Charles compete in MC Monday
KSI vs Logan Paul Rematch
James Charles vs Tati
Team Trees
Notre Dame Burning
The Game Awards
Cyberpunk 2077 E3
Controversy
"Your Extra Views Get Me Extra Cash"
After a video was made by a user named "retsupurae" called "Adults React to PewDiePie" a sarcastic comment by Felix was made, which he told the user if they heard the phrase "if you don't like it, then don't watch it", but then proceeded to tell them to actually keep watching because "your extra views get me extra cash". This quickly caused an outbreak of hate and controversy. Felix mistakenly later apologized and explained what he meant by the comment in his video "I'm sorry". Felix's "I'm sorry" video also sparked some controversy, due to the fact that he generalized all of his haters as being trolls, and assumed that all of their criticism came out of jealousy.
Controversy regarding PewDiePie Copy-cats
Felix's fans have also become controversial, as some would go to other gameplay commentary YouTubers (Such as Tobuscus and UberHaxorNova) and comment saying that they are copying Felix. Felix's fans are also under controversy for their threats of death, pain, and rape in videos that rant Felix and/or his fanbase, The Bro Army. Felix made a reaction parody video to this, where he mocked himself by saying that he was copying other YouTubers, as they had existing gameplay footage on YouTube. He stated that he made this video as the comments were getting 'ridiculous'.
Disabling the Comments
On August 29, 2014, Felix decided to shut down the comments, because they were mostly spam comments from fake PewDiePie channels. Later, he made a video talking about this issue, talking about how he felt that he didn't have much of his fans in his comments section and that it's been overrun by self-promoters promoting their channels. Felix enabled the comments again after a while and at times later that year and in 2015 replied to the nicer ones.
Deleting PewDiePie at 50 million
Felix stated in episode 9 of the BroKen podcast: "I'm just gonna say this: Don't sign with a network."…"If you're a small channel, what's the benefit of a network?" in regards to Multi-Channel Networks. On December 2, 2016, Felix was suggesting taking down his YouTube channel once he reached 50 million subscribers.[31] The reason being is because of a YouTube view count Felix had which made him have a "dead fanbase" (meaning a low percentage of his subscribers watch him) and a subscription glitch that YouTube denied,[32][33] which Felix said was a joke and Felix said he cared about smaller YouTubers, as well. The joke was all over the news. Felix would go on to delete his 2nd channel, jack septiceye2, which he made as a joke to mock fellow YouTuber and friend, Jacksepticeye. Felix's 50 million Play Button is a fist from his PewDiePie logo.
Allegations of Anti-Semitism
On January 11, 2017, Felix published a video including two men from the website Fiverr holding a sign saying "Death to all Jews," which he requested them to do in order to see how far they would be pushed for the payment. This sparked offense in many people, for which Felix eventually apologized, but also joked about the fact that people were offended by a joke whose intended purpose was to cause shock-humor rather than offend.
A month later, the Wall Street Journal published an article about Felix saying he is an anti-Semite and using his jokes to "prove" it through nine videos between August of 2016 and in early 2017. This eventually made Maker Studios, Felix's network since late 2012, drop his channel as well as his YouTube Red show, Scare PewDiePie: Multiplayer getting canceled by YouTube and his name being removed from Google Preferred. Felix had again apologized; however, he gave a middle finger to the Wall Street Journal as well as expressing how excited he was to finally have an independent channel again.
During the whole drama, many news sites had made articles against Felix's actions. However, several YouTubers came out in support of Felix, including Philip DeFranco, Markiplier, and many others. On February 18, 2017, YouTuber jacksepticeye uploaded a video titled "Let's Talk!" (which was later deleted) talking about the whole situation. Some of the words said by Jack in the video were not clear, making some people believe that he "backstabbed" Felix and supported Maker Studios. Since the video was uploaded, Jack has apologized and has talked to Felix privately, as well as making things clear to his fans. Jack and Felix are still friends and record videos together.[34]
Twitter following
Later on, it was revealed that Pewdiepie followed many controversial right-wing people, especially those who, despite disavowing and/or having different views on politics than the alt right, were regularly called alt right by critics. These people including conservative political pundit Ben Shapiro, Lauren Southern, Brittany Sellner, Jontron, Dr. Jordan B. Peterson, comedian Steven Crowder, Dave Rubin, banned philosopher Stefan Molyneux, Chris Ray Gun, a liberal who's views are socially conservative, Paul Joseph Watson, editor-in-chief of InfoWars, Sam Hyde, a comedian with ties to the alt-right, Laci Green, a feminist and sex-ed Youtuber, and Sargon of Akkad, an anti-feminist.
Felix responded to this by basically saying he was being attacked by association. He said that just because he followed these people on Twitter didn't mean he agreed with them. However, some alleged he didn't follow any moderates or left wing people. This was supported by the appearance of controversial figure Ben Shapiro on his meme review. Pewdiepie has since unfollowed those people.
N-Word controversy
On September 10, 2017, while live-streaming a game of PlayerUnknown's Battlegrounds, Felix said, of another player, "What a fucking n*gger" in a fit of rage. He immediately realized his mistake and apologized for his language. Two days later, on September 12, he uploaded a formal apology video titled "My Response." In the video, he says:
"You probably won't believe me when I say this, but whenever I go online and I hear other players use the same kind of language that I did, I always find it extremely immature and stupid, and I hate how I now personally fed into that part of gaming as well. It was something I said in the heat of the moment. I said the worst word I could possibly think of, and it just sort of slipped out, and I'm not going to make any excuse as to why it did, because there are no excuses for it. I'm disappointed in myself because it seems like I've learned nothing from all these past controversies, and it's not that I think I can say or do whatever I want and get away with it; that's not it at all; I'm just an idiot, but that doesn't make what I said, or how I said it, okay. It was not okay. I'm really sorry if I offended, hurt, or disappointed anyone with all of this. Being in the position I am, I should know better. I know I can't keep messing up like this, and I owe it to my audience -- and to myself -- to do better than this, because I know I'm better than this. I really want to improve myself and better myself not just for me, but for anyone that looks up to me, or anyone that is influenced by me, and that's how I want to move forward away from this."
Demi Lovato Meme
On July 26, 2018, Demi Lovato was revealed to be overdosing on drugs. Felix then tweeted a meme (which was made by an unknown person) mocking Demi Lovato and their drug overdose. The image itself had 4 satirical sides of a picture (mocking an old meme format) with the first-panel reading, "Mom can you give me a money for burger?", the next saying, "To buy burger?", the third panel saying "Yeeees", and the last one saying, "Actually buys heroin like a boss".
Felix gained a lot of backlash after posting the image. That same day, he deleted the tweet and issued a second tweet saying "Deleted meme. I didn't mean anything with it and I didn't fully know about the situation. I realize now it was insensitive, sorry!"
Teacher Receives Threats After Controversial PewDiePie Tweet
On December 14, 2018, a Middle School student from Hamilton International Middle School in Seattle, Washington posting a video on Twitter of his history teacher talking about Felix.[35] The teacher says re-tweeting and sharing Felix will "promote ignorance, racism, genocide, and antisemitism and can get you sued." Felix made a tweet responding to the Tweet, "RT if you're against everything this dumbass teacher is saying," it reached over 140,000 likes and nearly 100,000 retweets. According to the Seattle Police Department, the teacher had received death threats because of the tweet.
The video exploded in popularity over the past few days. Since then, the school's security and the Seattle Police Department investigated the threats that were made. Even so, the teacher in the video had been targeted by various Internet users, who had called for him to be doxxed.
All the stems from a controversy, where Felix recommended a smaller YouTuber for promoting Antisemitism. Felix, who recommended his followers watch a Death Note review by the YouTube channel in question, had since edited out his recommendation. However, that didn't stop many from speaking out against Felix, including the unidentified history teacher.
Gunman Urges People to Subscribe to PewDiePie
The PewDiePie vs T-Series battle was on-going for a half a year, ranging different types of events for the battle to continue, but in some ways, the battle got out of hand. On March 15, 2019, Brenton Tarrant, a 28 year old Australian man, killed 51 Muslims and injured 40 others at two mosques in Christchurch, New Zealand, just before carrying out the attacks, Tarrant said to his camera, "Remember lads, subscribe to PewDiePie".
Felix responded on Twitter about the shooting and felt sickened about his name being brought up. His tweet got over 500,000 likes in 24 hours.
However, the controversy came in and multiple journalists are blaming Felix for playing a role in the terrorist attack, though had done nothing and could've been brought up if the gunman desired.
After this incident, the New Zealand Destiny Church posted a list of all the users Felix followed on Twitter to send death threats against him as retaliation[36]. This forced Felix to unfollow all of them except BTS, but now follows Elon Musk and Dr. Phil as well.
Blocked in India
In April 2019, the Delhi High Court ordered in favor of T-Series, the removal of Felix's videos due to "racist" and "derogatory" comments towards Indians. Following this, on April 11, B*tch Lasagna and Congratulations got blocked in India. However, the songs are still available on audio streaming services like Spotify.
Pledging $50,000 to Anti-Defamation League
Felix announced on September 10, 2019, that he would be donating $50,000 to the Anti-Defamation League as an attempt to make amends and "move on" after the massacre in Christchurch, New Zealand, where the gunman said "Remember lads, Subscribe to PewDiePie" before carrying out his attack in March 2019.[37][38]
Felix claimed that he didn't know much about the ADL when he made the pledge. It was only after uploading the video and seeing feedback about the organization that he admitted he "didn't know a lot of things that surfaced throughout this whole thing about the charity." The ADL had advocated for Felix to be dropped by Disney and his YouTube deleted in 2017.
"I made the mistake of picking a charity that I was advised to instead of picking a charity that I'm personally passionate about, which is 100 percent my fault."[39]
Spotify Leaked
On August 4, 2020, Felix's own Spotify playlist was leaked to the public. The music artists and the songs that were in his Spotify were hyper pop music fans think were a bad taste, and had since been made fun of or questioned Felix for these songs.[40] One of the artists, Gupi (who was in Felix's Spotify) asked Felix to not listen to his music.[41]
Some people have also defended Felix saying people are over-reacting and are also allowed to listen to whatever Felix so desires.
Felix has come out about this in a video titled "I Got Cancelled Again.."[42] In it, he talks about how the image which shows the artists that he listened to are artists that he doesn't really know or really listen to at all.
He also talks about the tweet Gupi made about him, he says he doesn't know who Gupi is and says "For a musician it's a pretty tone deaf opinion to try and gatekeep your music if you put it on a public platform, like I can't imagine me going on YouTube being like "No, you can't watch my YouTube videos!" Imagine me gatekeeping anyone who's ever clicked on one of my YouTube videos."
Miscellaneous Videos
Collaborations with Marzia
Felix has done some collaborations with his wife, Marzia. Often these follow no specific upload pattern, as well as what is done. Sometimes they play video games together, such as the Amnesia and Happy Wheels videos they did together. Other times, they do card games, (Cards Against Humanity) other times tags, such as the Guess the YouTuber video.
Fridays with PewDiePie
In 2011, Felix started to make unique vlog-styled videos on Fridays ranging typically from 3 to 10 minutes long (though the longest has been 16 minutes long). At the beginning of every video, he had a creative introduction sequence with graphics, ending with him saying, "Fridays with PewDiePie" in a high pitched voice. Usually, the Friday videos were non-gameplay videos giving Felix a chance to check up and communicate with his subscribers, especially since the popularity of his channel continued to grow rapidly, he dedicated many Friday videos to thank his subscribers for their support.
Felix had talked about any upcoming traveling, events, projects or contests he would be doing or shared what was going on in his life right at the moment. Any comments or things that need to be personally addressed to his fans/bros Felix spoke of in his Friday videos. Each video ended with Felix holding his fist up, and giving a "brofist" to the recording camera to which the person watching the video may also give Felix a "brofist" back at the same time.
The Fridays with Felix format ended on his channel in 2017 since his content had further strived away from gaming, which caused him to no need to include a special day for. Generally, most of what he would speak about during the format is sprinkled here and there in his everyday content, often saving a short more "serious" segment in the start, middle, or end of any of his videos if any of the topics become/are needed to be addressed.
Omegle
Omegle is a text and video chat website Felix had used from August 2012 to late 2013 to randomly connect with and surprise his fans. It usually started out with Felix typing his name in the "common interest" box of Omegle and clicking the button to start a video chat with whomever he connects with. The reaction of the person he connected with ranges from shock, surprise, to disbelief and excitability that he/she was actually seeing and speaking to PewDiePie.
In January 2016, Felix created a Network with a group of YouTubers named Revelmode. The members of the group included himself, Markiplier, Jacksepticeye, CinnamonToastKen, Kwebbelkop, Jelly, Slogoman, Cryaotic, KickthePJ, EmmaBlackery and Dodger. The group started off small and Felix said it would get bigger, however, due to his anti-Semitic joke controversy and his network who owned Revel who pulled away from him after the controversy, the project was canceled.
Characters
Cry of Fear
Polisbil Polisbil
(Swedish for "police car".) Polisbil Polisbil is a police car found at intervals during Cry of Fear. The first time Felix met Polisbil, Polisbil killed him due to a glitch. For some reason, after this, they became good friends and regularly greet each other throughout the game.
Farsha
Farsha is what reads as the destination on all trains in Cry of Fear. Because of this, Felix calls the trains Farsha. Farsha did not show up very often and unfortunately committed suicide (drove off a cliff) near the end of the game.
Ruben's Mom
Ruben's Mom is a demented looking housewife that constantly tries to kill Felix. She has a unique appearance; spikes on her arms and feet, a "50's housewife".
Amnesia: The Dark Descent
Happy Wheels
Irresponsible Dad & His Son
Felix is exceptionally famous for being the 'Irresponsible Dad' in Happy Wheels and the dad is famous for being horribly irresponsible to his son. Whenever the son says something to the dad, the dad replies, "I DON'T CAREEEE!!!". Their names are unknown, however, the son is sometimes referred to as Timmy and the dad is rarely referred to as "Jason". The son has mentioned being gay many times.
Vespa
When Felix plays as Segway guy in Happy Wheels he refers to the Segway as Vespa. Segway guy seems to be emotionally attached to Vespa, sometimes wanting to kiss or cuddle her/it. (On the rare occasions that Felix plays as Moped Couple, the moped they ride on is also called Vespa.)
Silent Hill 1
Throughout the playthrough of Silent Hill, Felix often gives nicknames to the various enemies found in the game. They do not usually interact with Felix verbally, though he will often comment about them. Felix also shows disgust towards them and will proceed to attack shoot or bludgeon them to death (or, if he is unarmed, he will run and yell "Don't rape me!").
Larry
Larry is a sloth-like creature, who appears as the most common enemy in the school. He usually attacks Felix with his twin brothers (many twin brothers) with knives. Whenever Felix gets close he attempts to give Felix blowjobs until Felix shakes them off. He is supposed to be a monster version of the children of the school.
Pterodactyl
Pterodactyls are flying reptilian creatures that roam the outside skies of the game. It will chase players immediately on sight, though the player may outrun the creature. Felix will usually yell and run away from it, though he will attempt to shoot them if he has a gun, the actual name is Air-screamers.
Doggie
Doggie is a horribly altered version of a canine and will pounce on to the player if they are close enough. It's quick and agile and can chase the player for long distances. Doggie is the most common name for the dogs, though Felix will give them alternations depending on their number and situation. He is also known to them Rufus, or simply "Dog", The actual name for them is Groaners.
Ainsley
Ainsley is a cardboard cutout of the real Ainsley Harriott. Felix would often give Ainsley a humorous robot voice or a deep male robot voice. Ainsley had many funny moments with Felix until he finally got rid of him by tearing half of his head off, "releasing" Ainsley. He then exclaimed, "We're free Ainsley! We don't have to play this game anymore!"
Danny Devito
Much like Ainsley, Danny DeVito is a cardboard cutout of the real Danny DeVito. However, he had a more feminine robot voice than Ainsely, and would normally roast Felix in his videos, or say funny things like "I like to lick feet."
Minecraft Epic
Weapons
Cry of Fear
Baton
Baton is a police nightstick used as a weapon in Cry of Fear. Felix seems to be friends with Baton and will often leave a better weapon behind just to have him.
Condemned: Criminal Origins
Pipé
Pipé (Pronounced pee-peh) is a pipé used as a weapon in Condemned and Grey. Pipé has a French accent and often says "Ah, bonjour! J'mappele Pipé!". Pipé is also usable as a weapon in Condemned: Bloodshot, Felix has used him in his playthrough too.
Locker door
Locker Door is another of Felix's favorite weapons from Condemned. Locker door is sensitive to bad language for some reason, and if an enemy swears in front of him, Felix will generally taser him shouting: "DON'T SWEAR IN FRONT OF LOCKER DOOR!"
Tazer
The taser in Condemned doesn't really have a personality, although because it's a powerful weapon, Felix will occasionally shout different things when using it, some of which are: "Unlimited Power!!!" (Star Wars reference) and "Pikachu POWER!!!" (Pokémon Reference).
Boot
The ability to kick an enemy in Condemned has a slightly odd graphic. It shows just an ankle and boot appear on the screen for a second, then disappear again. Felix uses the boot to great effect, and yells "Random BOOT!" or, "BOOT it!". PewDiePie even named the last episode of Condemned: Criminal Origins after Boot, naming it: Final battle, with BOOT! Boot rarely talks, but when he does he exhibits an extremely violent and perverse nature – frequently telling Felix to rape Boots victims, to which Felix often responds "No Boot, we do NOT rape people!"
Other Characters
Jeremy
Jeremy is a faceless wooden doll found scattered around the house in Paranormal. Felix gives him the same voice as the son from Happy Wheels, making Jeremy seem childlike and annoying. In Paranormal, Jeremy makes several demon sacrifices, making Felix scream: "JEREMY! What did I tell you about the demon sacrifices, Jeremy!?". Jeremy can also be found in Anna, where dark figures without faces circled around the player, who is immobilized for a moment, and then disappear. Shortly after this, Felix yelled, "DEMONIC SACRIFICES! Not cool! I told him, don't do demonic sacrifices, but no! Son of a barrel!" Anywhere there is a faceless doll or sacrifices in a game, Felix will also yell at Jeremy (He recently turned up in Haunted Investigations as a sinister white doll).
Hercy
Hercy (short for Hercules) is a flashing metal box found in Ghost Hunt to tell you when ghosts are nearby. Felix is terrified of ghosts, and so he and Hercy made good friends as Hercy is very comforting. Felix will sometimes say hello to Hercy when he sees a flashing metal box in another game.
Jörgen
A character from Thirty Flights of Loving, who Felix drives around in a cart. Felix later finds out that Jörgen's real name is Winston, but he still calls him Jörgen.
Different spelling but the same pronunciation, Joergen (spelled as seen on their grave sign) is also the name of several horses Felix tamed in his Minecraft series, which started in June of 2019. The first horse, Joergen #1, was known for going missing whenever Felix left it behind to explore an area. It, unfortunately, died while glitched inside a Nether Portal, and was promptly replaced by Joergen #2.
Jerry
A character in Limbo.
Bob
His character in Skate 3 and in any game where the protagonist doesn't have a name lately.
Gabe
A character, (Real Name: Chris Walker) and frequent enemy in the video game Outlast.
Saladass/Plzdonteatme or Saladqueen
A name for his cell in Agar.io.
Shadowban
On October 22, 2020, people claimed that Felix's channel was shadowbanned, and complained that they could not find any "Pewdiepie" results after searching on Youtube.
Some people thought that the site was slowing down, until a few hours later, results for Pewdiepie were back up and running.
Felix later confirmed in a video that a Youtuber said that the "shadowban" was a bug and was fixed later on.
Quotes
Setup
Computer specs
Monitor: ASUS 31.5" Curved Gaming Monitor
CPU: Intel Core i9-9900K CPU
GPU: NVIDIA Geforce RTX 2080 TI FE
Software
Recording software: OBS and Audacity
Editing software: Adobe Premiere Pro and Adobe Photoshop
Peripherals
Headphones: Razer Kraken Pro V2: Pewdiepie Edition
Microphone: Rode NTG4 PLUS Shotgun Camera Microphone
Chair: CLUTCH CHAIRZ Throttle Series Pewdiepie Edition Gaming Chair
Mouse: Ghost M1 Mouse
Mousepad: SteelSeries QcK Gaming Mousepad
Keyboard: Ghost A1 Keyboard
Lighting: Elgato Key Lights
Facecam: Blackmagic Design URSA Mini Pro 4.6K facecam
Lens: Canon EF 16-35mm f/2.8L ll USM Zoom Lens
Trivia
Channel milestones
Note: The following dates are according to Social Blade. Dates may vary by one or two days due to differences in time zones.

Subscriber milestones
Video view milestones
External links
In addition to having his own official website (even though it's outdated and it's in Swedish),[50] Felix also had a merchandising site in which he sold t-shirts in different colors with fanart and slogans such as, "Uh, Dad?" "I DON'T CAARE!", "CHOP CHOP CHOP", "RUBEN!!!!!!!", "Noo, Stephano!", etc. which of course are all old ideas evolved around his channel in 2012-2013. There is a site for U.S. residents and one for European residents.[51][52] He also has a website to donate to a water charity fund called mycharitywater.org/pewdiepie to give clean water to those that don't have it. There is also an unofficial wiki for him.
Retired Links/Websites
Gallery
References