"
Hey, how's it going bros, my name is PewDiePie!
"

―PewDiePie's classic intro
Felix Arvid Ulf Kjellberg (born: October 24, 1989 (1989-10-24) [age 29]), better known online as PewDiePie, is a Swedish YouTube comedian, vlogger, gamer, and YouTube celebrity. He is currently the most subscribed YouTube channel and the fastest growing channel in terms of with over 76.3 million subscribers and gaining 6 million subscribers monthly, which averages 202,000 subscribers daily. PewDiePie is also the eighth most viewed YouTube channel with over 19.5 billion video views. He was the most viewed channel from December 29, 2014 to February 14, 2017, before being surpassed by T-Series.
PewDiePie was known for his horror playthroughs and reactions but now is more known towards his freestyle / skit humor, vlogs, and satirical commentary. The name "PewDiePie" was formed by the term "Pew! (as in a gun shooting) Die!", which was his original channel. When he supposedly forgot his password, he created another channel by adding 'Pie' because "He loves pie", resulting in PewDiePie. Since 2010, it has been his main channel which has been the most subscribed channel on YouTube since August 15, 2013.
History
Felix first joined YouTube on December 19, 2006. His first YouTube channel is Pewdie. At first, he recorded gaming videos usually revolved around CoD on the channel, however in 2010 he forgot the password and later remembered it in January 2012, in which he deleted the original videos. He currently has over 440,000+ subscribers on the Pewdie channel, 12,500,000 views and 14 videos on it. Most content on the Pewdie channel consists of gaming, but there are vlogging videos as well. His first few Friday with PewDiePie series were first uploaded on his Pewdie channel. Ever since 2013, the Pewdie channel has been inactive since Felix has no need to upload on it anymore.
Felix started out as a Call of Duty and Minecraft YouTuber on his main PewDiePie channel in 2010 and 2011. Like many other Call of Duty YouTubers back then, he played short clips of his best kills, adds comedic edits to his Call of Duty clips, and Call of Duty commentary. He did basic Minecraft let's plays with an old YouTube friend Xebaz (now Baz ). He has gained a few thousand subscribers off it before playing Amnesia that sky-rocketed his channel.
He also has a friend who uploads short clips from his videos under the channel SkaterOfFabulous which he mentioned in a Fridays with PewDiePie Q&A episode. Pewdiepie would start to gain media attention in 2012 as he uploaded videos of his dark humor and likable reactions to computer games, horror games however really boosted his subscriber growth. Kjellberg gained the most subscribed YouTube channel of all time on August 15, 2013, after surpassing Smosh. He eventually dropped to #2 after the YouTube Spotlight passed him on November 2, 2013. On December 8, 2013, he beat the YouTube channel to reclaim the #1 spot and then lost it only a day later to YouTube again.
Then after several hours, on December 9, he reclaimed the title once again but three days later, reclaiming it on December 22 of that year.
He gained the second most amount of subscribers in 2012, jumping from slightly under 100,000 to 3.5 million subscribers, just behind JennaMarbles, the second most in 2013, jumping from 3.5 to 19.3 million subscribers that year, just behind YouTube Spotlight, the most in 2014 by gaining nearly 14 million subscribers, the most again in 2015 behind by gaining over 8 million subscribers, the most once more in 2016 by gaining nearly 10 and a half million subscribers, and was ranked in the top twenty most subscriber gains in 2017, gaining nearly 8 million new subscribers that year. So far this year, his channel is the tenth fastest growing in subscribers, gaining over 1.5 million, even being the fastest growing channel in subscribers for a brief time early this year.
At the moment, he is engaged to Marzia Bisognin, otherwise known as CutiePieMarzia after dating for more than 6 years. He stars in two popular games, Pewdiepie's Tuber Simulator and PewDiePie: Legend of the Brofist.
Pewdiepie has also had clothing lines such as Backpacks. He also made a book in October 2015 called "This Book Loves You". He has transitioned more into vlogging and other internet topics than gaming these days.
He's friends with Jacksepticeye, Markiplier, CinnamonToastKen, and more.
Personal Life
Felix was born in Gothenburg, Sweden. He graduated from Göteborgs Högre Samskola in 2008 and attended the Chalmers University of Technology to pursue a degree in Industrial Economics and Technology Management, but left in 2011 to focus on his YouTube career. Some of PewDiePie's first subscribers say that he has changed a lot but still say that "he's awesome". Felix's first job was selling hot dogs outside near a beach.
He currently resides in Brighton, United Kingdom.
The Kjellberg Family
On his birthday, October 24, 2014, Felix made a video where he introduced the viewers to his family. Felix's mother's name is Johanna Kjellberg and his dad's name is Ulf Kjellberg. He also has an older sister named Fanny Kjellberg who is married and has a baby.
Pets
His pets have mostly been either cats or dogs. His first pet was a cat who died of old age.
Ynk
Ynk was the second pet. She was a Yorkie. Ynk later lived with Felix's mother in Sweden. She appeared in a video published December 28, 2016. She, unfortunately, passed away on February 27, 2018, which was announced on PewDiePie's Twitter.
Maya
His second dog is Maya. Maya has a missing eye because she had an incident with a cat when she was a puppy. There is also a Crossy Road mascot based on her, called Pew Die Pug.
Edgar
Since October 13, 2013, Felix has another dog named Edgar Allen Pug  (Edgar or Edgy (Hard g) for short, named after the poet Edgar Allan Poe). When Felix got Edgar, he was one year old, and when he came to his new home he was really nervous. Edgar is 4-5 years younger than Maya but bigger than her in size.
Billy and Clint
For a while, in late 2015 Felix and Marzia also had 2 axolotls, Billy and Clint, but they had to be given away due to their fish tank breaking.
Slippy
In September, 2016 Felix got a small cane toad named Slippy, who featured in many of Felix's videos, e.g. the "BOTTLEFLIP CHALLENGE" video Felix filmed with another popular YouTuber, Jacksepticeye. Slippy resided in a glass tank in Felix's recording studio. However, On the December 13, 2017, Felix announced on his twitter that Slippy had suddenly passed away earlier that day.
Dogy
On July 30, 2017, Felix and Marzia got a small white hedgehog which they named Dogy. Dogy is very rarely featured on Felix's videos, but there are several videos on Marzia's channel which feature him.
Personality
PewDiePie has a somewhat common personality for YouTube. However, how well he executes his personality is what makes him so popular. PewDiePie can act obnoxious, sarcastic and silly during his videos. In his gaming videos (most preferably the older ones) he would act scared, confused or angry while playing which offers viewers to enjoy something else other than gameplay being shown on screen.
Before late 2017, due to YouTube's Community Guidelines based on the amount of swearing that can be executed for a video to be demonetized, PewDiePie would often swear in his videos, usually in an aggressive manner, but now he only swears occasionally but in a non-aggressive manner. PewDiePie has a tendency to swear aggressively and instinctively in Swedish (which took a hiatus in 2016 before returning the next year in January) whenever he gets scared or really angry while playing a video game.
In early 2016, PewDiePie began to develop (or rather, showcase) a different personality than previously and began to distance away from calling his fanbase bros, performing the brofist and doing his intro as often and began to take a new approach in becoming more satirical and aggressive, as well as his accent fading down a bit. As so this personality started fading away in late 2017 possibly due to the backlash he got from the offensive jokes he made and YouTube's Community Guidelines he adapted into using a slightly different personality (less aggressive, uses a different tone of voice but still satirical).
Current Series
YLYL
YLYL (You Laugh, You Lose) is a series of videos which revolves PewDiePie reacting to random videos on the internet while challenging the viewers to not laugh at them. Despite that, PewDiePie constantly laughs while watching those videos. Since December 2017, PewDiePie sometimes calls the series "Skrattar du, forlorar du" which means "You Laugh, You Lose" in Swedish Language.
The first relatable video was named "TRY NOT TO LAUGH CHALLENGE! #1", which was uploaded on March 20, 2016, but the first video in the series which started the "YLYL" series was titled "YOU LAUGH? YOU LOSE! CHALLENGE - YLYL #0001", uploaded on January 12, 2017.
LWIAY
LWIAY, standing for Last Week I Asked You is a series of videos inspired by Jacksfilms' Yesterday I Asked You (YIAY). The series features PewDiePie asking his subscribers to create images of topics relating himself or other trends on his channel, (ex: T-Series vs PewDiePie on the website Reddit). The series tended to replace Fridays with PewDiePie after it was discontinued in July, 2017.
The series started on June 22, 2017, which was considered an episode of Fridays with PewDiePie, along with the second episode, but ever since the third episode it was no longer considered Fridays with PewDiePie, but its separate series.
Meme Review
Meme Review is a series where PewDiePie reviews the most recent memes that has been trending on the Internet. PewDiePie titles his video relating to the meme or quoting the meme, and adds "[MEME REVIEW] 👏 👏#(episode number)" one day after it's upload. PewDiePie's first meme review was on November 23, 2017 called "Stolen Bike Meme".
Reddit Review
Much like Meme Review, Reddit Review is where he reviews top posts on a certain topic on Reddit. PewDiePie often gives his opinion or rating on the post and often criticizes it. PewDiePie's first Reddit Review was on January 3, 2018 reviewing the top posts of "r/niceguys".
PewNews
PewNews is a news channel series and an inspiration of KEEMSTAR's DramaAlert news channel. PewDiePie, both in a serious and comedic appearance, explains and talks about the most recent trending topics happening online. Most of it contains YouTubers, and some other contains a trending topic online, or known people on social medias.
The series started on February 3, 2018, who mainly talks about Logan Paul's return to YouTube after the Suicide Forest controversy.
PewDiePie vs T-Series
An Indian Music Company, known as T-Series, has been the fastest growing YouTube channel on the platform since late 2017. Since December, 2017, when T-Series has been getting 100,000 subscribers daily consistently, they were growing 4 times faster than PewDiePie.
When T-Series was less than 10 million subscribers behind PewDiePie, PewDiePie himself and multiple YouTubers, such as Pyrocynical, DramaAlert and MrBeast has been discussing about T-Series growth. On August 29, 2018, PewDiePie made his first video on T-Series due to the small YouTube community and occasional big YouTubers discussing on T-Series growth against PewDiePie. It was featured in a LWIAY episode. PewDiePie mentions T-Series at the start and says he is "looking to fight back" to prevent T-Series from surpassing PewDiePie in subscribers, though obviously as a more exaggerated satirical approach and Felix himself probably has nothing against the company. This later caused many other creators on YouTube and other media to "fight back" as well, making T-Series more well-known towards the English-speaking audience.
PewDiePie later made a video called "TSERIES EXPOSED?" which is an episode of the PewNews series. PewDiePie reads a YouTube comment off his Reddit. The comment mentions that you will be automatically subscribed to T-Series once you create the account in India. PewDiePie then asked his fans from India to test this out for evidence. PewDiePie also mentions about how T-Series having over 62 million subscribers with little to no views on their recently uploaded videos. He later created a diss track named bitch lasangna.
Disstrack
On October 5, 2018, PewDiePie released a disstrack on T-Series named, "
bitch lasagna
", originally named "T-SERIES DISS TRACK". When the music video was released on the PewDiePie channel, it had received more views than
Eminem
's song, "Venom" in an hour. It also took down T-Series growth on that day, gaining only 90,000 subscribers while averagely getting 120,000 subscribers a day during that month span.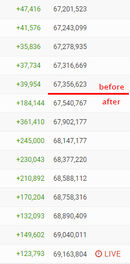 MrBeast advertising PewDiePie
Fellow YouTuber MrBeast wanted to help out PewDiePie and to make sure T-Series does not pass PewDiePie as a collective stand against a big cooporation being the most subscribed channel on YouTube. On October 26, 2018, MrBeast released a video called "I Bought Every Billboard In My City For This", in which he used the Billboards to advertise PewDiePie, telling the people to subscribe to PewDiePie and to make sure he stays the most subscribed YouTube channel. Additionally, MrBeast was able to do the same thing using posters, on National Television, and on the radio. T-Series was 100,000 subscribers away from surpassing PewDiePie at this time. After the release of MrBeast's video and the PewDiePie vs T-Series billboard, PewDiePie received over 180,000 subscribers that day, and received over 360,000 subscribers the next day. The 360,000 subscribers is the most subscribers PewDiePie has ever received in a day.
Throughout the PewDiePie vs T-Series "battle", T-Series has made no direct response or acknowledge to PewDiePie and the fans. They still continue to release music videos, lyric videos, audio of the music and BTS. T-Series does often tell the new-comers to subscribe to T-Series to be the most subscribed YouTube channel.
MrBeast says PewDiePie 100,000 Times
Even after MrBeast advertised PewDiePie with billboards, it did not stop T-Series from slowing down from PewDiePie longer. T-Series was approximately 90,000 subscribers away from surpassing PewDiePie, before MrBeast made another video to keep PewDiePie #1 most subscribed. On November 25, 2018, MrBeast says PewDiePie 100,000 times. At the start of the video, MrBeast tells his fans and new-comers to subscribe to PewDiePie "and to help him win the war". The subscriber growth was given to PewDiePie once again, gaining 244,000 subscribers the day of MrBeast's upload, and 247,000 subscribers the next day.
Hacked Printers
Over the last couple of days since November 29, 2018, Twitter users have been posting screenshots of printouts from internet-connected printers that say that 'PewDiePie needs their help'. The printout tells people to subscribe to PewDiePie and to 'tell everyone you know' about the YouTube race. At the end, there's an ASCII figure of a "brofist," a gesture from PewDiePie and his logo. The screenshots have no specific origin; users from Canada to the UK have purportedly received it.
Unfortunately, the hack did not help PewDiePie gain subscribers at a faster gap, unlike MrBeast's 2 gaps he did to keep PewDiePie most subscribed.
Surrender
Even after MrBeast helped out PewDiePie, PewDiePie made a tweet, "It looks like this is it bois." with a picture of a text saying "Dawn of The Final Day -24 Hours Remain-", in which PewDiePie now surrenders his number 1 most subscribed title, as T-Series growth had not stopped.
MrBeast also made a tweet responding to PewDiePie saying "It was an honor fighting by your side", in which MrBeast gives up and can no longer help PewDiePie further, possibly to prevent lack of PewDiePie videos from MrBeast, as it can get weaker along the way.
Many other well-known internet persona's Grandayy, Sr Pelo and Pyrocynical encouraged PewDiePie to never give up, as other persona's TheSyndicateProject, Mini Ladd and CouRage accepted the fate.
YouTubers help PewDiePie
Right after PewDiePie surrendered, other YouTubers still refused to let T-Series surpass PewDiePie in subscribers. Markiplier, a long time friend of PewDiePie, made a livestream encouraging his subscribers to subscribe to PewDiePie. Markiplier made a 1 hour stream continuously telling his live viewers to subscribe to PewDiePie, and was successful. Another YouTuber, known as Durv, is challenging himself to watch PewDiePie's "bitch lasagna" T-Series disstrack for 24 hours. And a DJ, known as Ghastly, played PewDiePie's "bitch lasagna" at one of his concert's to get his fans to subscribe to PewDiePie.
T-Series was 16,000 subscribers away before being number 1 most subscribed, and after the help from other successful YouTubers, PewDiePie was 320,000 subscribers above, and gained 544,000 subscribers in 1 day, which is a first in PewDiePie's YouTube history.
Controversy
"Your Extra Views Get Me Extra Cash"
After a video was made by a user named "retsupurae" called "Adults React to PewDiePie" a sarcastic comment by PewDiePie was made, which he told the user if they heard the phrase "if you don't like it, then don't watch it" but then proceeds to tell them to actually keep watching because "your extra views get me extra cash". This quickly caused an outbreak of hate and controversy. PewDiePie mistakenly later apologized and explained what he meant by the comment in his video "I'm sorry". PewDiePie's "I'm sorry" video also sparked some controversy, due to the fact that he generalized all of his haters as being trolls, and assumed that all of their criticism came out of jealousy.
PewDiePie Copy-cats?
PewDiePie's fans have also become controversial, as some would go to other gameplay commentary YouTubers (Such as
Tobuscus
and
UberHaxorNova
) and comment saying that they are copying PewDiePie. PewDiePie's fans are also under controversy for their threats of death, pain, and rape in videos that rant PewDiePie and/or his fan base, The Bro Army. PewDiePie made a reaction parody video to this, where he mocked himself by saying that he was copying other YouTubers, as they had existing gameplay footage on YouTube. He stated that he made this video as the comments were getting 'ridiculous'.
Deleting PewDiePie at 50 million
PewDiePie stated in episode 9 of the BroKen podcast: "I'm just gonna say this: Don't sign with a network."…"If you're a small channel, what's the benefit of a network?" in regards to Multi-Channel Networks. On December 2, 2016, PewDiePie was suggesting taking down his YouTube channel once he reached 50 million subscribers.[1] The reason being is because of a YouTube view count PewDiePie had which made him have a "dead fan-base" (meaning a low percentage of his subscribers watch him) and a subscription glitch that YouTube denied,[2][3] which PewDiePie said was a joke and Felix said he cared about smaller YouTubers, as well. Pewdiepie would go on to delete his 2nd channel, jack septiceye2, which he made as a joke to mock fellow YouTuber and friend, Jacksepticeye .
Allegations of anti-Semitism
On January 11, 2017, PewDiePie published a video which included 2 guys from the website "Fiverr" holding a sign saying "death to all jews" which he requested them to do in order to see how far they would be pushed for the payment. This sparked many people to be offended by it which PewDiePie eventually apologized but also joked about the fact that people were offended by a joke which intention was to cause shock-humor rather than offend. A month later the Wall Street Journal published an article about Pewdiepie saying he is an anti-Semite and using his jokes to prove it through 9 videos between August of 2016 and in early 2017. This eventually made Maker Studios, Pewdiepie's network since late 2012 drop his channel as well as his YouTube Red show, Scare PewDiePie: Multiplayer getting cancelled by YouTube and his name being removed from Google Preferred. PewDiePie has again apologized however gave a middle finger to Wall Street Journal as well as expressing how excited he was for finally being an independent channel again.
During the whole drama, many news sites had made articles against Pewds' actions. However, several YouTubers came and supported Felix, including Philip DeFranco, Markiplier, and many others. On February 18, 2017, YouTuber jacksepticeye uploaded a video titled "Let's Talk! " talking about this whole situation. Some of the words said by Jack in the video were not clear, making some people believe that he "backstabbed" Felix and supported Maker Studios. Since the video was uploaded, Jack has apologized and has talked to Felix privately, as well as making things clear to his fans. Jack and Felix are, of course, still friends and record videos together, as seen in this one.
Demi Lovato Meme
On July 26, 2018, Demi Lovato was revealed to be overdosing on drugs. PewDiePie then tweeted a meme (in which someone else made, and to this day we still don't know who) mocking Demi Lovato and her drug overdose. The image itself had 4 sides of a picture with the first text, "Mom can you give me a money for burger?", the next said, "To buy burger", the third text said "Yeeeeees", and the last one said, "Actually buys heroin like a boss". PewDiePie has gained controversy about the meme. PewDiePie responded saying that he didn't know about the full situation, and didnt mean it in any way. PewDiePie then apologized about the incident.
Miscellaneous Videos
Collaborations with CutiePieMarzia
PewDiePie has done some collaborations with his current fiancée, CutiePieMarzia. Often these follow no specific upload pattern, as well as what is done. Sometimes they play video games together, such as the Amnesia and Happy Wheels videos they did together. Other times they do card games, (Cards Against Humanity) other times tags, such as the Guess the YouTuber video.
Friday's with PewDiePie
From the year 2011, PewDiePie started to make unique vlog-styled videos on Fridays ranging typically from 3 to 10 minutes long (though the longest has been 16 minutes long). At the beginning of every video, he has a creative introduction sequence with graphics, ending with him saying, "Fridays with PewDiePie" in a high pitched voice. Usually, the Friday videos are non-gameplay videos giving PewDiePie a chance to check up and communicate with his subscribers, especially since the popularity of his channel continues to grow rapidly, he dedicated many Friday videos to thank his subscribers for their support. PewDiePie has talked about any upcoming traveling, events, projects or contests he will be doing, or shares what is going on in his life right at the moment. Any comments or things that need to be personally addressed to his fans/bros PewDiePie speaks of in his Friday videos. Each video ends with PewDiePie holding his fist up, and giving a "brofist" to the recording camera to which the person watching the video may also give Felix a "brofist" back at the same time.
The Friday's with PewDiePie format has generally ended on his channel as of recently since his content has further strived away from gaming, which causes him no need to include a special day for. Generally, most of what he would speak about during the format is sprinkled here and there in his everyday content, often saving a short more "serious" segment in the start, middle, or end of any of his videos if any of the topics become/are needed to be addressed. 
Omegle
Omegle is a text and video chat website PewDiePie has used from August 2012 to late 2013 to randomly connect with and surprise his fans. It usually starts out with PewDiePie typing his name in the "common interest" box of Omegle and clicking the button to start a video chat with whomever he connects with. The reaction of the person he connects with ranges from shock, surprise, to disbelief and excitability that he/she is actually seeing and speaking to PewDiePie.
Disabling the Comments
On August 29, 2014, Felix decided to shut down the comments, because they were mostly spam comments from fake PewDiePie channels. Later, he made a video talking about this issue. He enabled the comments again after a while and at times later that year and in 2015 replied to the nicer ones.
In January 2016, Felix created a Network with a group of YouTubers named Revelmode. The members of the group included himself, Markiplier, Jacksepticeye, CinnamonToastKen, Kwebbelkop, Jelly, Slogoman, Cryaotic, KickthePJ, EmmaBlackery, and Dodger. The group started off small and Felix said it would get bigger, however, due to his anti semetic joke controversy and his network who owned Revel who pulled away from him after the controversy, the project was canceled.
Characters
Quotes
Trivia
Subscriber Milestones
Note the following dates are according to SociaBlade.com the dates may vary by about 1 day, and if you live outside of North America the dates may vary by 1 - 2 days due to the Time Zone Difference.
Video View Milestones
Videos & Photos
Watch Mojo's "TopX" Series
Let's Play YouTube Channels
PewDiePie was ranked 1st in Watch Mojo's Top Ten Let's Play YouTube Channels .
Most Popular YouTube Channels of 2014
PewDiePie was ranked 1st in Watch Mojo's Top Ten Most Popular YouTube Channels of 2014 .
Most DISLIKED YouTube Videos
PewDiePie was ranked 5th in Watch Mojo's Top Ten Most DISLIKED YouTube Videos .
Funniest PewDiePie Videos
Watch Mojo published a video titled Top Ten Funniest PewDiePie Videos .
Richest YouTube Gamers
PewDiePie was ranked 1st in Watch Mojo's Top Ten Richest YouTube Gamers .
Most Impressive YouTube Records
PewDiePie was ranked 2nd in Watch Mojo's Top Ten Most Impressive YouTube Records for the Most Subscribed Channel .
External links
In addition to having his own official website, PewDiePie also had a merchandising site in which he sold t-shirts in different colors with fanart and slogans such as, "Uh, Dad?" "I DON'T CAARE!", "CHOP CHOP CHOP", "RUBEN!!", "Noo, Stephano!", etc. which of course are all old ideas evolved around his channel in 2012-2013. There is a site for U.S. residents and one for European residents. Marzia (his fiancée) also has a website in which she gives fashion advice. He also has a website to donate to a water charity fund called mycharitywater.org/pewdiepie to give clean water to those that don't have it. There is also an unofficial wiki for him.
Wikitubia Age Rating
16L (Older Videos)
13DL (Current Videos)
16LV (Scare PewDiePie)
Gallery
References
This page was created on February 24, 2012 by Toni Heart Abugan.