Play Buttons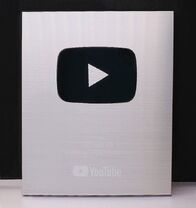 The Silver Play Button is the first play button award delivered to YouTubers with 100,000 subscribers as part of YouTube's Creator Awards.
The award consists of a flat silver trophy in a metal casing and a YouTube play button symbol, as well as featuring the creator channel name's embossed on it, along with the message "Congrats for surpassing 100,000 subscribers."
The award is also the smallest in size of its type and is made out of 92% nickel, 5% carbon and 2.5% zinc, with traces of other metals.
Former Play Button Design
YouTube redesigned their play buttons as of March 1, 2017, as well as their build. This includes the Silver and Gold play buttons, with a much sleeker look.
The old version of the Silver Play Button was made of a nickel-plated cupronickel alloy, and featured a glass panel with metal framework.
Other Buttons
The button's popularity led to the Gold Play Button and the Diamond Play Button being created. Custom fan buttons were also made widely by YouTubers that didn't reach any of the rewards' award limit, but still wanted to make something special.
See Also
Community content is available under
CC-BY-SA
unless otherwise noted.