"
We just think it's cool 'cause a Zaibatsu is basically a Japanese business conglomerate and it's just like... this serious group of business dudes in a room y'know, and we're like 'that's the kind of corporation we wanna be if anything.
"

―Super Best Friends Play
Super Best Friends Play, also known as the Best Friends Zaibatsu was a group of best friends and their body of work, including playthroughs, reviews, montages, a podcast and merchandise.
History
The group name 'Zaibatsu' started when Matt and Pat uploaded a couple of videos on their channel. After the Silent Hill: Shattered Memories episode, they were contacted by Machinima, which now hosts a series of their videos on that channel, which is usually a compilation of funny moments. On TheSw1tcher, Matt's channel, the Best Friends do full playthroughs, their first being Resident Evil 2.
Over time, more Best Friends were introduced, the first being Woolie, who initially guest-starred in the Marvel vs Capcom 3: Fate of Two Worlds episode, and is now a regular in almost every show, even hosting the Super Best Friendcast. Liam, the fourth Best Friend, made his debut in the Metroid Fusion playthrough, and was a regular contributor in solo and group videos until his departure from the Zaibatsu in early 2017. The Best Friend's media empire has greatly expanded since their humble beginnings, and they've released a variety of content.
Quit
On December 16, 2018, the Super Best friends uploaded a video titled "Super Best Friends (FINAL)" where Mat, Pat and Woolie announced that they are disbanding the zaibatsu and will each focus on their own channels and side-projects.
Trivia
Members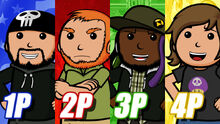 Supporting Cast
Affiliates
Shows
In other media