This article is a stub!

This article doesn't contain enough information. If you know anything about Tailosive Tech, please add to this article!
Andrew Erickson, better known online as Tailosive Tech, is an American YouTuber whose content focuses on a unique perspective as openly biased toward Apple and Tesla. Other YouTube channels in the Tailosive Network include Tailosive Gaming , Tailosive Talks , Tailosive Music , Tailosive Food , Tailosive Movie Reviews, and Tailosive Productions. Andrew is the most popular YouTube Channel of the Tailosive Network founded by Drew Erickson in 2014.
The Network Effect
Tailosive was founded with a vision for scalable growth. Many other content creators focus on making one channel very successful, but the audience they build is fundamentally focused on that one topic. This silo effectively blocks them from being able to create content on different topics. 
Tailosive takes a different approach. They know that a fan base is more engaged when it can subscribe to topics which interest them, and unsubscribe from topics which don't. This network structure allowed Tailosive to grow different channels independently from each other, and maintain peak fan interaction.
Origins
Tailosive has its humble roots in the foothills of Northern California. In 2010, at the age of 12, Drew Erickson started a simple channel on YouTube which focused on creating simple comedy sketches and short action sequences based out of his parents attic. Andrew, also known to his audience as Drew, knew that he wanted to be involved in filmmaking and the art of telling stories from a very young age. Through many years of creating regular content for a nonexistent audience, Drew decided to branch out to other forms of content. This lead him to create the Network's most popular channel, Tailosive Tech.
Why "Tailosive"?
Back in the day, YouTube required each channel to have a unique name. Drew didn't want something generic; He wanted to be different. Drew also saw that his channel could eventually grow beyond himself, so he didn't want the channel brand to use something as specific as his name.
Given this unique set of constraints, Drew took inspiration from his childhood where he invented the word "Tailosive". As an imaginative 6 year old, Drew was always drawing new kinds of airplanes and weapons. One of these was an air to air missile which could be used in a dogfight between two fighter jets. The missile would follow the tail of the other airplane and explode. Drew always made it a point to name his imaginative weapons, so this weapon's name was derived from its two functions ("tail" and "explosive") in the word "Tailosive".
Tailosive Tech
Tailosive Tech is the largest branch of the Tailosive Network. Drew was able to build a cult-like following by creating daily videos about consumer technology, focusing on Apple news, opinions, and leaks. Tailosive Tech is famed for being Apple's Defense Lawyer on YouTube by vehemently supporting Apple on a platform which is historically biased against Apple. People who know they love their iPhone, but don't know quite how to debate their Android using coworker turn to Tailosive Tech to summarize and discuss their views. This loyalty to Apple has garnered him the often derogatory nickname, Apple Sheep. Drew has taken this intended insult and now Tailosive Tech is one of the first results when Apple Sheep is searched on Google. Drew has also been careful to maintain his fan's trust by always speaking his mind, and never doing sponsored YouTube videos.
Tailosive Tech Podcast
The Tailosive Tech Podcast is an offshoot from the main Tech YouTube channel, allowing its hosts to expound on Technology related topics for more than an hour on this weekly show. The Tech Podcast takes what fans love about Tailosive Tech's YouTube Channel and gives them a long-form discussion about their favorite company, Apple, with their favorite Apple Defense Lawyer, Andrew Erickson, and his cohosts: Randy Vazquez and Nic Ansuini. 
Personal Life
Drew Erickson married Louise Smith who is from the Philippines, Australia, or Florida in the Fall of 2018. Little is known about Louise, but they attended Butte College in 2016. Unlike Drew, Louise does not keep up with the lastest technology.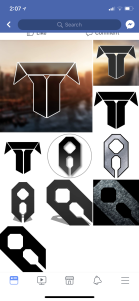 External links
This page was created on December 19, 2017 by MacGrand.
Community content is available under
CC-BY-SA
unless otherwise noted.