N-word usage accusation section
Part of this section reads "According to a unknown sales site, somebody named Ken sold the account "Dream" in February 2019 and Dream bought it. This proves that it wasn't Dream saying the n-word."
This seems to suggest that the 'unknown sales site', which is unreliable, must be telling the truth? If it's according to the site, that doesn't 'prove' anything, but that the site's account of things was that it proves Dream didn't say the n-word, not necessarily that it proves it overall. This should be clarified to prevent confusion. 57gorky (✉ Talk) (✉ Message Wall) 13:35, 7 July 2021 (UTC)
Real name
According to Spotify, on Dream's 'Roadtrip' song, writer credits are attributed to 'Clay Lucas Bryce'. Since Dream's name is known to be Clay, I'd imagine this is his real name. Spotify isn't always the most reliable source, but I can guess it's legit just because it's independently released by him. Picture attached.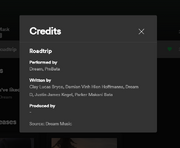 I think the smp section isnt updated that much
since we have Eryn and Tina now. :/ idk why XD
MCC 16
I don't see evidence to prove that everyon let the team Dream was in Win MCC 16 or the donation. If possible could someone remove it.
This page needs a few things reworked, and it would be nice if someone could go over it and check for grammar mistakes. The MCC16 section is entirely incorrect, and the page is lacking in information that isn't drama.
The page is locked for good reason, but that also prevents people from improving small mistakes on the page.
The MCC16 topic is both incorrect and unclearly written. It was very clear that none of the other teams let them win MCC16(all MCC S2 vods linked here if you need proof), and Dream had never promised to donate $50,000 to cancer research, only ever promising to donate his coin count.
This may have been confused with Dream's situation where he promised to donate all profits to charity during Pride Month. He came under fire for only streaming once on Twitch during Pride Month, though he had streamed on Twitter and Discord a few times that month, ending up raising $90k in total.
There is also almost no information detailing things unrelated to drama, like Minecraft Manhunt, his multiple verified 1.14 world records, and the "fight" between Dream, Benex, and Illumina for said record.
There are a lot of other dramas that were completely missed too. A fairly comprehensive list is here on r/DreamWasTaken2.