"
How's it going guys, and welcome to...
"

―W2S' Intro
Harold "Harry" Christopher George Lewis (born: November 24, 1996 (1996-11-24) [age 25]), better known online as W2S (short for Wroetoshaw), is a Guernsey YouTube personality known for his FIFA Fut Draft and Pack videos. He is also widely known for his real-life challenges with his family and friends. Harry is one of the seven members of the Sidemen.
Harry stopped uploading on his 'W2S' channel in 2020, but often uploads on his second channel, 'W2SPlays', and is still active as part of the Sidemen.
Background
Harry was born in Guernsey but grew up in Alderney - one of the Channel Islands - until his family moved to Guernsey in 2004 when he was 6 or 7. He has a younger brother, Josh, and a younger sister, Rosie. They all attended Guernsey Grammar School. The Sidemen often used the Guernsey stereotype as a joke against Harry, regularly referring to him as "inbred" and having an incestuous relationship with his family.
During his childhood, Harry played for a local football team called 'Rangers F.C.' and once lost a match 32–0. He first got into gaming when his parents bought him a Nintendo GameCube for £5 from a car boot sale. Harry was evidently an intelligent student growing up as he sat his GCSE maths exam a year early and still achieved a grade A*.[1]
Harry is one of three Sidemen members who never lived in the Sidemen House. Until 2014, he lived at his family home in Guernsey. He then moved to London in September 2014 - at the age of 17 - to an apartment in the Stratford Halo tower which he shared with Callux and Calfreezy. The three of them moved out of the tower in the summer of 2018 and into their own house overlooking the River Thames.
In mid-2020, after Callux moved into a new house by himself, Harry and Calfreezy moved into a smaller, new apartment. In March 2015, Harry bought a flat in Guernsey in addition to his London accommodation, which he has now sold.[2]

In 2017, Harry bought a dog named Herb who originally lived with him, Calfreezy and Callux in their Stratford Halo Tower apartment, but now lives in Guernsey with Harry's parents.
He was in a long term relationship with Katie Leach between 2014 and 2019.[3] He visited the German Pascha (the largest brothel in the world) in 2015 and paid for multiple experiences.[4] He claims that this was before he was in a relationship.[5] He has since began a relationship with Anika Byrne 2020- onwards.
YouTube
Harry initially set up numerous YouTube channels on which he'd experiment with different ideas (i.e. he had separate channels for vlogging and playing instruments). When he was 13 or 14, he did a fake iPad giveaway to get subscribers, but later admitted the iPad was the property of his brothers.[6]
Eventually, he set up his main channel "wroetoshaw". He created this name from FIFA and it is a contraction of the players Nicky Wroe and Tom Bradshaw. At the age of 17, he dropped out of school and decided to do YouTube as his full-time job. Harry was the last to join the Sidemen, becoming a member around the same time he dropped out of school in early-2014 (a few months after their formation).
An image of Harry's scrotum was leaked onto the internet during a Twitter hack in April 2015. He has since made a joke out of this and has titled one of his vlogs as such.
In August 2015, Harry personally sent £50 to all of his Twitter followers on GCSE results day who tweeted him proving that they gained straight A*-A's. There were at least 16 in total - meaning he sent a minimum of £800.[7]
Harry hit ten million subscribers on his main channel in April 2017 and received his "Diamond Play Button" from YouTube shortly afterwards.
Since then Harry has not uploaded onto his main channel ''W2S'' since the 19th of February 2020. He says he has videos filmed he just can't be bothered to edit them anymore instead he has been uploading onto his second channel ''W2Splays'' instead as they are smaller videos so they are more easier to film and edit.
Also Harry has created a third channel called ''W2SClips'' where he uploads short funny moments of himself over his time doing youtube.
Personality
Harry is known for being the most "fearless" and energetic Sideman by being loud and overjoyed in videos. When Harry uploaded FIFA videos, he was known for smashing his chair or controller against the wall or at anything around him when he raged or became excited. A notable time this happened was when he threw his chair behind him and it smashed his TV.[8]
Harry has been described by Ethan and Simon as very "kid-like" and having a "lack of care for the world". He also uses self-deprecating humour and has joked about having a "minor drug addiction". Harry is also considered the least consistent of the Sidemen by not uploading very frequently. This was often one of the jokes in Cards Against Humanity sessions.
Although Harry appears extremely outgoing and extroverted in the Sidemen videos, he has talked numerous times about his lack of social confidence. This is shown in many videos that are filmed publicly or in front of a larger audience. He also spoke about how he found it difficult to make conversation, especially with fans who met him in public, and prefers when people lead the conversation for him in the video.[9]
People have speculated about Harry's alleged drug use because of the diss track Little Boy (where KSI accused him of using crack, ketamine and MDMA) during the 2017 Sidemen War. Harry has since joked about using marijuana and having a drug addiction but it is unknown if it is actually true. In 2021, he said was "not currently on drugs".
Milestones
Note: The following dates are according to Social Blade. Dates may vary by one or two days due to differences in time zones.

Subscriber Milestones
1 million subscribers: March 25, 2014[10]
2 million subscribers: August 26, 2014[11]
3 million subscribers: December 27, 2014[12]
4 million subscribers: April 11, 2015
5 million subscribers: September 5, 2015
6 million subscribers: March 6, 2016
7 million subscribers: June 3, 2016
8 million subscribers: August 10, 2016
9 million subscribers: December 17, 2016
10 million subscribers: April 18, 2017
11 million subscribers: August 18, 2017
12 million subscribers: February 22, 2018
13 million subscribers: August 27, 2018
14 million subscribers: March 29, 2019
15 million subscribers: February 18, 2020
16 million subscribers: June 17, 2021
Video View Milestones
1 billion views: July 23, 2015
2 billion views: September 23, 2016
3 billion views: October 8, 2017
4 billion views: May 10, 2019
Accommodation
Harry is one of the three Sidemen who has never lived in the Sidemen House (or the former house). Until 2014, Harry lived with his parents and siblings in Guernsey.
He then moved to London at the start of September in 2014 - at the age of 17 - to live in an apartment with Callux and Calfreezy in Stratford Halo Tower. In March 2015, Harry also bought a flat in Guernsey in addition to his London accommodation, since then he has sold it.
Harry, Callux, and Calfreezy lived in the Stratford Halo Tower apartment for 4 years, up until the summer of 2018. Then they all moved into a luxurious house at the end of King's Stairs Close, in Bermondsey, South-East London.
The trio lived there for around a year and a half up until March of 2020 when Callux moved out and bought his own place. Then Calfreezy and Harry moved into a smaller flat in London where they are living currently.
Harry has stated recently that at the end of this year (2021) or the start of next year (2022) he will part ways with Calfreezy after living with him for 7 years and buy his own place in London.
Cars
During the summer of 2014 (at the age of 17), Harry bought a chrome-wrapped Range Rover Evoque. He later re-wrapped it with a gold-chrome finish. After just a year of driving the Evoque, Harry sold it to Calfreezy. Just before he sold it, Harry re-wrapped the car for the third time, making its appearance satin black.
After parting ways with the Range Rover in summer 2015, Harry bought a Lamborghini Gallardo, which he sold a few years later. He also possessed a grey Audi A4, supposedly his casual car for when he goes back to Guernsey.
KickTown
On October 28, 2019, after not uploading for 9 months, Harry finally uploaded a video on his main channel and announced that he's opening the first football challenge club in the world called 'KickTown' situated in The O2, London. Sadly, after many months of not making enough profit and the impacts of the first 2 lockdowns, Kicktown closed its doors for good in Early November 2020.
According to the official KickTown website:
"KickTown is an innovative tech-led football experience that integrates physical football challenges with the digital world. Inspired by Harry Lewis' YouTube channel W2S, KickTown uses the latest tech to bring epic football challenges to life through its mobile app and arenas. Paired with your KickBand, the KickTown app will be your access to everything club membership has to offer. Connect with other fans, play epic football mobile games and be the first to see exclusive content from Harry Lewis and the latest news about the first arena."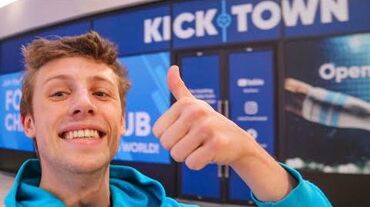 Controversy
2015 Twitter Hack
In 2015, Harry was hacked on his Twitter along with Miniminter and KSI. As well as the "pedo" comments, an image of Harry's testicles was uploaded to Twitter. As revealed, in the 2019 Sidemen Sunday video "Strangers Roast the Sidemen", the photo was taken and sent to Sidemen group chat as joke by Harry, which the hacker managed to get into via their accounts. It was posted alongside the caption "ITS BATHTIME BOYS", which is a reference to one of his videos.
Harry doesn't appear to be embarrassed or personally phased that an image of his scrotum is now on the Internet. In fact, he laughs along whenever someone brings it up.
Sidemen War
On August 8, Harry uploaded a 3-minute diss track titled "KSI Sucks". The video has over 63 million views and many considered it to be hilariously savage. Harry predominantly targeted the Olatunji family in the song.
On August 9, RiceGum uploaded his reaction to Harry's disstrack and was confused that Harry only mentioned him once (as well as it being a compliment) despite Harry featuring Rice's name in the title. RiceGum also reacted to other diss tracks against him and complained about their hostility.
On August 10, KSI reacted to Harry's diss track. A few hours later, Harry uploaded a video recapping the events so far (and discussing RiceGum's video), titled "W2S - KSI ROASTS MY SISTER". This featured Harry's "second verse", although it wasn't the "proper diss track". It didn't receive as much hatred as his original song and W2S explained his reasons for being so brutal.
On August 13 - after uploading "Earthquake" aimed at Behzinga, KSI uploaded a diss track music video called "Little Boy", aimed at Harry as a response to "KSI Sucks". The following day, Harry and his mum "reacted" to "Little Boy". The video was hilarious but incredibly awkward. Harry promised he'd post his response within "72 hours". The day after that (August 15), KSI reacted to Harry's reaction video - within his own video titled "I'm Getting Deported".
On August 19, W2S uploaded his second disstrack called "KSI Exposed". The video was brutal and many people have suggested he took it too far. KSI later revealed he got so mad at W2S that he could not upload his reaction.
On August 24, KSI uploaded his response to W2S' second diss track. He called it "Two Birds One Stone" and dissed both W2S and Joe Weller in the same track. He responded to Harry's accusations and summed up the situation between himself and Joe Weller. Harry reacted to this track and provided no evidence that he would respond again.
It is believed that the feud between Harry and JJ - although escalating much higher than originally intended - has concluded, with Harry still having won despite JJ being the last one to diss the other. In the song, JJ stated that he would be making no more diss tracks against Harry.
"Cancelation"
In August 25, 2020, a hashtag has been created and trending on Twitter called #wroetoracist and #wroetoshawisoverparty, where people have been looking on his past tweets from 4-6 years ago of the jokes that he has said that have been pretty offensive and possibly regretful to Harry. Many users on Twitter have been trying to "cancel" him, either from K-Pop fans with reaction cams that are hated by many users out there or by Sidemen stan accounts. So far, Harry's response of this backlash is yet to be said.
Quotes
"The old KSI will never be topped"
"DON'T WASTE THE MIXTURE!"
"Hide your wife, I've got a knife"
"Creature was shit"
Trivia
Harry is often referred to as the 'funniest Sidemen' due to his one liners and antics on the Sidemen channel.
Harry was invited to Christiano Ronaldo's house to make a video with him.
Harry is the youngest member of the Sidemen.
In a video entitled "Googling Myself", Harry confirmed that he is a fan of the Chelsea Football Club.
For the 2015 GCSE Results Day, Harry personally sent £50 to all of his followers who tweeted him proving that they gained straight A*-A's. There were at least 16 in total - meaning he sent a minimum of £800.
Harry was just 16 years old when the Sidemen officially formed in October 2013. He was 17 when he joined them.
The group often use the Guernsey stereotype against Harry, regularly referring to him as "inbred" and having an incestuous relationship with his family.
Harry stated in his 2014 "HARDEST Q&A EVER" video (with KSI and Calfreezy) that he does, in fact, have a girlfriend; called Katie Sarah Leach who made her first appearance in Harry's 2017 video -"A TOTS IN EVERY SINGLE PACK!!! - FIFA 17" and as seen through her Instagram photos and tweets to each other, they are still together.
Harry stated in Tobi's "THE SIDEMEN ARE LIARS" video that when he was 13 or 14, he did a fake iPad giveaway to get subscribers. He confirmed this in the Sidemen Book and admitted the iPad was the property of his brother.
Harry openly admits to putting the milk into a cup of tea first (before the teabag and boiling water). This is deeply frowned upon in Great Britain. Many have teased that the reason Harry does this is due to his Guernsey heritage (which is known for being "different") and not part of the UK.
People have speculated about Harry's alleged drug use because of the diss track Little Boy (where KSI accused him of using crack and MDMA). Harry has since joked about using marijuana and having a drug addiction but it is unknown if it is actually true.
Harry revealed that he washes his body using water only, saying that soap is a scam.
He rarely uploads due to burnout after editing his own videos since he started YouTube.
Harry stated in the MoreSidemen video (SIDEMEN TRIVIA NIGHT) that he has a fear of buttons.
References