YouTube Rewind is the title of a series of videos created by YouTube themselves as well as various content creators including PewDiePie.
The purpose of these videos are to highlight significant events that happened that year by having some of pop culture's, especially YouTube's, current most popular celebrities dancing and acting to the various themes of trends that happened from the beginning to the end of the year as tribute to their creators as well as the viewers watching.
The videos often include a mashup of various popular songs from that year with easter-egg ridden visuals and have been known to be something many would look forward to at end the year. Despite this, most YouTube Rewinds in recent years have been received poorly due to YouTube focusing more on pleasing advertisers and the media rather then their content creators. This has lead to many YouTubers both big and small to create their own rewind videos in response.
YouTube Rewind 2010
The first ever rendition of the YouTube Rewind video was uploaded on December 13, 2010 to the YouTube Trends channel, which you can watch here: 2010: Year in Review. This rewind was not like the later ones as it the telling of the countdown of the opinionated best videos of that year, categorized by YouTube.
List of videos featured:
YouTube Rewind 2011
The second installment of YouTube Rewind was uploaded on December 20, 2011, which you can watch here: YouTube Rewind 2011. The video was a collaboration with Portal A featuring Rebecca Black as the host. While the installment had the title of "YouTube Rewind" it was more similar to the 2010 Year in Review format, featuring a mashup of existing videos on the platform.
List of videos featured:
YouTube Rewind 2012
YouTube Rewind 2012 is known as one of the best known YouTube Rewinds and was uploaded on December 17, 2012. You can watch the video here: Rewind YouTube Style 2012.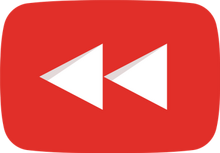 This installment was the start of the YouTube Rewind format we all would come to know and subjectively love. The trends were displayed not as a list but rather a sketch that featured many well known YouTubers of 2012. Due to this new edition, YouTube Rewind has become one of the most popular videos created by YouTube itself, afterwards featuring popular celebrities who are not even YouTubers or are barely associated with YouTube themselves.
List of creators featured:
Walk off the Earth
PyroBooby
CorridorDigital
FeliciaDay
ChesterSee
Shit Girls Say
ClevverTV
HuskyStarcraft
TarynSouthern
EdBassmaster
HeyKayli
CaseyLavere
YouTube Rewind 2013
YouTube Rewind 2013 was uploaded on December 11, 2013, which you can watch here: What Does 2013 Say. The format was similar as of the 2012 Rewind, but featuring more and different types of YouTubers.
List of creators featured:
Blogilates
Kaycee Rice
I.aM.mE
Taryn Southern
Brandon Laatsch
Alison Gold
Tori Locklear
Chester See
Prancercise
Quest Crew
Girls' Generation
Marina Shifrin
Hikakin
D-Trix
Sam Horowitz
Jack Hoffman
Kaleb Nation
Jamie Oliver
Porta Dos Fundos
SORTED Food
Cookie Monster
Macklemore
Corridor Digital
Nick Selby
YouTube Rewind 2014
YouTube Rewind 2014 is known for having the best like to dislike ratio and was uploaded on December 9, 2014, which you can watch here: Turn Down for 2014. YouTube collaborated with Portal A for this installment as well.
List of creators featured:
Aichi Ono
Amanda Steele
Andy Raconte
Anil B
Ape Crime
Apollos Hester
Big Bird
Bilingirl
Brett Nichols
Colin Furze
Conchita Wurst
Corridor Digital
daaruum
Devil Baby
Ella Caney-Willis
Enjoy Phoenix
Gabriel Valenciano
Gal Volinez
Hajime
Heart
Hello Denizen
Hikakin
iTakahashi
Jimmy Kimmel
John Oliver
Kacy Catanzaro
Kosuke
Le Floid
Mamiruton
Manako (Q'ulle)
MasuoTV
Matt Bittner
Max Murai
Mika Shindate
Niki & Sammy Albon
PDS
Sadie Miller
Sami Slimani
Sasaki Asahi
Seikin
Sione Vaka Kelepi
Stephen Colbert
Steve Kardynal
Stuart Edg
WORLD ORDER
YouTube Rewind 2015
YouTube Rewind 2015 was uploaded on December 9, 2015, which you can watch here: YouTube Rewind: Now Watch Me 2015. This installment was not received as well as past installments as it referred to more controversial topics such as LGBT rights for example. YouTube collaborated with Portal A for this edition as well.
List of creators featured:
Amanda Steele
Andy Raconte
BibisBeautyPalace
Dner
enchufeTV
Hajime
Heaven King
James Corden
John Oliver
Julienco
Karlie Kloss
LeFloid
Malena
Norman Thavaud
OMGitsFirefoxx
OMI
Los Polinesios
Rclbeauty
Rhodes Bros
Ro Pansino
Sophia Grace
T-Pain
TheViralFever
Todrick Hall
WereverTumorrow
YouTube Rewind 2016
YouTube Rewind 2016 was uploaded on December 7, 2016, which you can watch here: Rewind: The Ultimate 2016 Challange. YouTube collaborated with Portal A for this edition as well.
The 2016 video became the most viewed YouTube Rewind in the matter of months, and is also YouTube's fastest video to reach 100 million views, doing so in just 3.2 days. It is also the third most liked non-music video of all time with over 2.75 million likes. On December 14, 2016, shortly after the 2016 Rewind video was released, the Spotlight channel surpassed 1 billion total video views.
List of creators featured:
AndreasChoice
BibisBeautyPalace
Bie The Ska
CaELiKe
Dwayne "The Rock" Johnson
Eric Tham
hajimesyacho
Hayla
Jenn McAllister
JoutJout Prazer
KianAndJC
Luisito Rey
Luzu
Meg DeAngelis
Meredith Foster
Nicky Jam
PIKOTARO
RADIO FISH
Sebastián Villalobos
Seth Meyers
The Late Late Show with James Corden
Tre Melvin
Trevor Noah
VRZOchannel
WhinderssonNunes
YosStoP
YouTube Rewind 2017
YouTube Rewind 2017 was released on December 6 of that year. which you can watch here: YouTube Rewind: The Shape of 2017. This installment was the first YouTube Rewind to take place during the YouTube's "trending videos page" era, reaching the #1 most trending YouTube video position almost immediately and held the title for two days, making it the first video from the YouTube Spotlight channel to reach the #1 most trending video position on YouTube and one of the longest #1 trending YouTube video reigns thus far, receiving 50 million views within it's first day of release.
Due to the video's presence, YouTube put various playlists on their trending page under YouTube Rewind 2017 and on top of the following trending videos for the rest of that day and half of the next. The playlists consisted of general top videos, top music, gaming, trailers, and even specific YouTube categorizes such as Despacito (which along with being a prominent part of 2017's edition of YouTube Rewind was a category of videos surrounding a video which became YouTube's most viewed the same year), etc. videos of the year, making it the first time the trending page featured that.
The video was the theme for Google's layout from the video's release to the day after, and the music in the video was composed by The Hood Internet.
This installment had more dislikes than usual due to many believing it ignored many creators and trends of 2017, both positive and negative, and brought "irrelevant" or "bad" replacements (causing people to make videos such as "The REAL YouTube Rewind 2017" to show what should have legitimately been there according to them) with even famous content creators like PewDiePie and RiceGum talking about it and how they weren't in it personally, etc. The Behind The Scenes video did not get as many views, likes and comments as usual either.
2017's YouTube Rewind by far has the most YouTube creators in one rewind, with 202 YouTube creators. Most loved the diversity, especially the ending featuring the animators. Many thought that the rewind itself was the most creative YouTube Rewind and a great representation of different people all over the world coming together despite tragedies.
List of creators featured:
AlishaMarie
Bie The Ska
Bilingirl Chika
Camila Loures
Canal Nostaliga
Christian Figueiredo
Craftingeek
De'arra & Ken
Deeva Jessica
DJ Akademiks
DoddleOddle
Dog Shirt Studios
Domo & Crissy
Elliot Crawford
EnchufeTV
Enzoknol
Evelyn Regly
ExpCaseros
Extra Credit
FAPTV
Fischer's
Hajimeyacho
Hannah Stocking
HEOPOP
Hikakin
How to Cake it
HurtBae
Idil Yazar
Innana Sarkis
Jamie & Nikki
Jay Versace
JennxPenn
Jonatan Clay
Josh Pieters
Juanpa Zurita
Kaflar
Kaushal Beauty
Kawanshi
Kellie Sweet
Kim Rosacuca
Kiyo
KNCraZy
Kanninich
Kyle Hanagami
Latoya Forever
LubaTV
Luccas Neto
LusitoComunica
Luzu
Manual Do Mundo
Mariale
McFly & Carlito
Merrell Twins
Merveozkaynak
Meryem Can
MissRemiashten
Mizutamari Bond
My Pale Skin
NDNG - Enes Batur
Noor Stars
Orkun Isitmak
Parafernalha
Patry Jordan
Pautips
RandomStructureTV
Roxxsaurus
Rudy Mancuso
SacconeJolys
Saffron Barker
Sananas
Skypeace
Softpomz
SortedFood
Summerella
Tatiana Subbotina
Teala Dunn
Tessa Brooks
The Body Coach
The Chic Natural
TheReadBanger
Tpindell
Tre Melvin
Uras Benlioglu
Uravgconsumer
Vrzo Channel
Willdbeast Adams
Wolfieent
YellowMellowMG
YosStoP
zbing z.
聖結石Saint
YouTube Rewind 2018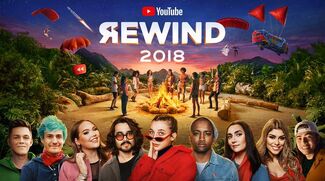 YouTube Rewind 2018 was uploaded on December 6, 2018. After it's upload, the video automatically became #1 on the trending page, and kept the title for a day before Marvel Studios' new 'Avengers: Endgame' trailer was released to be #1 on trending.
However, the YouTube Rewind 2018 became controversial and overwhelmingly panned by many who felt that the video did not show as much actual YouTube content creators as it usually would be in previous rewinds. Many of the featured songs and featured people are not YouTubers or do not make videos for YouTube, like Ninja for instance who, despite having a YouTube account, is more known as a streamer on Twitch. The video contained talk show hosts and celebrities who did not start their careers on the platform. Some criticism even came from unexpected sources such as Marques Brownlee who had appeared in the Rewind as well as Pinkfong's Baby Shark, a children's song that went viral that year being featured despite many in the YouTube community not being fans of the song.
Some of the well-known YouTubers (to the general west) to be in YouTube Rewind include Ninja, Domics, Nick Eh 30, CaseyNeistat, Markiplier, TheOdd1sOut, JaidenAnimations, Collins Key, BB Ki Vines, AsapSCIENCE, Safiya Nygaard, ItsFunneh, Marques Brownlee, Marshmello, Primitive Technology, Lachlan, Lilly Singh and LaurDIY, among others.
However, most of them did not make a massive impact on the YouTube landscape, other than Fortnite. Many massive YouTube trends in 2018 included the Logan Paul 'Suicide Forest' incident, the KSI vs Joe Weller boxing match, Tana Mongeau's TanaCon disaster, the demonetization of many videos, the rise of Tik Tok, the subscriber battle between PewDiePie and T-Series and the KSI vs Logan Paul boxing match which was the biggest amateur boxing match in history. None of these were included in the video despite being far more notable and larger in their impacts on the site. This was likely done as YouTube doesn't want to project a bad image to advertisers and the media.
The prominent theme of YouTube Rewind 2018 is "Everyone Controls Rewind". The video itself contained what the creators would want from a YouTube Rewind, and over halfway in the video, user comments are displayed, consisting of what viewers would want. This attracted criticism since the viewer comments were simply trends like the rest of the video, giving off a strong impression that the comments part of the Rewind failed to represent the community. Many people are also critical that PewDiePie, the biggest creator and channel on YouTube at the time was not featured in the rewind. Despite this, however Jaiden Animations did hide some PewDiePie references in the animation she submitted including the 399 "But can it do this?" Chair meme.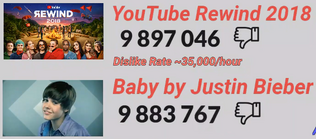 Criticism also came from what many believed to be a political slant to the video. During the campfire scene, the creators discuss social and political achievements made throughout the year such as being more motivated to discuss mental health, Asian representation in media and the 'empowering' art of drag. This has angered some who feel YouTube should not be politicized considering it is an entertainment platform, some who feel YouTube is pretending to care about said social issues, and some who feel that YouTube is becoming politically correct and leaning to the left to keep advertisers on the platform.
Some people also believe that T-Series did get referenced in YouTube Rewind 2018 when the dialogue "Asian representation in media. Major strides were made." was said in the video. T-Series is Asia's biggest YouTube Channel and at the time was still trying to become the most subscribed YouTube channel. Later on in early 2019, T-Series would surpass PewDiePie in number of subscribers and continues to hold the record of most subscribed channel to this day.
YouTube Rewind 2018 became the most disliked video in just 6 days, overtaking Justin Bieber's song Baby Ft. Ludacris which held that title for over 8 years and is currently at over 18 million dislikes.
List of creators featured:
10Ocupados
Afros e Afins por Nátaly Neri
Alisha Marie
Ami Rodriguez
Bilingirl Chika
Bokyem TV
CajuTV
Cherrygumms
Dagi Bee
Desimpedidos
Diva Depressão
Dotty TV
Elle Mills
EnjoyPhoenix
FAP TV
GEN HALILINTAR
Gongdaesang
Gymvirtual
Hannah Stocking
HikakinTV
John Oliver
Jordindian
Jubilee Media
julioprofe
Katya Zamolodchikova
Kaykai Salaider
Kelly MissesVlog
Krystal Yam & family
LA LATA
Luisito Comunica (Rey Palomo)
Luzu
Manual do Mundo
Me Poupe!
MissRemiAshten
Ms Yeah
Muro Pequeno
Noor Stars
Pautips
Pozzi
Rudy Mancuso
SamHarveyUK
SHALOM BLAC
Simone Giertz
Sofia Castro
@StrayRogue and @DitzyFlama (Bongo Cat)
TheKateClapp
Tiền Zombie v4
Trevor Noah
Will Smith
PewDiePie's YouTube Rewind 2018
As a response to the disaster that was YouTube Rewind 2018, PewDiePie, the most subscribed individual on YouTube, uploaded his own YouTube Rewind in collaboration with FlyingKitty, Grandayy, Dolan Dark and Party In Backyard. The video had a lot of positive feedback towards the community as the video shares moments, YouTubers and memes that happened in 2018 and was seen as a more accurate rewind video. PewDiePie's 2018 YouTube Rewind became the most liked YouTube video that wasn't a music video and surpassed YouTube Rewind 2018 in likes.
List of creators featured:
List of YouTubers featured:
Top15s
Will Smith
Orange Shirt Kid
List of memes featured:
[http:// This video is no longer available because the YouTube account associated with this video has been terminated. Everyone, we have an announcement to make; STOP BULLYING]
Ligma
List of moments featured:
YouTube Rewind 2019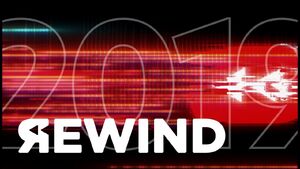 YouTube Rewind 2019 was uploaded on December 5, 2019. It gives the year's top lists created using data from November 1, 2019. The video got mixed and negative reviews, with some criticizing it for low production value as well as some saying it felt more like a Top 10 video rather than a YouTube Rewind video. YouTube states they made these changes in response to the backlash of 2018's YouTube Rewind. After an hour of being uploaded, the video had more dislikes to likes, having over 900,000 dislikes in just 6 hours.
Most Liked Creator Videos
Most Liked Music Videos
Most Liked Dance Videos
Most Viewed Games
Grand Theft Auto
Garena Free Fire
Most Liked Beauty Videos
Top Breakout Creators
LOUD
워크맨-Workman
Jennelle Eliana
하루한끼 one meal a day
LOUD Coringa
LOUD Babi
Shoaib Akhtar
Most Viewed Creators
List of creators featured:
Anaysa
Angie Velasco
Awez Darbar
Blanco Brown
ChapkisDanceUSA
F2Freestylers - Ultimate Soccer Skills Channel
Fortnite, Free Fire - Brasil
Galen Hooks
Garena Free Fire Indonesia
Hongyu ASMR 홍유
HunniBee ASMR
IAMLXGEND
Jennelle Eliana
Kaykai Salaider
Kylie Jenner
Lil Dicky
LOUD
LOUD Babi
LOUD Coringa
Noor Stars
PlayHard
ROSALÍA
Shawn Mendes
Shoaib Akhtar
Simone Giertz
Suzy Lu
Team Naach
Pac-12 Networks
워크맨-Workman
하루한끼 one meal a day
PewDiePie's YouTube Rewind 2019
Like in 2018, PewDiePie uploaded his version of YouTube Rewind 2019, made with FlyingKitty, Grandayy, Dolan Dark and Party In Backyard. The video was published on December 29, 2019. Each of the meme creators had a different theme to their respective sections in the Rewind: FlyingKitty's section was meme themed, Grandayy's section was YouTuber themed, and Dolan Dark's section was gaming themed. In addition, there were tributes for Dillon The Hacker, Grant Thompson (The King of Random), Juice WRLD, and Etika.
YouTube Rewind 2020
On November 12, 2020, YouTube posted a statement onto their Twitter account, announcing that they would not be making a rewind for 2020 due to the COVID-19 pandemic.[1] However, they mentioned that they would continue to make more rewinds in the future.
Due to the amount of hate the last few rewinds have gotten, some people have speculated that the real reason YouTube cancelled their annual rewind event was because of the amount of backlash they have recieved in the past for not listening to the userbase of YouTube.
"
"2020 has been different. And it doesn't feel right to carry on as if it weren't."
"

―YouTube
MrBeast's YouTube Rewind 2020
After it was announced that there would not be an official YouTube Rewind in 2020, MrBeast announced that he would be making a YouTube Rewind for that year. This video was published on January 1, 2021 and ended up trending at #1. It had the same editors as the YouTube Rewinds PewDiePie did in 2018 and 2019 with MrBeast mentioning that he was influenced by those videos when making his rewind video. The rewind was recieved positivly with mentions to various events that happened in 2020 as well as tributes to those who died in 2020 including Kobe Bryant and Alex Trebek. At the end of the video, MrBeast gave shoutouts to several small YouTube channels.
Trivia
The 2018 Rewind currently has the highest number of dislikes of any video on YouTube, becoming the most disliked video in 6 days and having over 18 million dislikes as of November 2020.
Every year, people say that each new installment is worse than the last, some reasons being:

The current state of YouTube and its poor relationships with individual content creators.
The increasing focus on outdated memes, pop culture references and trends in order to stay relevant.
The exclusion of many better known creators in favor of obscure creators users have never seen as a way to "play it safe".
The focus on more divisive topics.

Some people were mad at the fact that T-Series was in the 2019 Rewind, despite not being in previous rewinds. This was probably due to T-Series beating PewDiePie to become the most subscribed channel on all of YouTube which happened that same year.
This is the time of year where YouTube Spotlight goes from gaining/losing small numbers on their YouTube channel to getting hundreds of millions of views, millions of comments and likes, and 1-2 million subscribers, making the channel one of the most abundant in number gains, every month for the next one to two months after the video's upload.
Many viewers point out subtle references or random things that took place in the videos.
The vibe for these videos have more or less remained the same since 2012, but the hype has increased.
Since 2012, YouTube Rewind's thumbnails have consisted of a line of YouTubers looking at the camera.
Many people talk about YouTube Rewind, especially right after one of their editions come out.
The title of their rewinds since 2012 have referenced something prominent in pop culture that year along with the year attached to it.
As of now, many don't expect anything good to come out of YouTube Rewind due to them feeling that YouTube lacks creativity with each rewind and demands relevance.
References
Community content is available under
CC-BY-SA
unless otherwise noted.