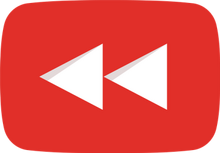 YouTube Rewind are a series of videos created by the official channel of YouTube, YouTube Spotlight. The purpose of these videos is to mashup and highlight what happened in the year by having some of pop culture's, especially YouTube's, current most popular celebrities dancing and acting to the various themes of trends that happened from the beginning to the end of the year.
YouTube Rewind: 2010
The first YouTube Rewind video was uploaded on December 13, 2010, you can see it here, 2010: Year in Review. This rewind was not like the other ones as it the telling of the countdown of the opinionated best videos of that year, categorized by YouTube.
List of videos
YouTube Rewind: 2011
The second YouTube Rewind ever created was uploaded on December 20, 2011, here is the video YouTube Rewind 2011. Portal A collaborated this video with YouTube, and the host was Rebecca Black and did a video of the most viewed videos of 2011.
List of videos
Rebecca Black - Friday (OFFICIAL VIDEO) - http://youtu.be/kfVsfOSbJY0
Ultimate Dog Tease - http://youtu.be/nGeKSiCQkPw
Jack Sparrow (feat. Michael Bolton) - http://youtu.be/GI6CfKcMhjY
Talking Twin Babies - OFFICIAL VIDEO - http://youtu.be/_JmA2ClUvUY
Nyan Cat [original] - http://youtu.be/QH2-TGUlwu4
Look At Me Now - Chris Brown ft. Lil Wayne, Busta Rhymes (Cover by @KarminMusic) - http://youtu.be/khCokQt--l4
The Creep (feat. Nicki Minaj & John Waters) - http://youtu.be/tLPZmPaHme0
Maria Aragon - Born This Way (Cover) by Lady Gaga
The Force: Volkswagen Commercial - http://youtu.be/R55e-uHQna0
Cat mom hugs baby kitten - http://youtu.be/Vw4KVoEVcr0
YouTube Rewind: 2012
One of the most famous YouTube Rewinds ever, formerly the most, uploaded on December 17, 2012. Here is the video: Rewind YouTube Style 2012 This one was different because it was not a list but was a sketch that featured many famous YouTubers of 2012. Due to this new edition, YouTube Spotlight has become one of the internet's most popular videos from then on, afterwards featuring popular celebrities who are not even YouTubers or barely associated with YouTube in many cut scenes of the videos.
List of YouTubers
YouTube Rewind: 2013
YouTube Rewind 2013 was uploaded on December 11, 2013, here is the video What Does 2013 Say?, its the same that the 2012 Rewind, but with more and different YouTubers.
List of YouTubers
YouTube Rewind: 2014
YouTube Rewind 2014 was uploaded on December 9, 2014, the video is here Turn Down for 2014. Portal A collaborated with YouTube here.
List of YouTubers
YouTube Rewind: 2015
YouTube Rewind 2015 was uploaded on December 9, 2015, the video is here YouTube Rewind: Now Watch Me 2015. This video now was not exactly like the other ones as it referred to more controversial things on this one like gay rights. YouTube collaborated with Portal A.
List of YouTubers
YouTube Rewind: 2016
YouTube Rewind 2016 was uploaded on December 7, 2016, the video is here Rewind: The Ultimate 2016 Challange. This was a collaboration with Portal A.
The 2016 video became the most viewed YouTube Rewind in the matter of months. It is also YouTube's fastest video to reach 100 million views, doing so in just 3.2 days. It is also the third most liked non-music video of all time with over 2.75 million likes. On December 14, 2016, shortly after the 2016 Rewind video was released, the Spotlight channel surpassed 1 billion total video views.
List of YouTubers
YouTube Rewind 2017
YouTube Rewind 2017 was released on December 6 of that year. Here is the link. It was the first YouTube Rewind to take place during the YouTube's "trending videos page" era.
It reached the #1 most trending YouTube video position almost immediately and held the title for two days, making it the first video from the YouTube Spotlight channel to reach the #1 most trending video position on YouTube and one of the longest #1 most trending YouTube video reigns thus far. It received 50 million views within it's first day of release.
Due to the video's presence, YouTube put various playlists on their trending page under YouTube Rewind 2017 and on top of the following trending videos for the rest of that day and half of the next. The playlists consisted of general top videos, top music, gaming, trailers, and even specific YouTube categorizes such as Despacito (which along with being a prominent part of 2017's edition of YouTube Rewind was a category of videos surrounding a video which became YouTube's most viewed the same year), etc. videos of the year, making it the first time the trending page featured that.
The video was the theme for Google's layout from the video's release to the day after.
The music in the video was composed by The Hood Internet. Many dislikes took place on this video more than usual however due to some believing it ignored many people and trends of 2017, positive and even negative (the latter is barely common), and brought "irrelevant" or "bad" replacements (causing people to make videos such as "The REAL YouTube Rewind 2017" to show what should have legitimately been there according to them) with even famous content creators like PewDiePie and RiceGum talking about it and how they weren't in it personally, etc, including the video's Behind The Scenes as well as the BTS not getting as many views, likes and comments as usual.
2017's YouTube Rewind by far has the most YouTube creators in one rewind, with 202 YouTube creators. Most loved the diversity, especially the ending with the animators, and thought that the rewind itself was the most creative YouTube Rewind and a great representation of different people all over the world coming together despite tragedies.
List of YouTubers
Alisha Marie
Bie The Ska
Bilingirl Chika
CaELiKe
Camila Loures
Canal Nostaliga
Christian Figueiredo
Collins Key
Craftingeek
De'arra & Ken
Deeva Jessica
DeStorm Power
DJ Akademiks
DoddleOddle
Dog Shirt Studios
Domo & Crissy
Eh Bee Family
Elliot Crawford
EnchufeTV
Enzoknol
Evelyn Regly
ExpCaseros
Extra Credit
FAPTV
Fischer's
GigiGorgeous
Hajimeyacho
Hannah Stocking
HEOPOP
Hikakin
How to Cake it
Humza Productions
HurtBae
Idil Yazar
Innana Sarkis
It's Alex Clark
Jamie & Nikki
Jay Versace
JennxPenn
Jon Cozart
Jonatan Clay
Josh Pieters
Juanpa Zurita
Kaflar
Kaushal Beauty
Kawanshi
Kellie Sweet
Kim Rosacuca
Kiyo
KNCraZy
KNN | Kanninich
Kurt Hugo Schneider
Kyle Hanagami
Latoya Forever
LubaTV
LusitoComunica
Luzu
Manny Mua
Manual Do Mundo
Mariale
Matt Steffanina
McFly & Carlito
Merrell Twins
Merveozkaynak
Meryem Can
Miles McKenna
MissRemiashten
Mizutamari Bond
MKBHD
Muselk
My Pale Skin
Natalies Outlet
NDNG - Enes Batur
Niana Guerrero
Noodlerella
Noor Stars
Oli White
Orkun Isitmak
Parafernalha
Patry Jordan
Pautips
RandomStructureTV
Ranz Kyle
Rezendeevil
Roxxsaurus
Rudy Mancuso
SacconeJolys
Saffron Barker
Safiya Nygaard
Sananas
Shruti Arjun Anand
Skypeace
Softpomz
SortedFood
Stephen & Carter Sharer
Summerella
Tatiana Subbotina
TBJZL
Teala Dunn
Tessa Brooks
The Body Coach
The Chic Natural
The Dolan Twins
The Saudi Reporters
TheReadBanger
Tpindell
Tre Melvin
Uras Benlioglu
Uravgconsumer
Vrzo Channel
What's Inside?
Willdbeast Adams
Wolfieent
YellowMellowMG
Yosstop
Zbing Z.
Zerkaa
聖結石Saint
Please provide channel links for the YouTube creators in YouTube Rewind 2017 along with more information about the video itself.
Trivia
Every year, people say that each new installment is worse than the last, some reasons being:

The current state of YouTube and it's relationship with creators
The increasing focus on outdated memes, pop culture references and trends in order to stay relevant
The exclusion of many better known creators in favor of obscure creators users have never seen
The focus on more divisive topics

This is the time of year where YouTube Spotlight goes from gaining/losing small numbers on their YouTube channel to getting hundreds of millions of views, millions of comments and likes, and 1-2 million subscribers, making the channel one of the most abundant in number gains, every month for the next one to two months after the video's upload.
Many viewers point out subtle references or random things that took place in the videos.
The vibe for these videos have more or less remained the same since 2012, but the hype has increased.
Many people talk about YouTube Rewind, especially right after one of their editions come out.
The title of their rewinds since 2012 have referenced something prominent in pop culture that year along with the year attached to it.
Since 2012, YouTube Rewind's thumbnails have consisted of a line of YouTubers looking at the camera.