ZombieCleo (born: May 16, 1981 (1981-05-16) [age 39]), is an English gaming YouTuber and member of the Hermitcraft Minecraft SMP server.
Series
As of March 2019, her series include:
HermitCraft
Currently in its seventh season. Other members include JoeHillsTSD, Xisumavoid, Grian, and Mumbo Jumbo.
Sims 4
Cleo has attempted various challenges, including getting every achievement in the game.
ZombieCraft Patron server
Videos from her patron server. Patron Portals focus on the Minecraft builds of one of her patrons. She also has build competitions, and an annual "Bunny Boat Race".
Trivia
She suffers from asthma.
She has a sister.
Cleo is a cat owner.
Rainbows often feature in her Minecraft builds.
She is a teacher. Before becoming a teacher, she was an engineer, working near public buildings. She became a teacher after seeing a teacher struggling to control a class, and thinking "I could do a better job than that." She taught secondary school science, but now teaches primary school children around the age of 5.
Her Minecraft skin never got changed back from a Christmas one, so she uses it all year round. This has been the case for some years.
Her channel art is by Truthful.
Quotes
"Hello everybody, welcome back to *series name*." (Intro)
"I prefer the hard truths of Zombies to the easy lies of Elves."
"Make Christmas sinister again."
"I have been ZombieCleo, this has been *series name*. Class dismissed." (Outro)
Gallery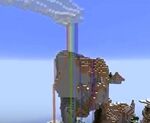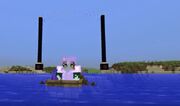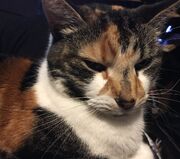 This page was created on March 24, 2019 by NameOfUser57.
Community content is available under
CC-BY-SA
unless otherwise noted.